Foreign currency exchange is one of the biggest rip-offs a traveler is likely to encounter, closely followed by credit card machines that offer Dynamic Currency Conversion (which is also a scammy sort of offering you'll find on some ATMs now). Greg's post yesterday about his New Zealand trip reminded me that we needed to publish a post about the Schwab Bank Investor Checking account and why you want that account and its associated debit card if you frequently travel overseas (or something just like it). This debit card account reimburses ATM fees worldwide and has no monthly fees or foreign transaction fees, ensuring that you'll get an exchange rate much closer to the actual current rate than what will be offered at the foreign exchange desk.
The Deal
The Schwab Bank Investor Checking account is a great account for frequent travelers because it features no monthly service fees, no account minimums, and no foreign transaction fees. Furthermore, it offers unlimited ATM fee reimbursements
Direct link to this deal (Greg's referral link, which can earn you some extra cash if you're planning to make a large deposit in your new checking or brokerage account. There is no bonus for the person referring you, but you only get the bonus money if you open through a referral and meet the deposit requirements).
Key Account Details
You get both a Schwab Bank Investor Checking account + Schwab One Brokerage account
$0 monthly service fees
$0 account minimums
Unlimited ATM fee reimbursements
There's no catch. It's just that good.
Travelers want a Schwab checking account and Schwab debit card
First of all, let me be clear that there's nothing in it for us in posting this. I've included Greg's referral link above because the only way to get a bonus upon opening and funding your new Schwab account is to open through a referral from an existing customer, but there is no bonus for the person referring you (Greg doesn't get anything when you sign up). We include the referral so that you can get a bonus if you plan to deposit enough money to earn one (and if you don't plan to deposit enough — the minimum to earn a cash bonus is a deposit of $25,000 to get a $100 bonus — then there's no harm to you for having signed up through a referral).
Furthermore, this post is not news for seasoned travelers who have been in the game for a while, but we realized that we had never explicitly posted about the Schwab Investor checking account.
Don't use the airport currency exchange booth to get foreign currency
First of all, you need to know that airport currency exchange desks are typically a big ripoff. When you exchange at one of those booths, you're typically getting an awful exchange rate and paying a high commission fee that's costing you far more than the service is worth. It's something I'd do (and have done) in a pinch if I really needed local cash and couldn't get the ATM to work or had lost my card, but it's not a good choice. The commission fees are ridiculous. See this story from someone who did an experiment where they started with $100 and a goal to see how many times they could trade currency. They pretty quickly had less than ten bucks left thanks to high commissions on each trade.
Instead of going to the currency exchange booth, you're typically better off withdrawing local cash from a local ATM. Most US-based bank accounts will give you the correct exchange rate without charging a commission for converting your US dollars to the local currency.
Key pitfalls to avoid with foreign ATMs and currency conversion (and how the Schwab debit card can help you avoid them)
There are several important things to watch out for:
ATM fees: Most ATMs charge a fee to withdraw, so this fee will typically get passed on to the account from which you're withdrawing cash. The Schwab Debit Card offers unlimited ATM fee reimbursement worldwide. In other words, if the ATM says it has a fee of $5 to withdraw, Schwab will reimburse that $5. You don't need to worry about that fee when withdrawing from your Schwab account.
Foreign transaction fees: Many regular bank debit cards will add a foreign transaction fee. The Schwab debit card has no foreign transaction fees.
Dynamic currency conversion: This is when the machine you are using gives you the option of charging your account in local currency or US Dollars. Always choose local currency. For years, we only saw this option appear on credit card machines (after you swipe or enter or tap your card, you'll sometimes have the option to pay in local currency or your home currency — watch out for merchants who may try to quickly make the selection for you), but we now see this practice spreading to ATMs. When you choose "US Dollars", the machine is doing a conversion at a bad exchange rate and overcharging you — essentially baking in a hidden fee. Always choose local currency.
Watch out for ATMs that don't clearly disclose dynamic currency conversion. Those blue and yellow Euronet ATMs that you see in the most touristy locations all over Europe typically offer exorbitant fees and ridiculous conversion commissions. It may look like you're taking out Euros, but see the fine print and make sure you're not being charged in excess of 15% plus a 5 Euro fee to withdraw. Personally, I avoid these machines like the plague. I found some similar machines in another European airport this past year and had to hunt around a bit to find a more "legit" Citibank ATM.
A Schwab account has other benefits, too
There are several other reasons why you may want a Schwab account or find it useful.
First of all, the debit card comes with a number of purchase protection benefits that are typically reserved for credit cards. While I wouldn't generally advise using a debit card to make purchases, the Schwab debit card still features price protection, whereby if you purchase an item and it drops in price by up to $250 per claim (and up to $1,000 per year) when an eligible item you purchased is found for a lower price within 60 days of purchase. Purchase security covers you for up to $500 per item and up to $50K per year in the case of theft or certain types of damage within 90 days for items purchased with your card. Read more about card benefits here.
The other key benefit that may appeal to credit card enthusiasts is that you'll need a Schwab account if you ever decide to apply for the Schwab Platinum card.
This is an additional flavor of the consumer Amex Platinum card, which features nearly identical benefits and features to the "vanilla" Platinum card, but it is handled as a separate product (in other words, you are eligible for the welcome bonus on the Schwab Platinum card even if you've gotten a welcome bonus on the vanilla Amex Platinum card before). The key differentiating feature of the Schwab version of the card is the ability to "invest with rewards", whereby you can redeem your Membership Rewards points for a deposit in your brokerage account at a value of 1.1c per Membership Rewards point. If you find yourself flush with Membership Rewards points, this can be an appealing redemption. For more detail on this redemption, see How to convert Amex Membership Rewards to cash with the Schwab Platinum card.
Bottom line
There's really no downside that I can see to having a Schwab account and unlimited ATM fee reimbursements is certainly a great benefit to have, particularly when traveling overseas and withdrawing cash. Like Greg, on many of my most recent trips I have found very little need to have cash at all, but in those situations where I need it I enjoy carrying a debit card that offers ATM fee reimbursements worldwide. I actually have an old SoFi debit card that is grandfathered in to a policy that offers unlimited ATM fee reimbursements also, so I often carry that, but my wife has a Schwab account and thus we also have her debit card with us as a backup when traveling abroad. Either way, having a debit card with ATM fee reimbursements, no monthly minimums, and no foreign transaction fees is a key to avoiding the ripoff that is the airport currency exchange booth. If you don't already have an account that offers these benefits, I certainly wouldn't hesitate to recommend a Schwab account — whether you open it now or sometime before your next international trip.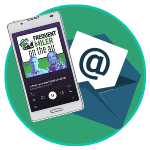 Want to learn more about miles and points?
Subscribe to email updates
 or check out 
our podcast
 on your favorite podcast platform.