In the interest of full disclosure, OMAAT earns a referral bonus for anyone that's approved through some of the below links. These are the best publicly available offers (terms apply) that we have found for each product or service. Opinions expressed here are the author's alone, not those of the bank, credit card issuer, airline, hotel chain, or product manufacturer/service provider, and have not been reviewed, approved or otherwise endorsed by any of these entities. Please check out
our advertiser policy
for further details about our partners, and thanks for your support!
During my five hour layover at Bahrain Airport, I spent most of my time at the Gulf Air Falcon Gold Lounge. However, I also checked out the Bahrain Airport Hotel, which offers some features for Priority Pass members, including sleep pods and massages.
Bahrain Airport Hotel Priority Pass perks
The Bahrain Airport Hotel is located in the airside portion of the terminal at Bahrain Airport. Whether you're just looking for a nap or want to spend the night, you can't beat the convenience of not having to clear immigration or security.
The Bahrain Airport Hotel features a total of 83 accommodations, including 24 sleeping pods, 17 compact rooms, and 42 "proper" hotel rooms. The hotel also features a spa and gym.
Since I only had a five hour layover in Bahrain, I wasn't going to get a hotel room, but rather I was here to check out the Priority Pass perks. Bahrain Airport Hotel offers two separate perks for Priority Pass members:
Now, there are a couple of catches:
Since both of these experiences are arranged through the front desk of the Bahrain Airport Hotel, you can only use one or the other once every 24 hours, and Priority Pass members can't use both; so I got one for free through Priority Pass, and I decided to pay for the other one, so I'd be able to compare what's on offer
This is considered a Priority Pass "experience" (similar to Priority Pass restaurants), meaning that Priority Pass memberships issued through American Express and Capital One cards don't qualify for this; however, those issued through Chase, including through the Chase Sapphire Reserve® Card (review), do qualify for this
Bahrain Airport Hotel location
The Bahrain Airport Hotel is easy to find. Once you're airside in the terminal, just head in the direction of the gates.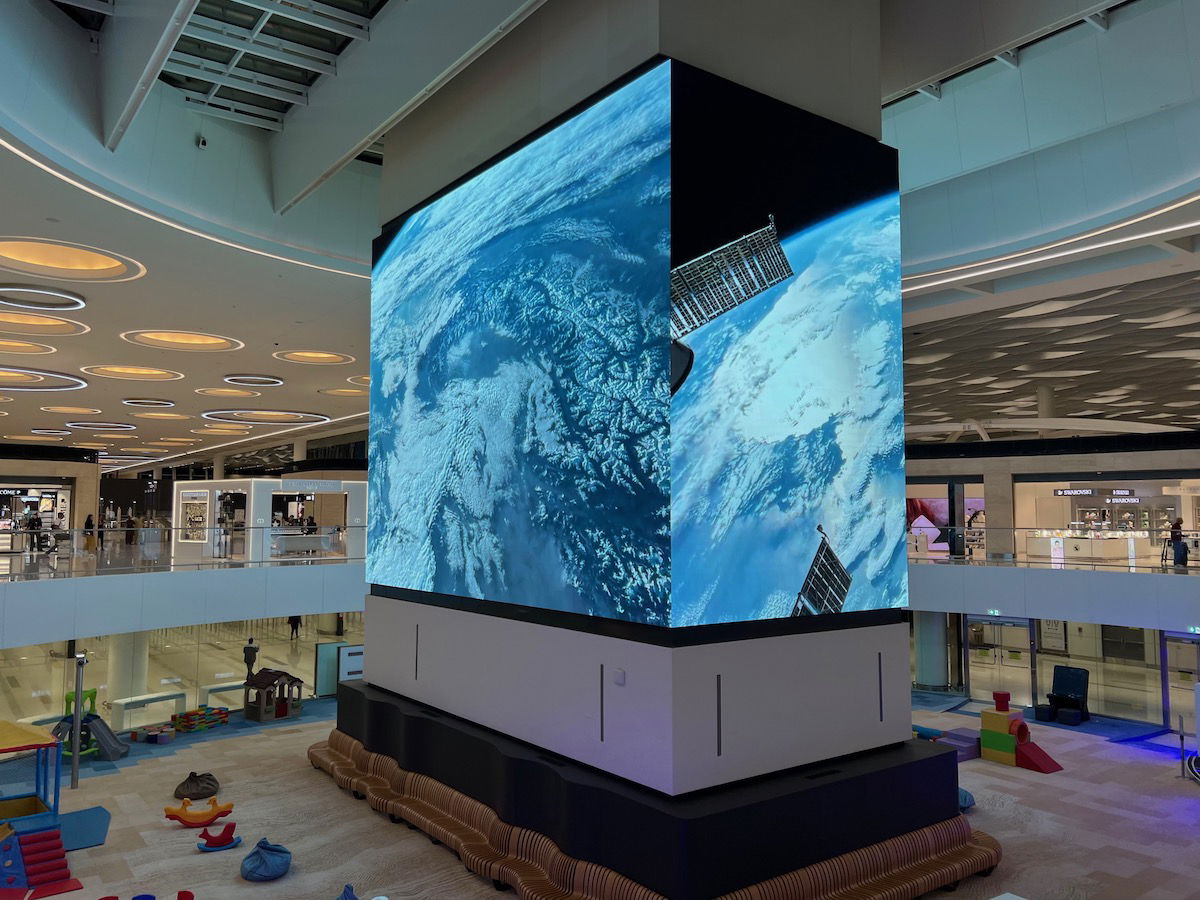 At that point you can either go in the direction of gates 11-15, or gates 16-22. Turn left, and follow the signage toward gates 11-15 (you'd think the hotel would be listed on these signs, but nope).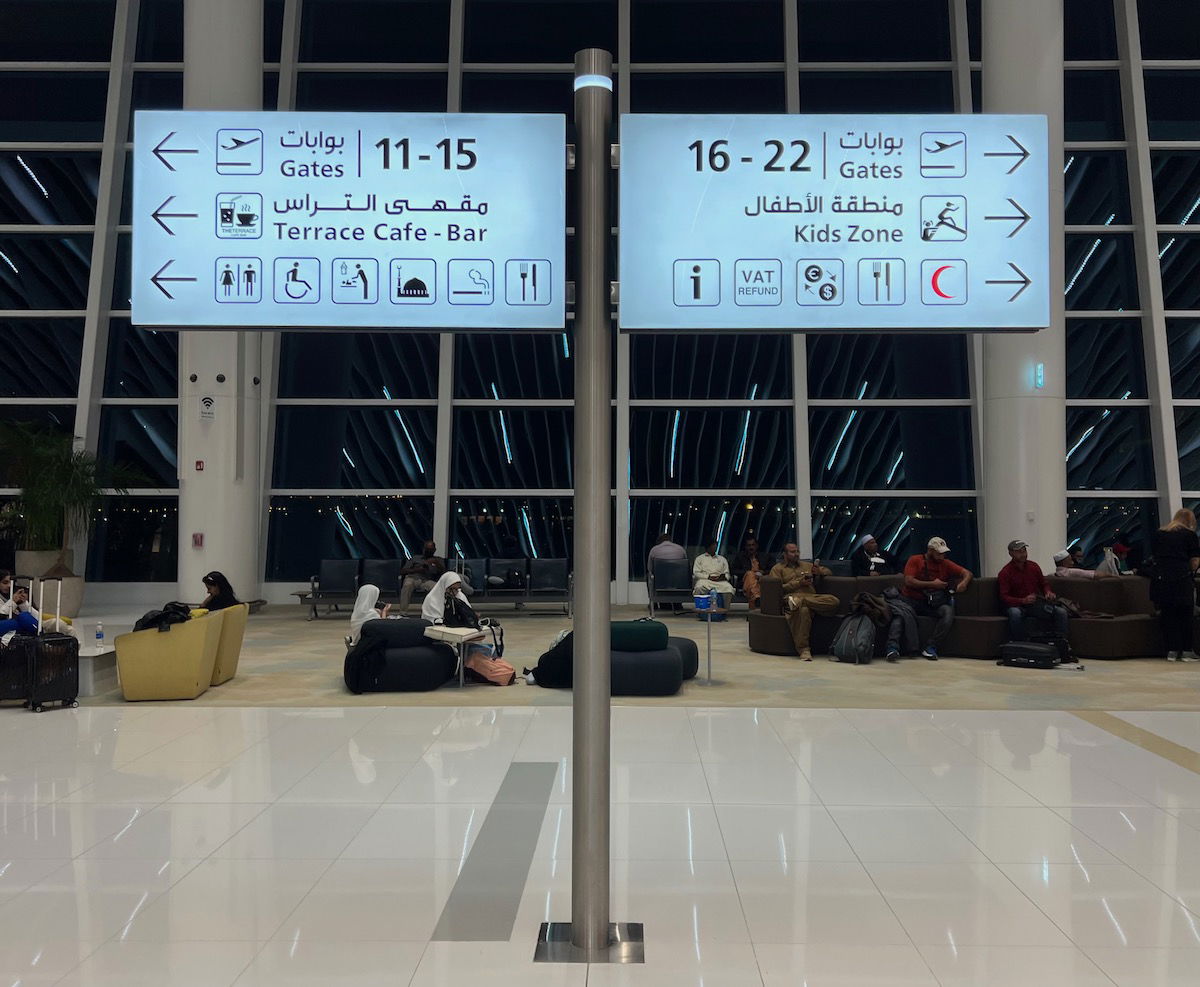 When you turn left, walk maybe 200 feet, and then you'll see the entrance to the Bahrain Airport Hotel on the left. It's immediately across from gate 15.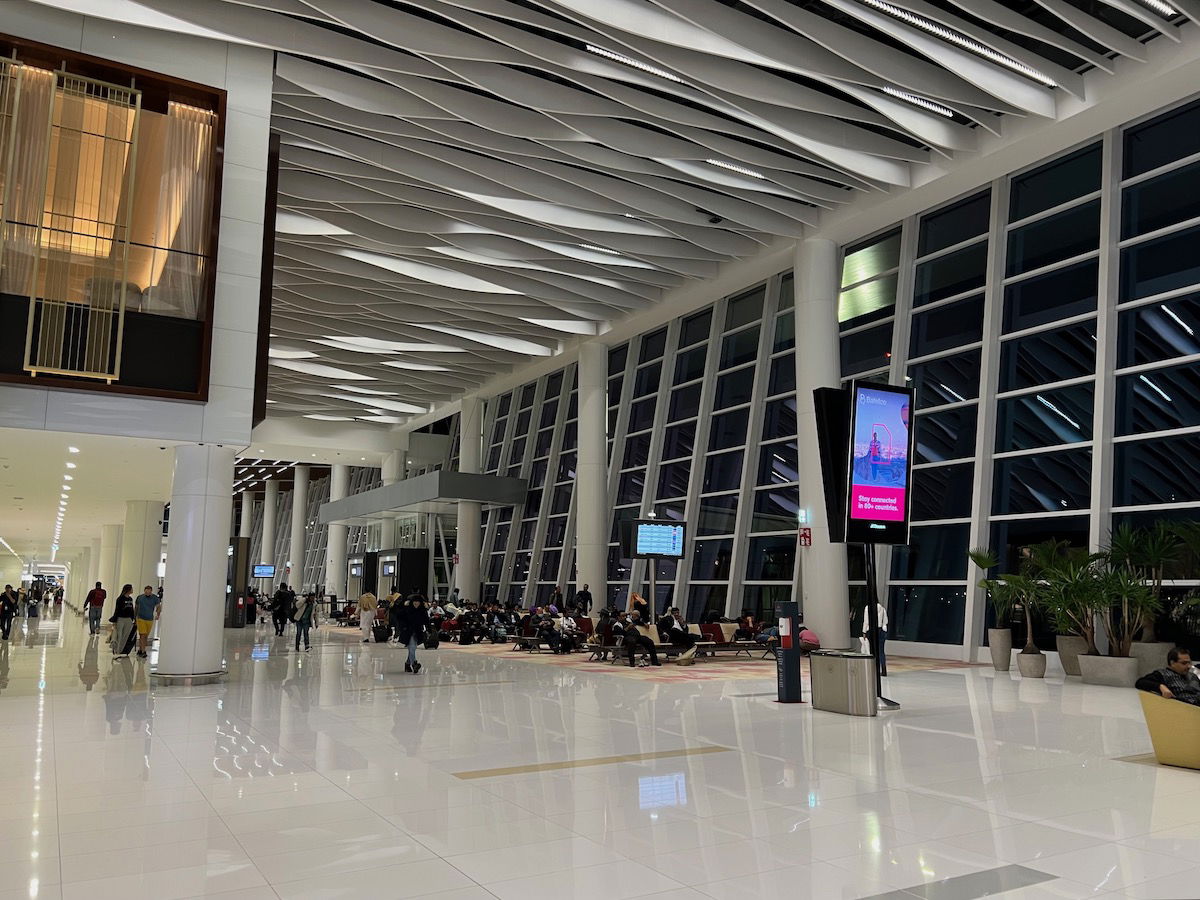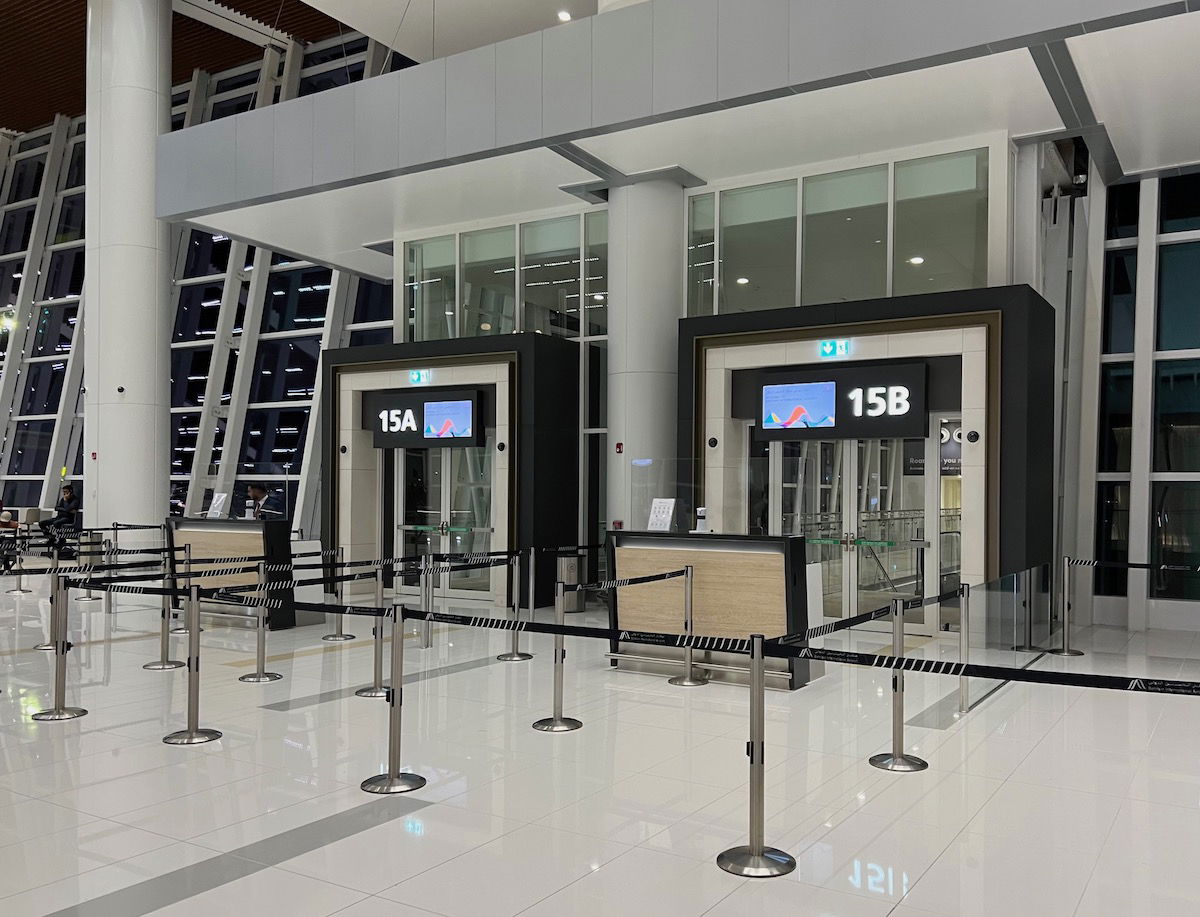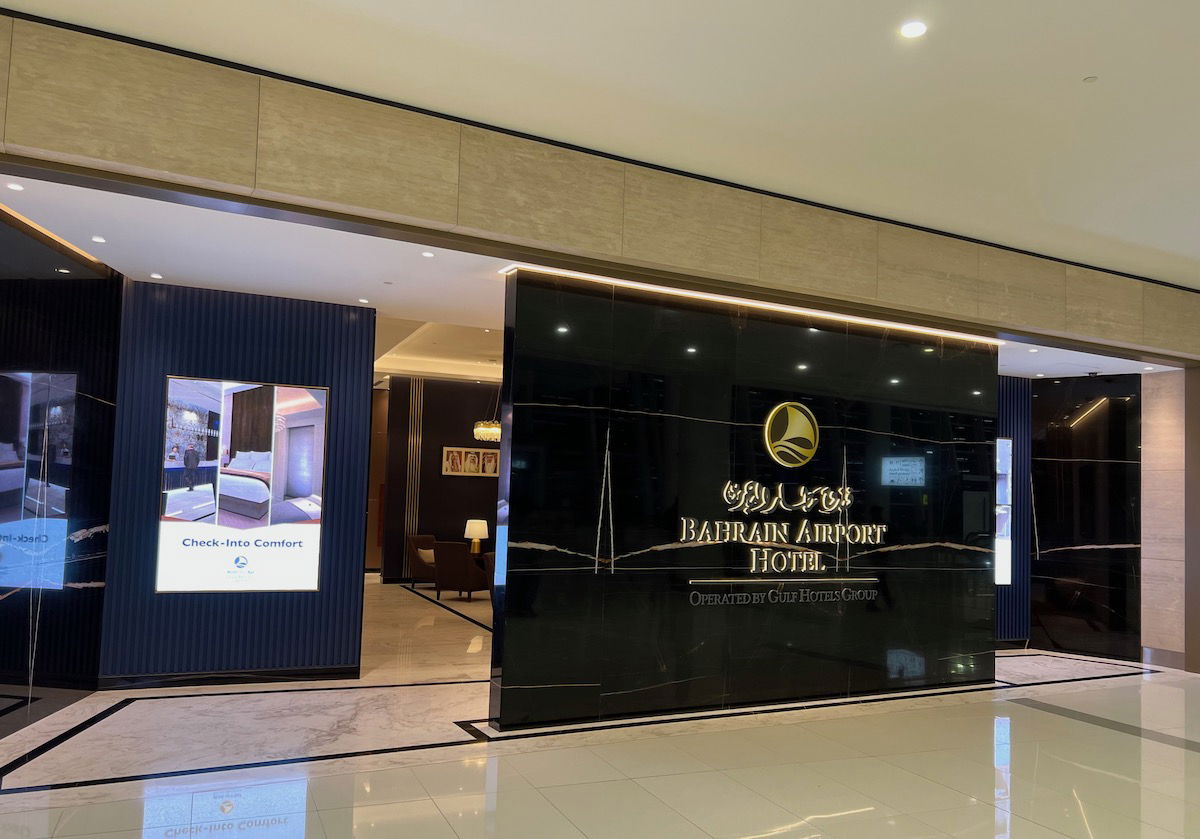 Bahrain Airport Hotel reception
The Bahrain Airport Hotel has a nice reception area, which will kind of make you feel like you're in a real hotel, rather than in an airport terminal (well, other than hearing the constant announcements).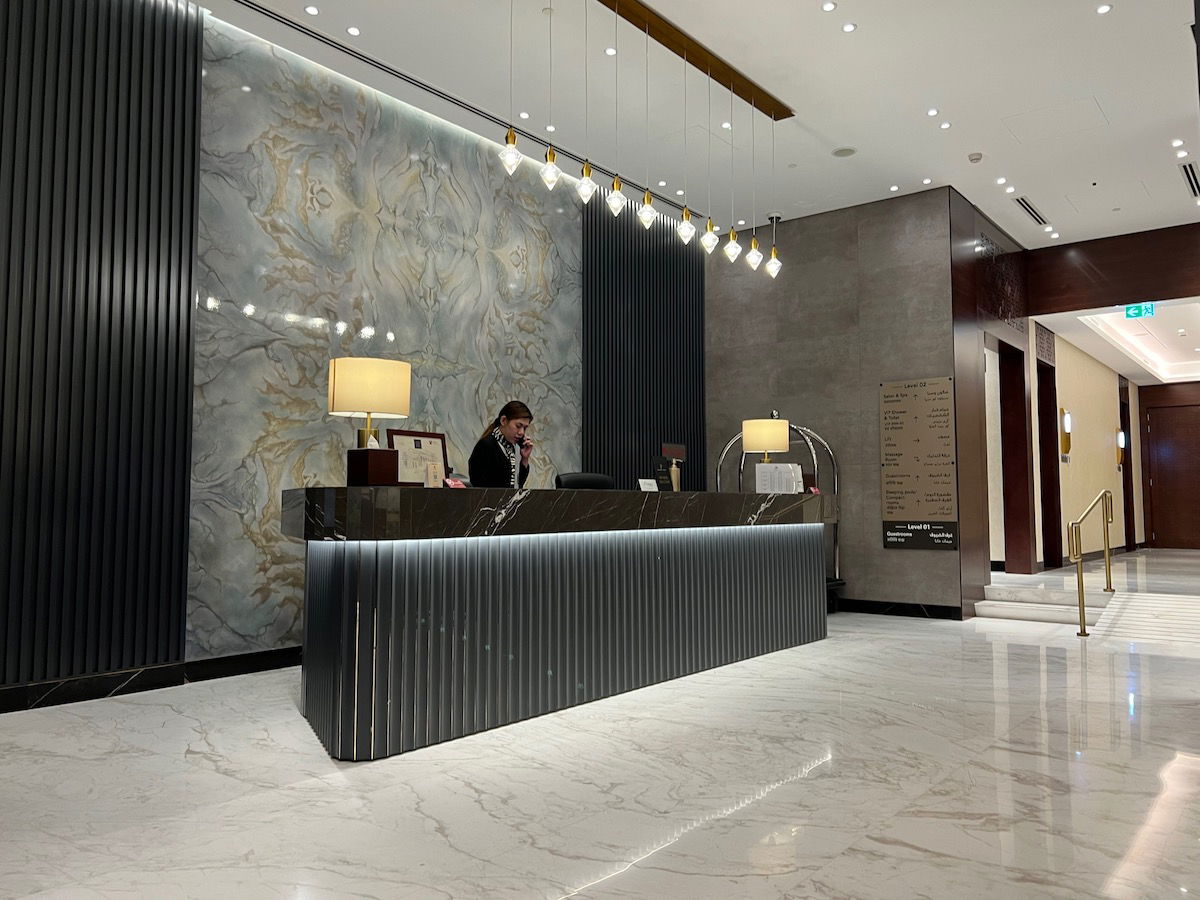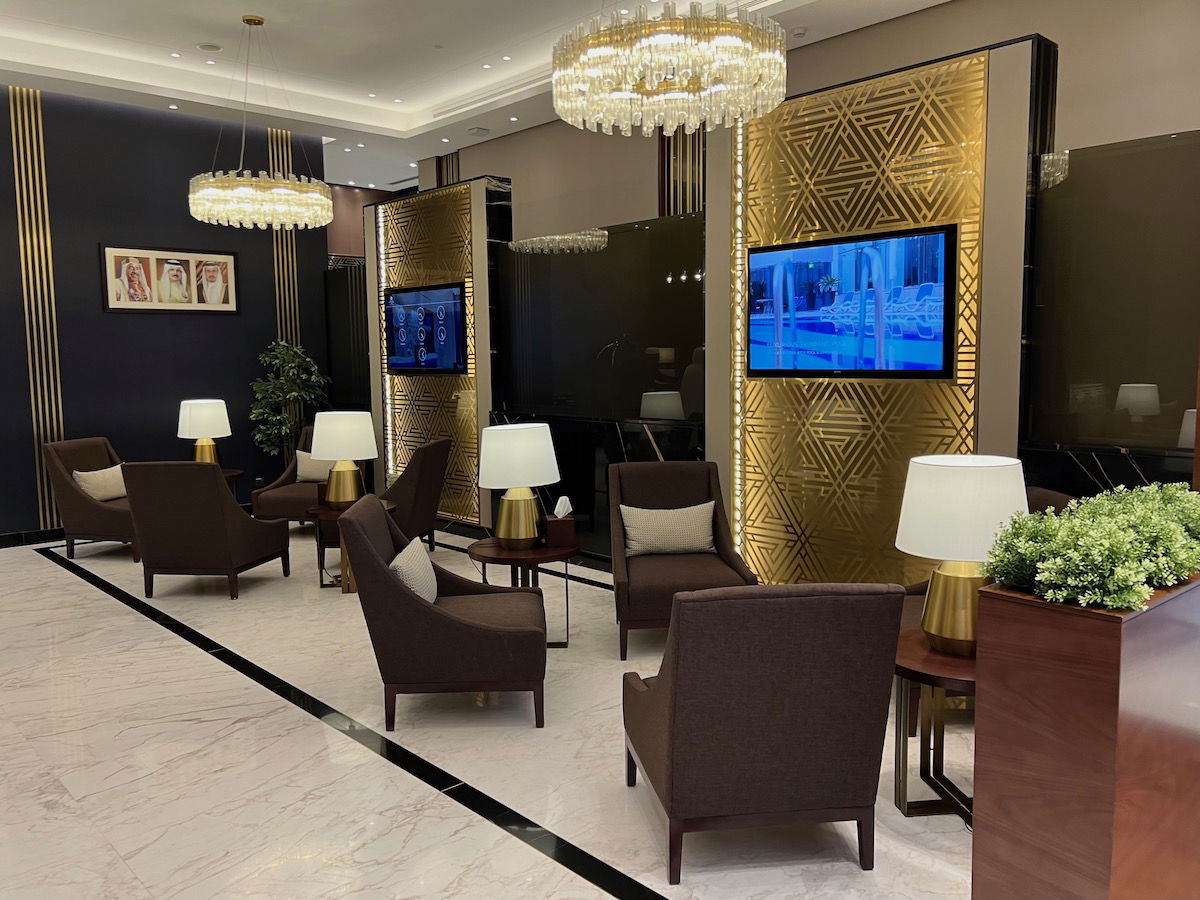 I explained to the front desk agent that I had Priority Pass, and was looking for a sleep pod and a massage. After she explained it was one or the other, I went ahead and paid for the massage, and got the sleep pod with Priority Pass. While I didn't really have a need for a sleeping pod, I thought it was worth checking out for review purposes.
Bahrain Airport Hotel sleep pods & bathrooms
For those curious, below you can find the standard pricing for a sleep pod at the Bahrain Airport Hotel. As you can see, the pricing is currently $52.62 for a three hour stay, and then each extra hour costs $7.52.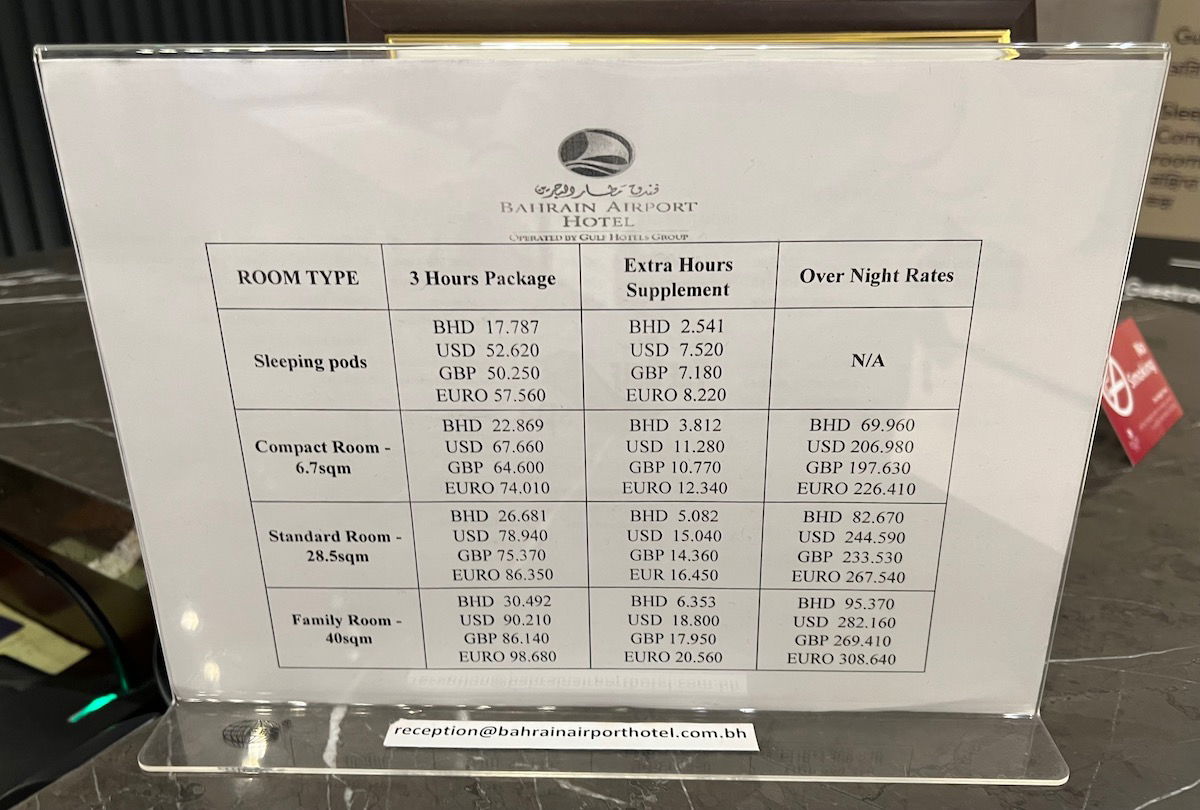 I should mention that the whole check-in process took quite some time. It's not just as simple as the receptionist looking at your passport, but rather it was one of those situations where it seems like they're typing an essay into the computer before you can get a key.
Eventually I had my key to pod 236. All the sleep pods are located on the same level as the main terminal, behind a door that can be accessed with a key.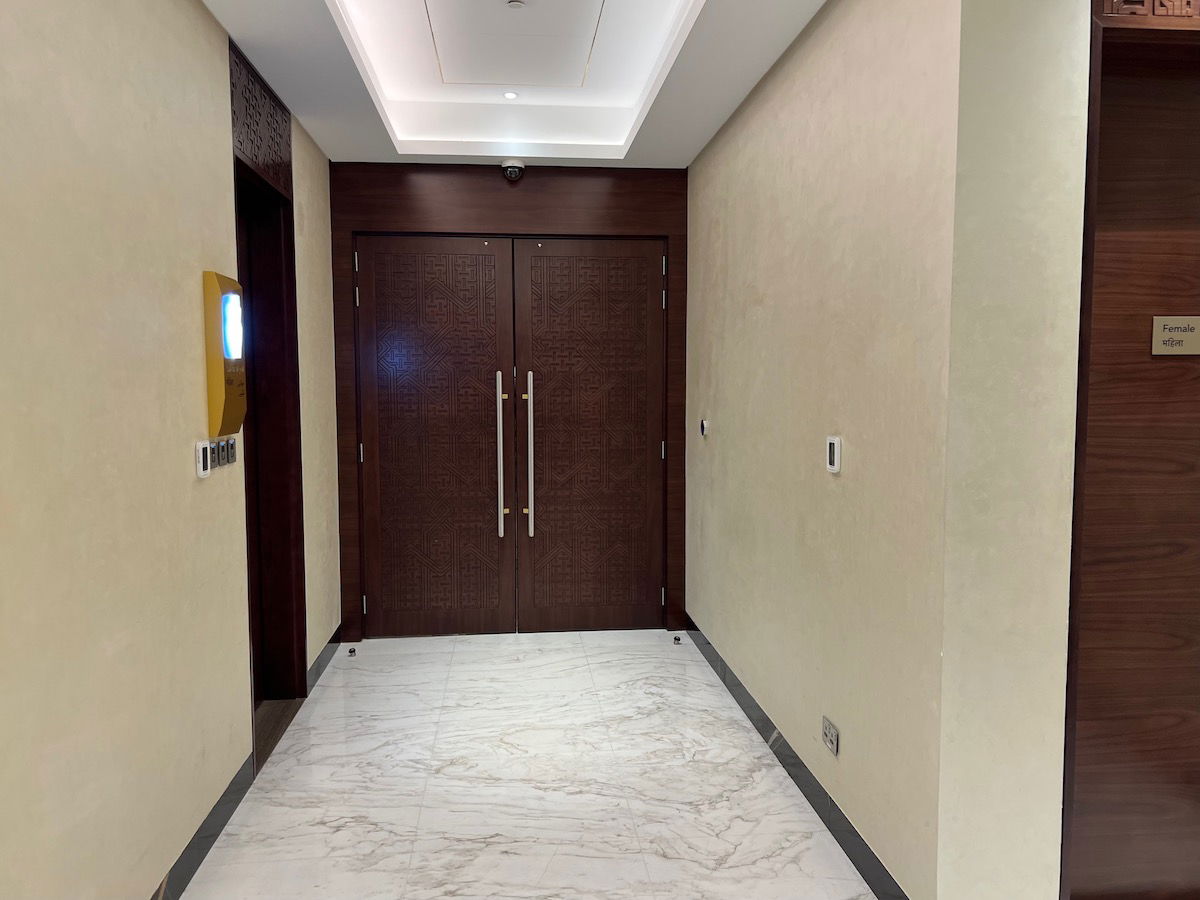 The main floor seems to mostly have the sleep pods and compact rooms, while the real hotel rooms are one level down.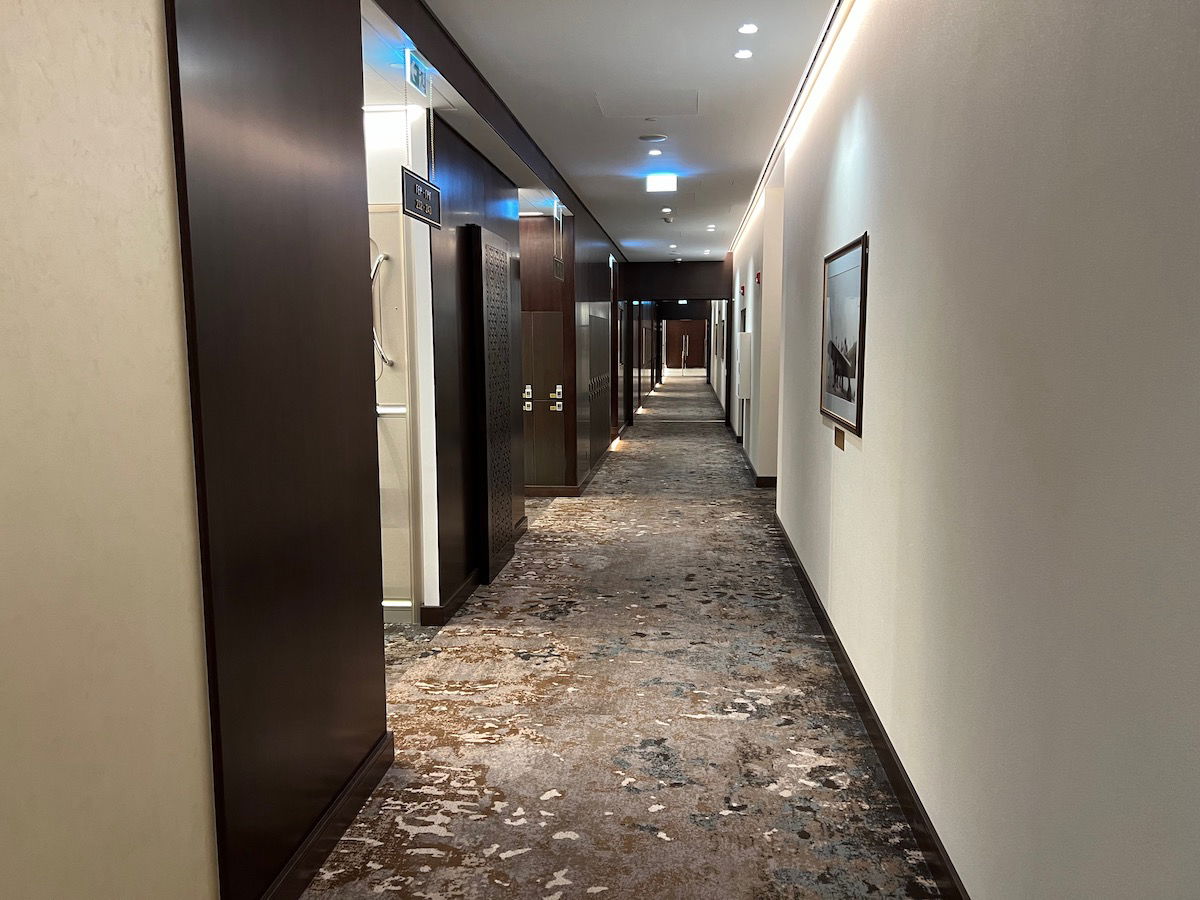 The 24 sleep pods are separated into two areas, with each area having a dozen pods. There were two pods stacked on top of one another, with three in each row.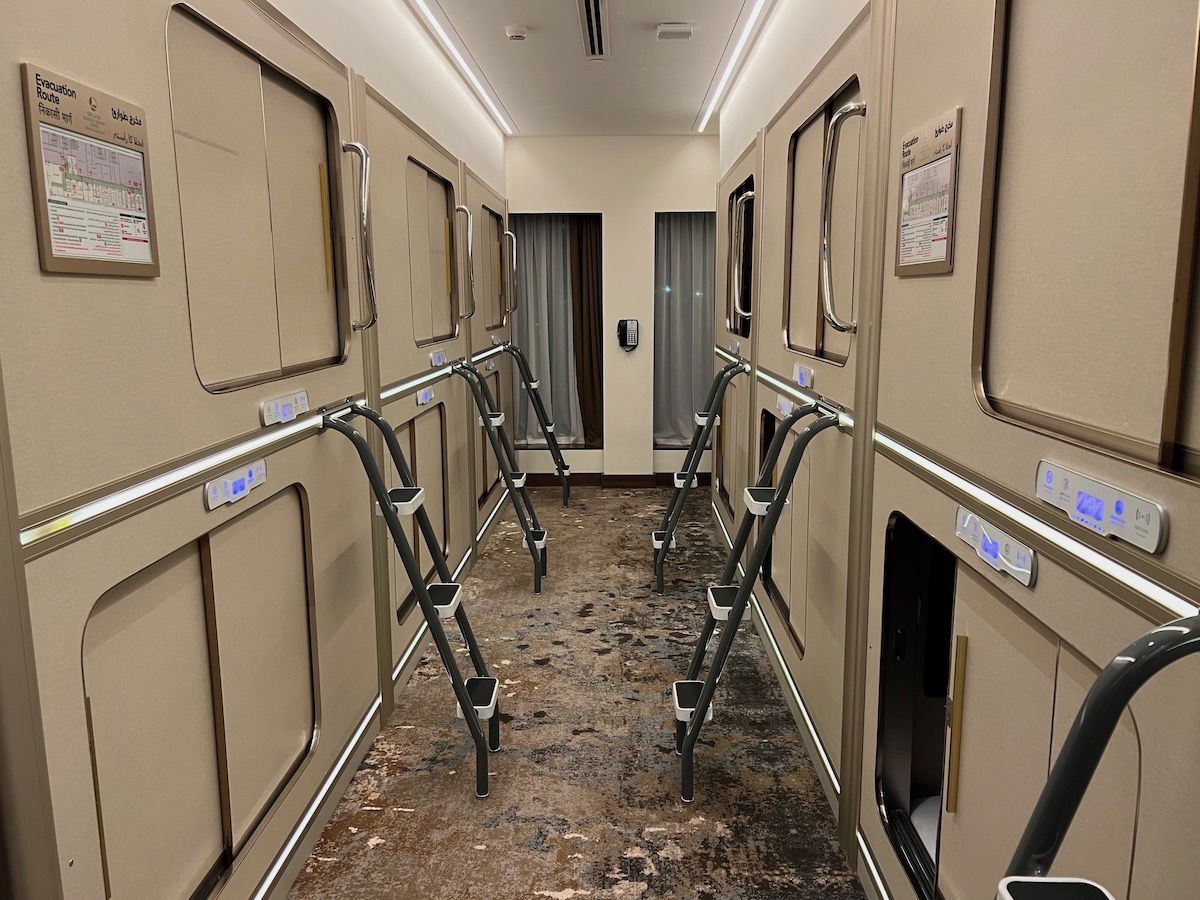 My pod was the last one on the top right, so it required going up a small ladder.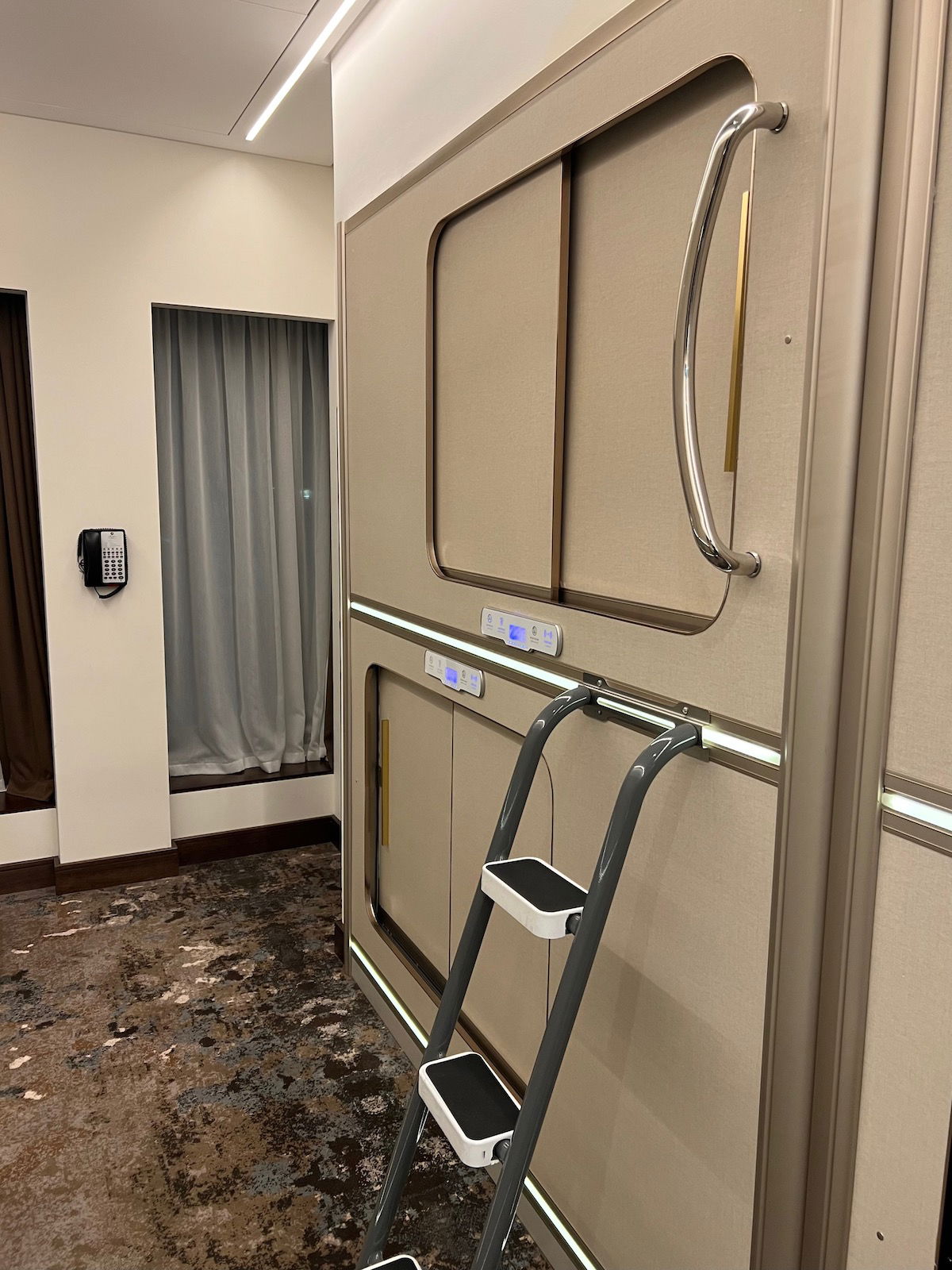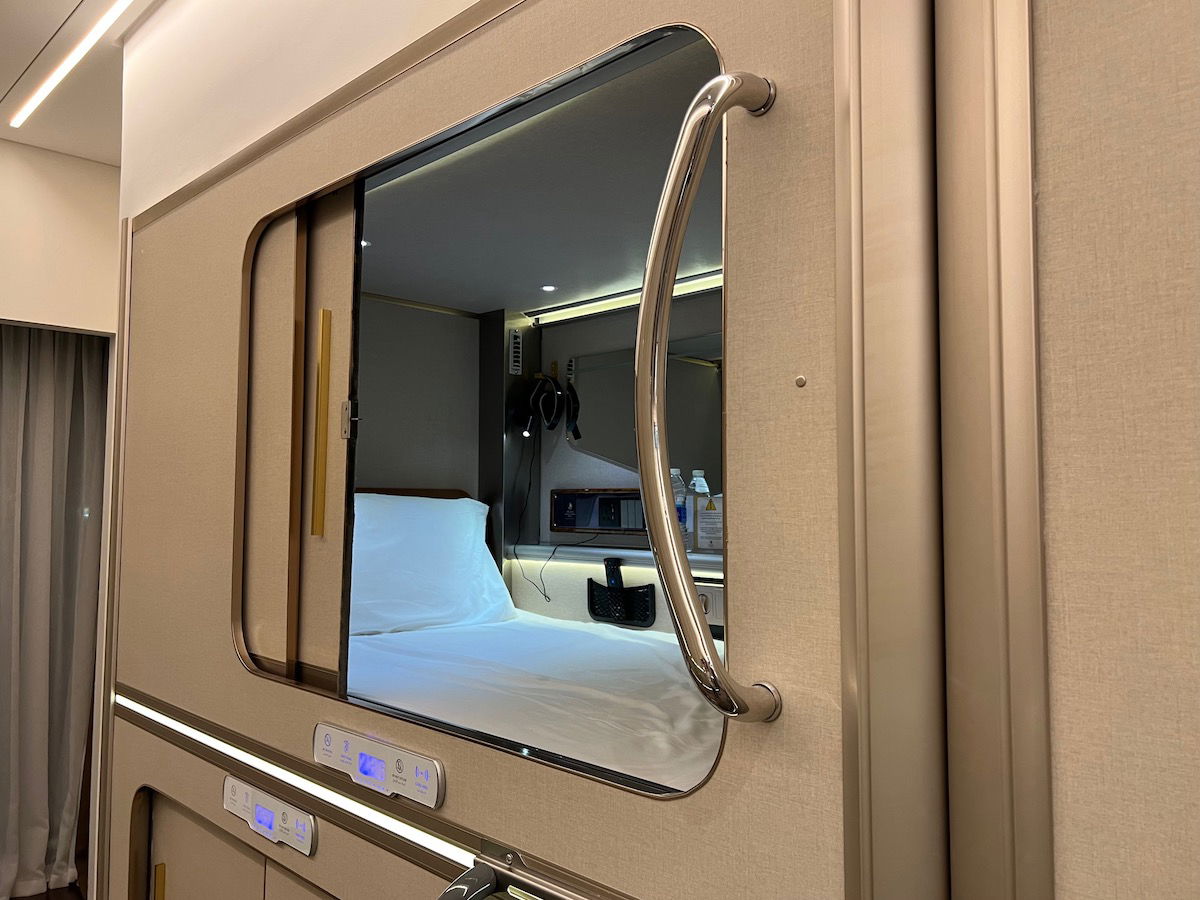 For personal belongings, there are storage compartments that you can lock, with each pod being assigned one unit. It was big enough to hold my full size carry-on, as well as my backpack.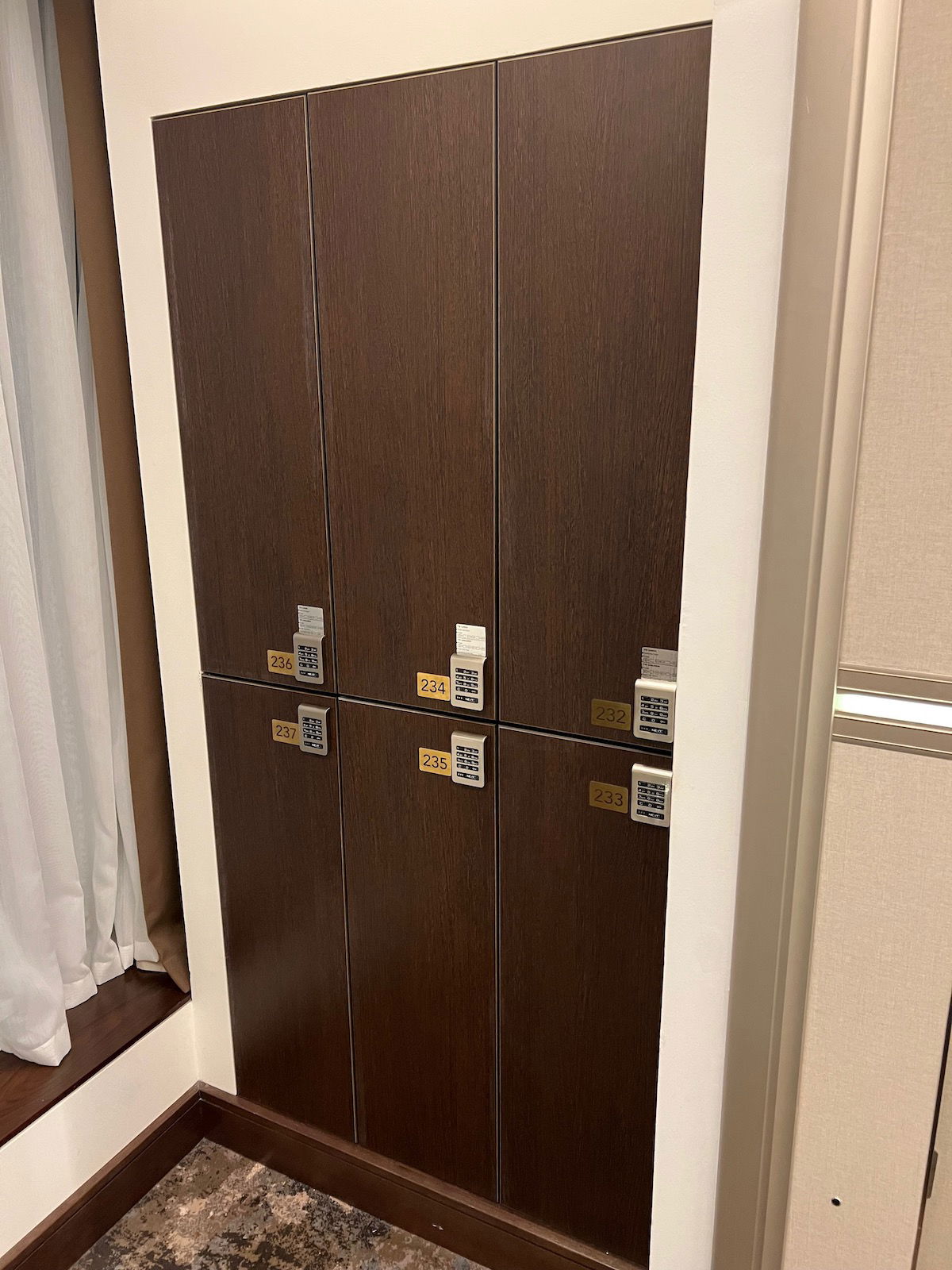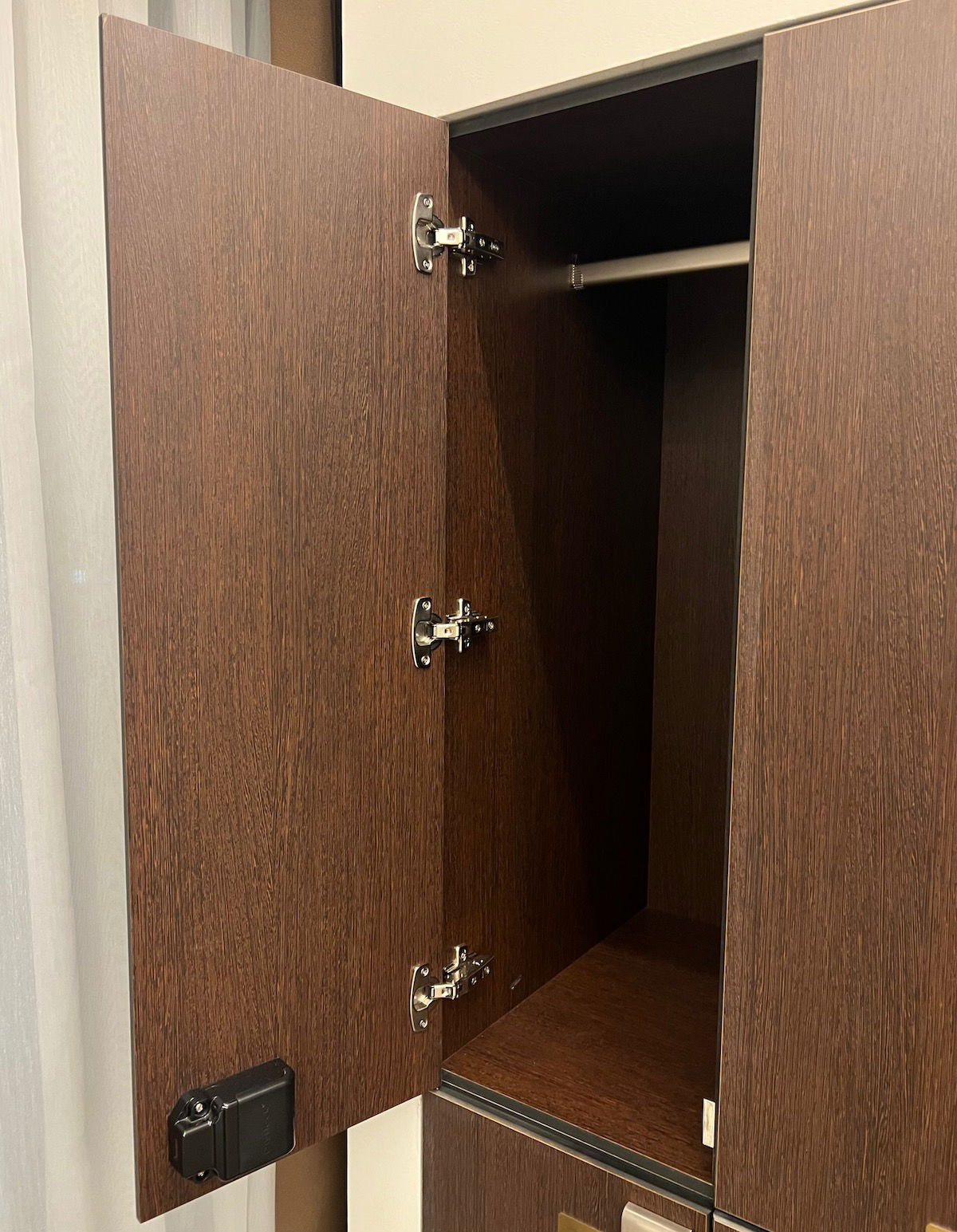 The sleep pod can be opened by scanning your key card, and there's also a do not disturb signs you can illuminate (not that you'd really be disturbed, other than if you overstay your allotted time).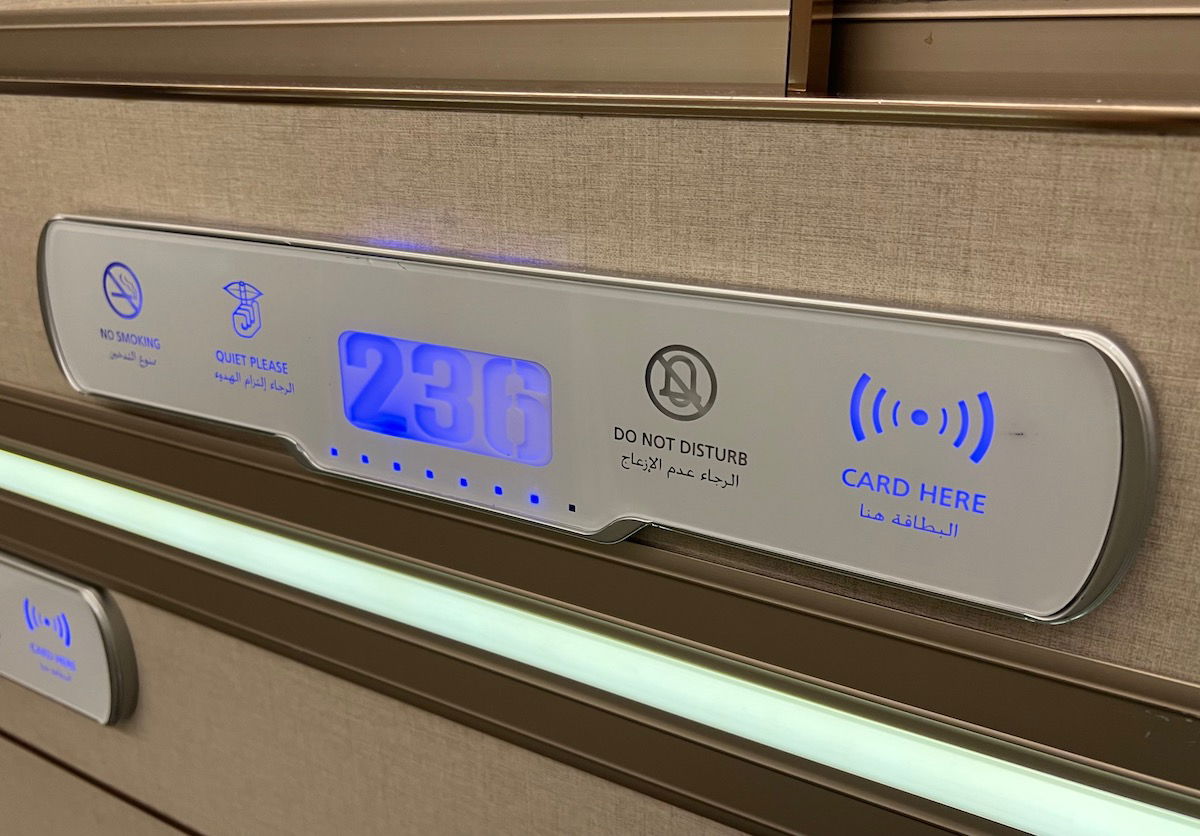 The sleep pod was cozy and clean. Think of it as basically being like an awesome first class airplane suite in terms of the amount of space you have. The bed was maybe the size of a twin bed.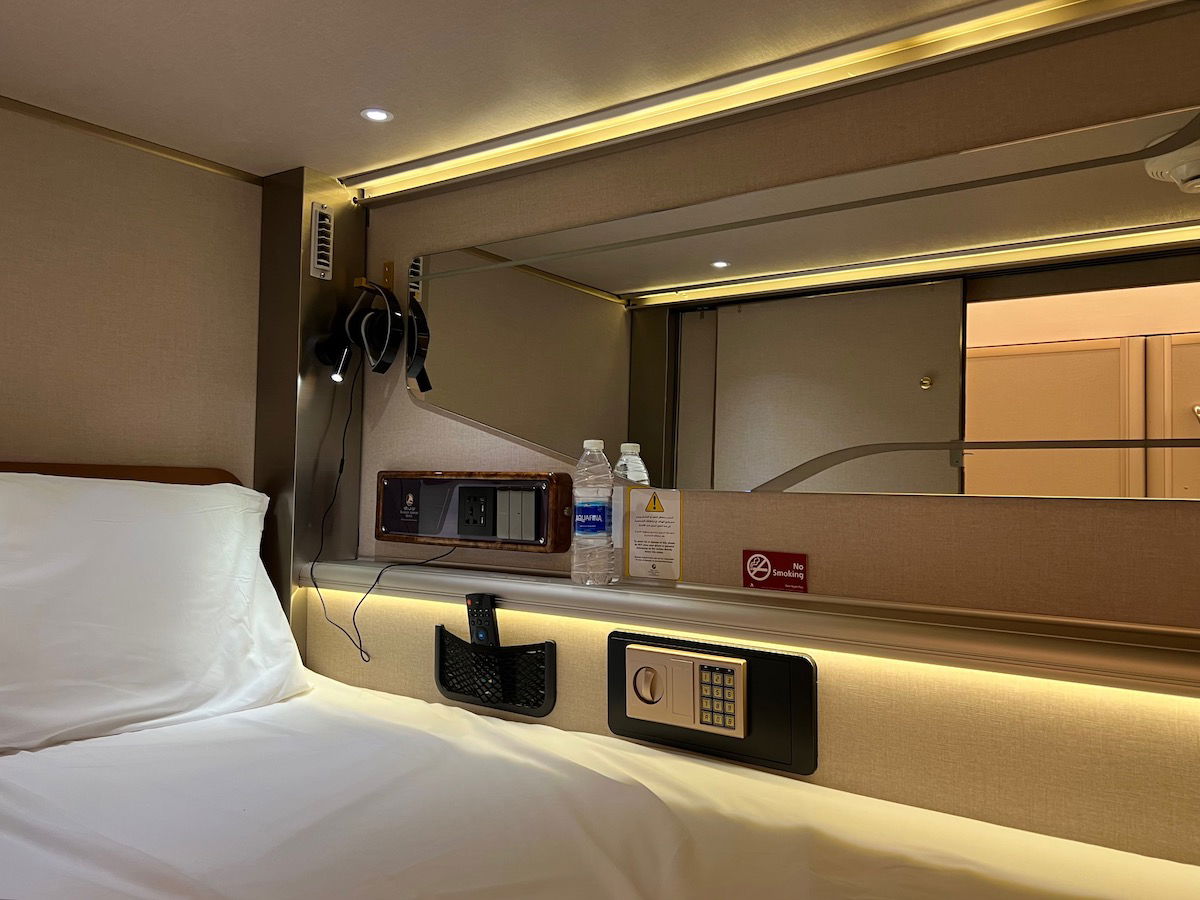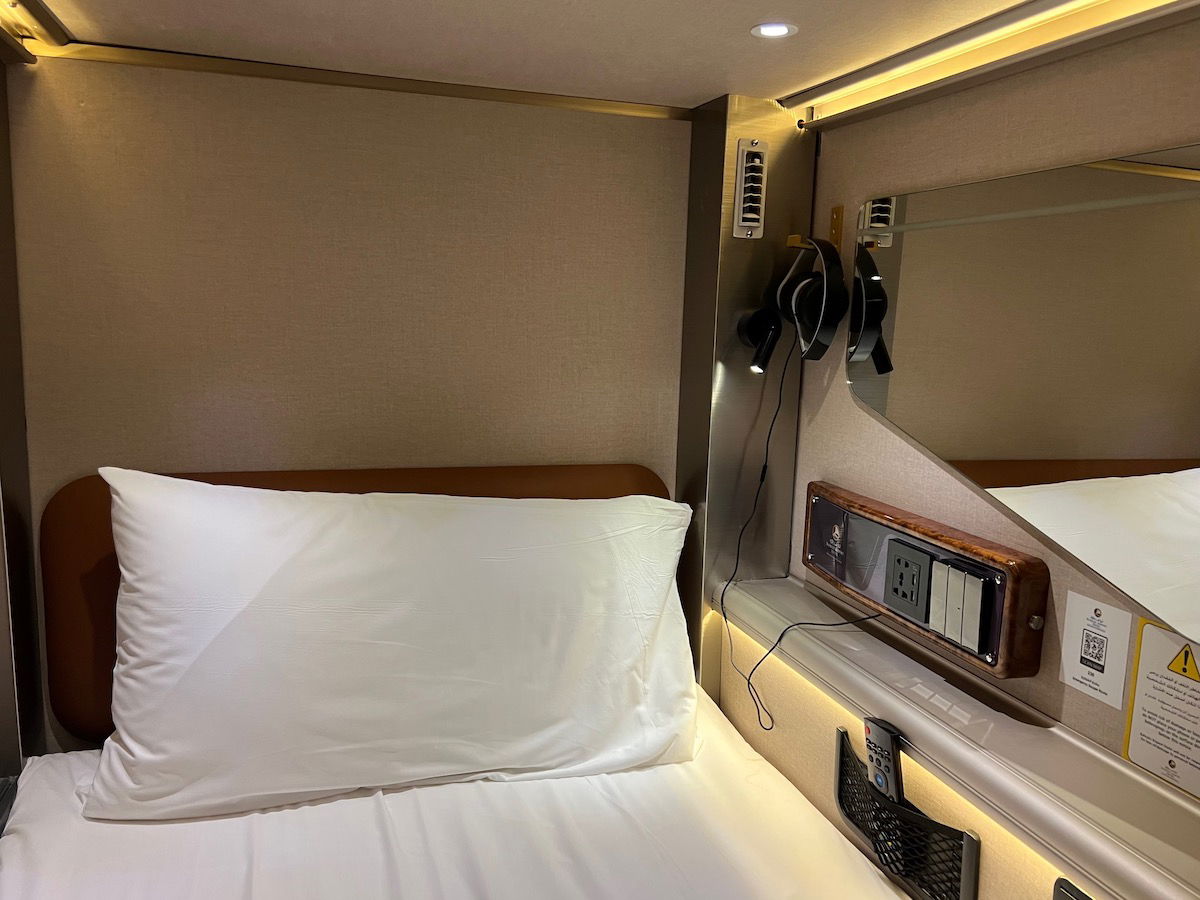 There was a wall-mounted TV, as well as a pair of headphones, so that you could watch TV if you'd like.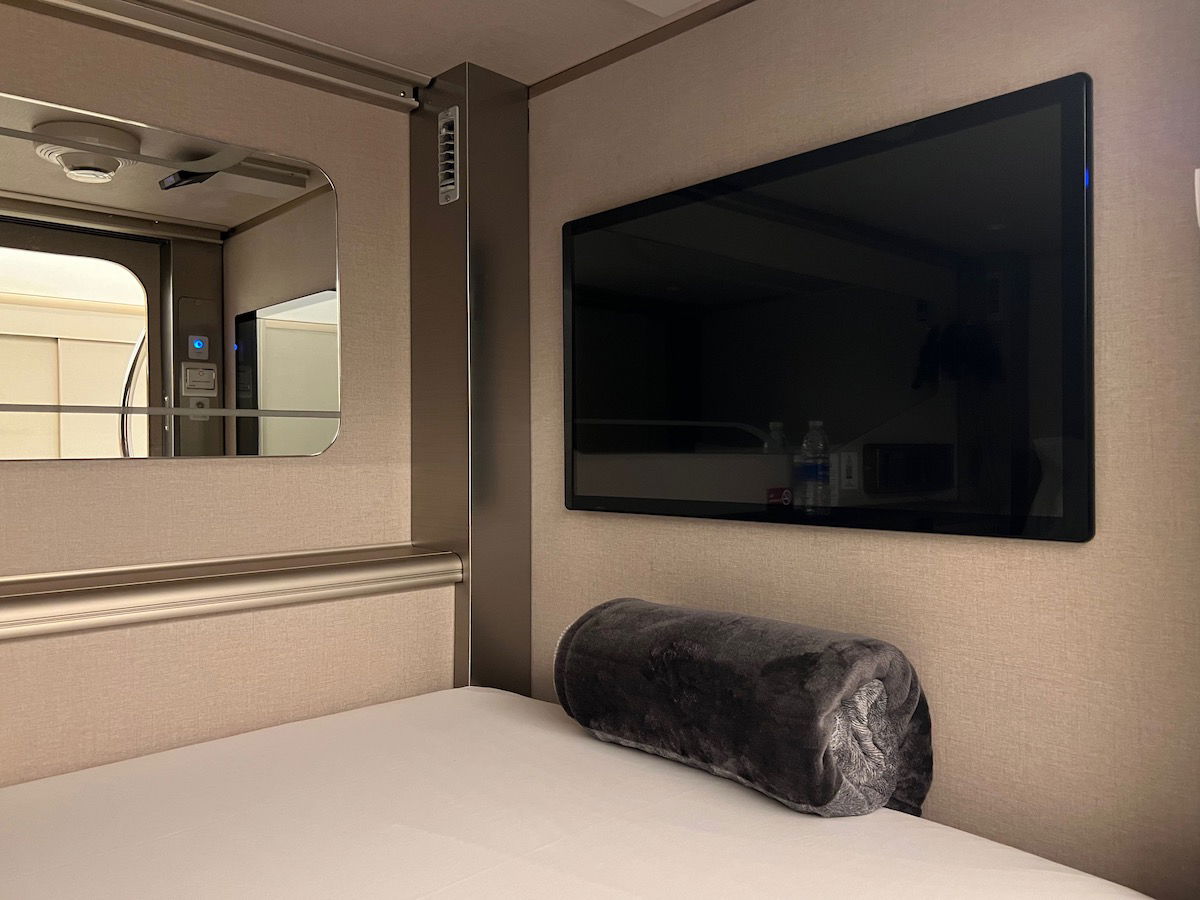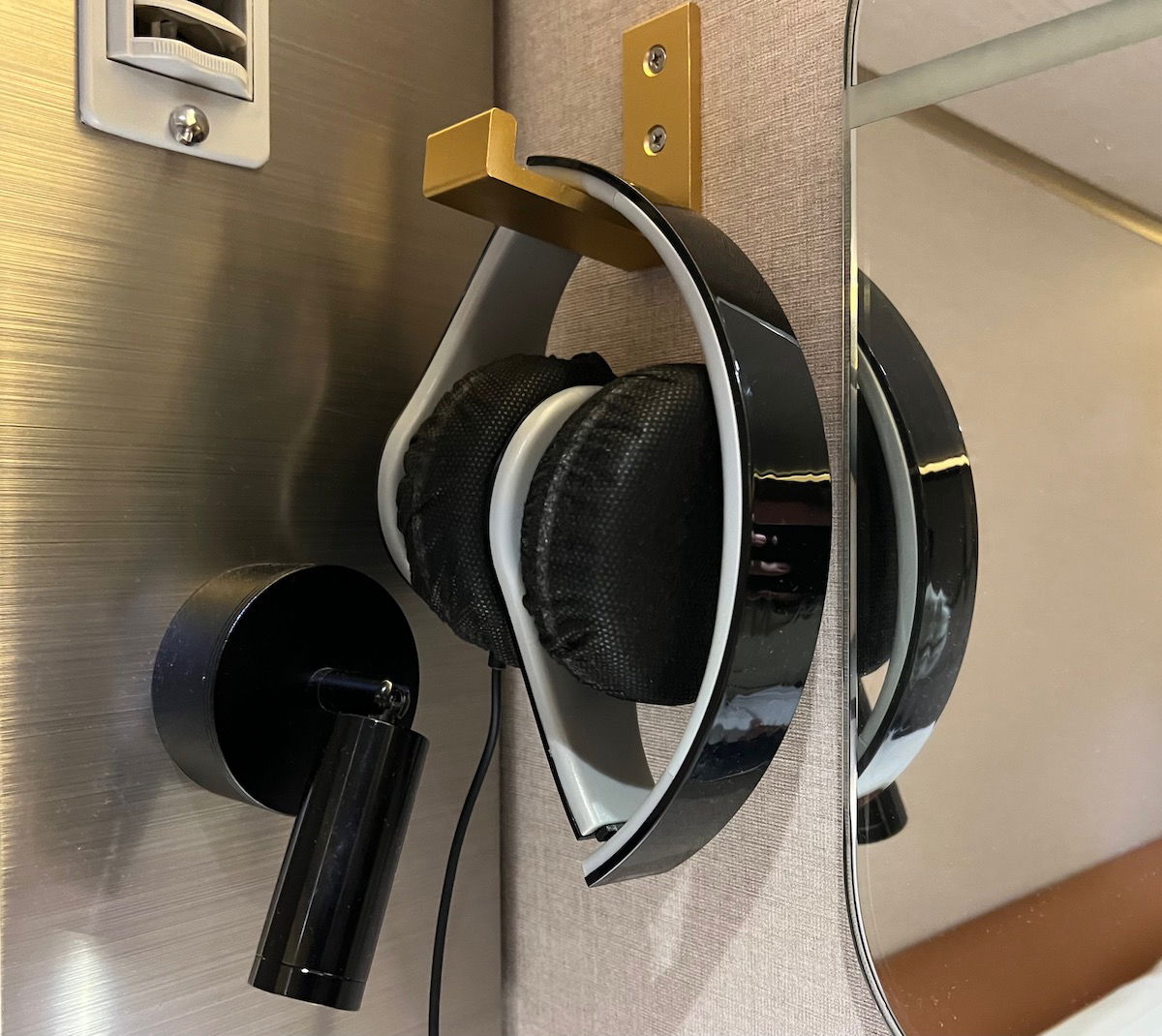 When you're on a long journey, sometimes it's nice to just be able to lock your door and get some rest.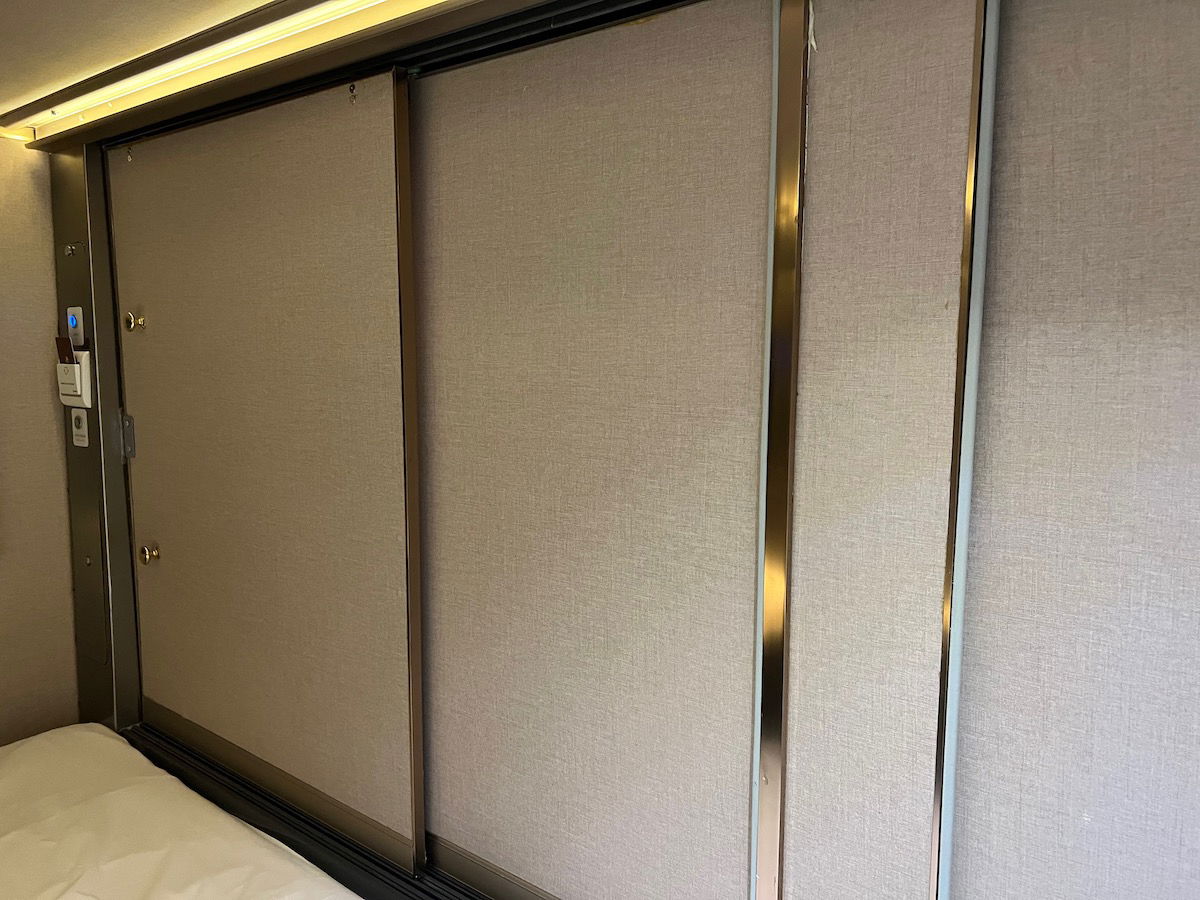 Using the lighting in the sleep pod required entering the key into a slot. There was also a button by the door to unlock the sleep pod.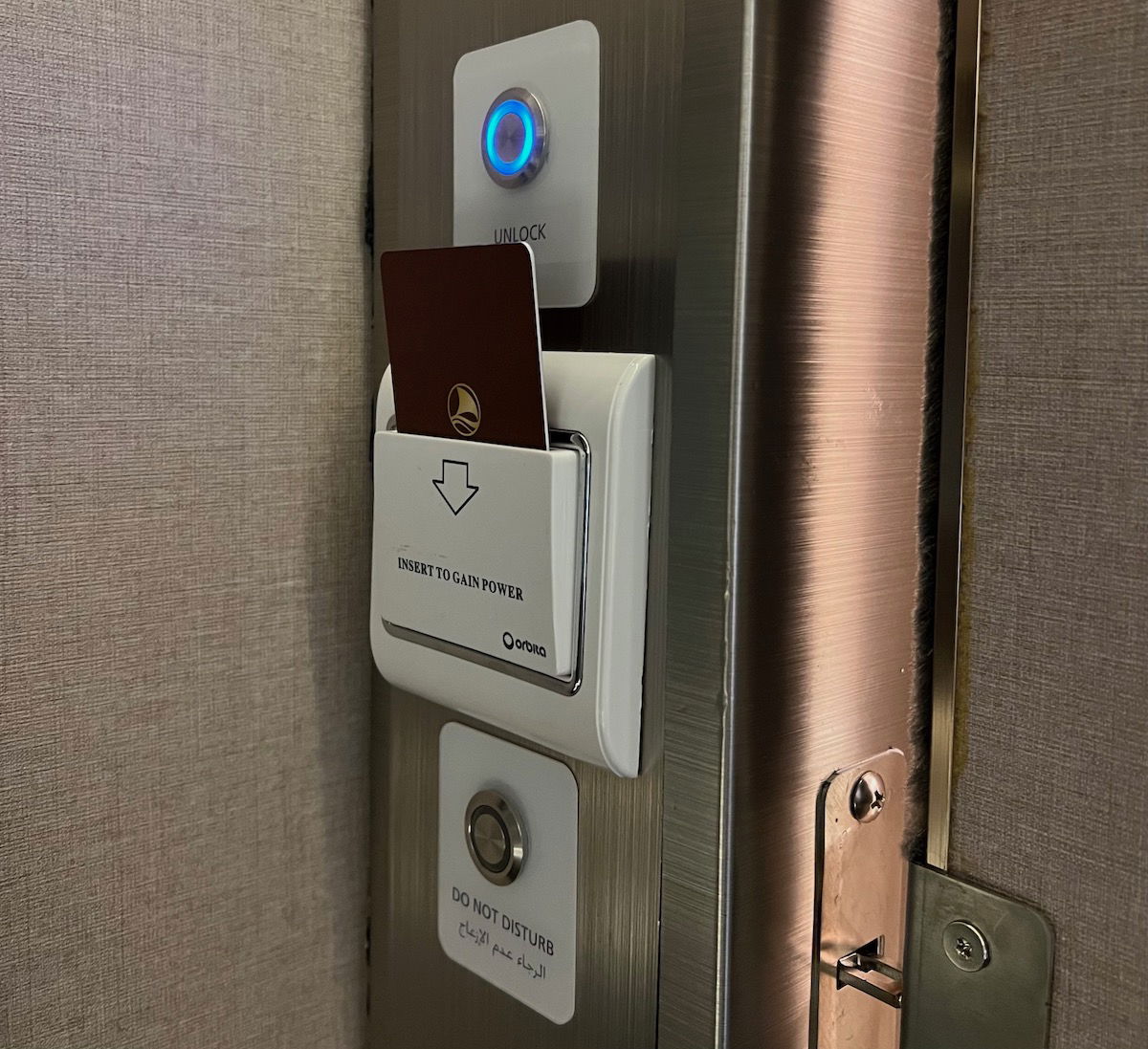 The sleep pod had some pretty good bedding, including a proper pillow and blanket.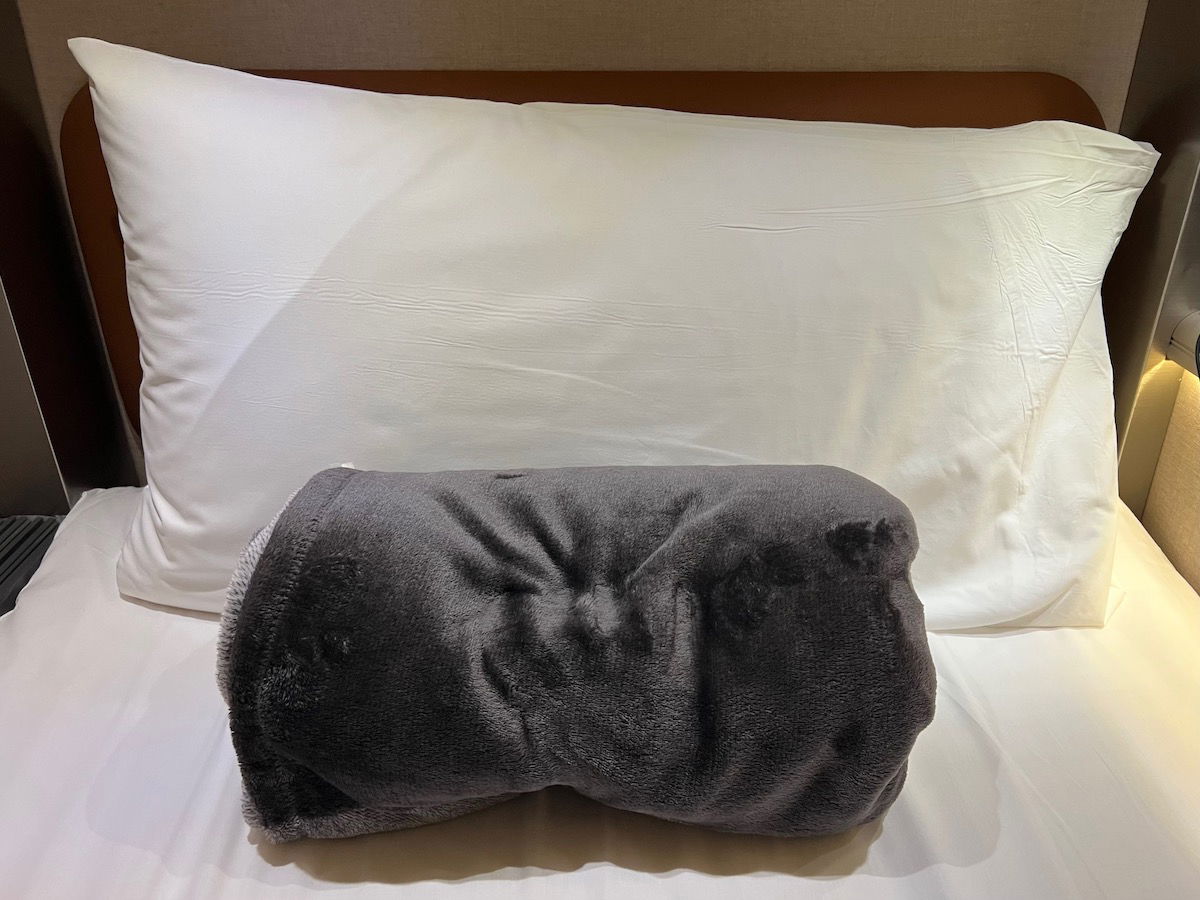 There was a panel near the top of the bed with power outlets (AC and USB), as well as the lighting controls.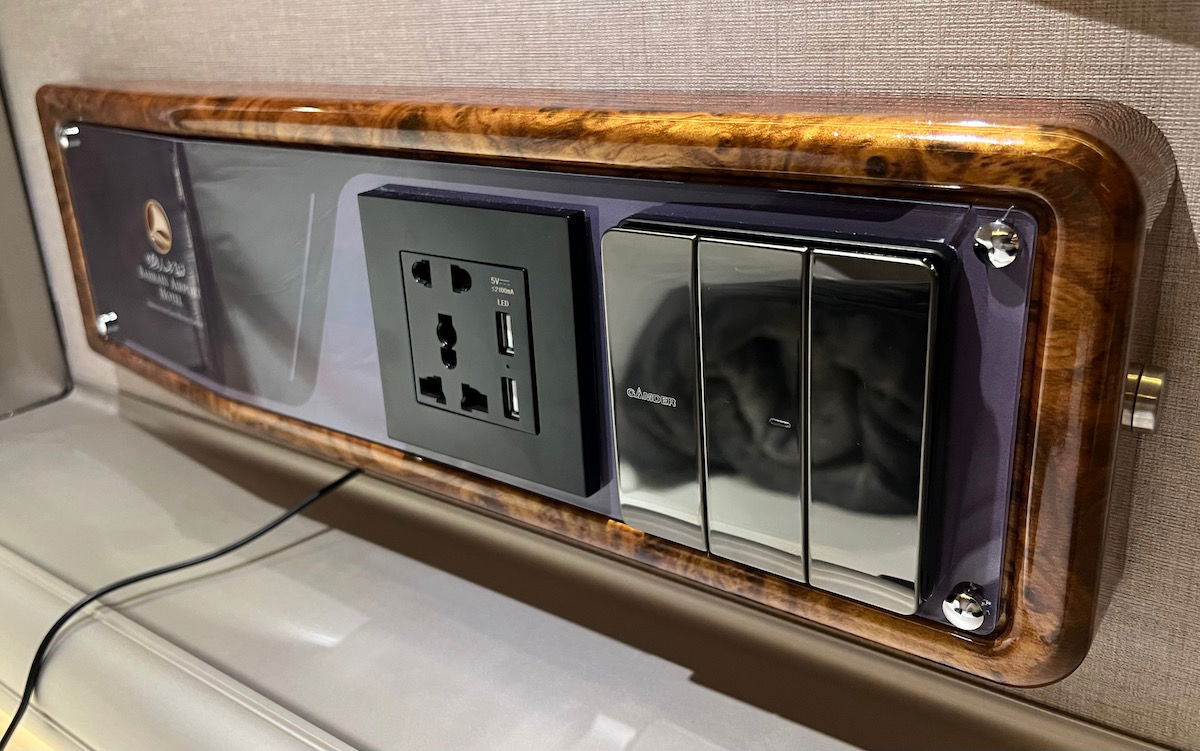 Each sleep pod also had a safe, which some people might appreciate.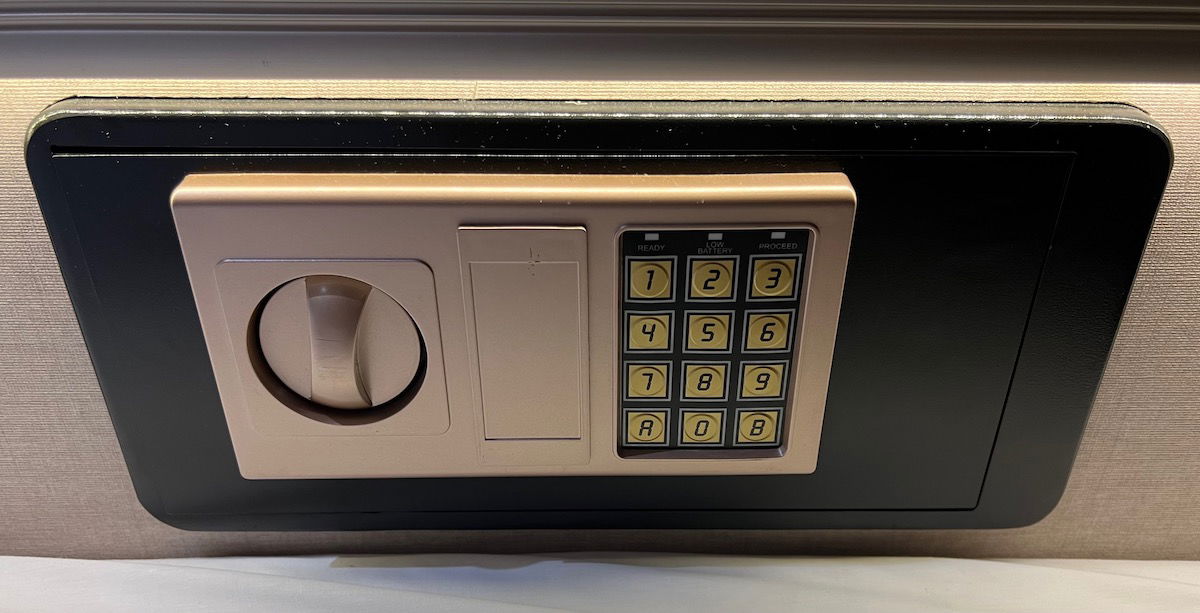 There was also a large bottle of Aquafina water in the sleep pod.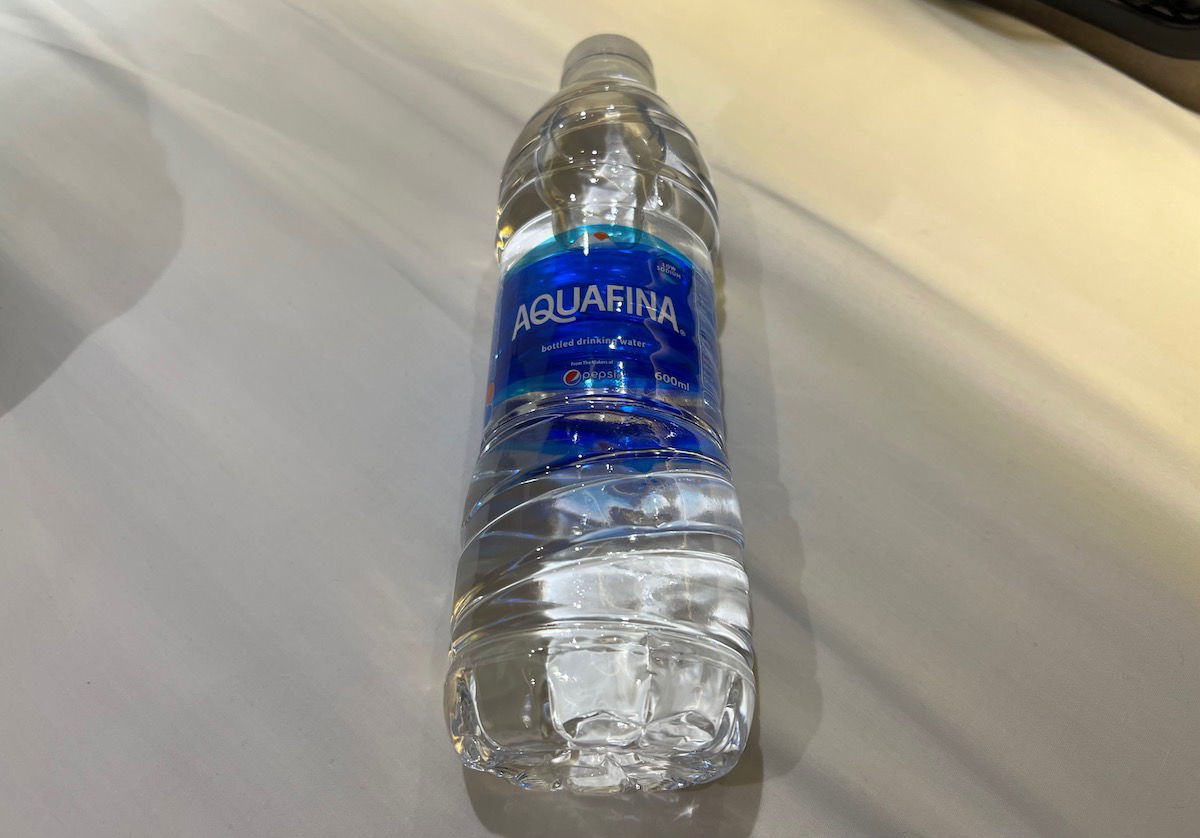 Overall the sleep pod was comfortable, though definitely on the tight side. The biggest downside to these sleep pods is that you can hear everything going on, since there's not much sound insulation. So either bring earplugs or headphones or something, or else you're probably not going to get much rest (at least if you're a light sleeper).
Another nice feature of these sleep pods is that they have dedicated bathrooms and showers. Frankly these were much nicer and quieter than the ones at the Gulf Air Lounge.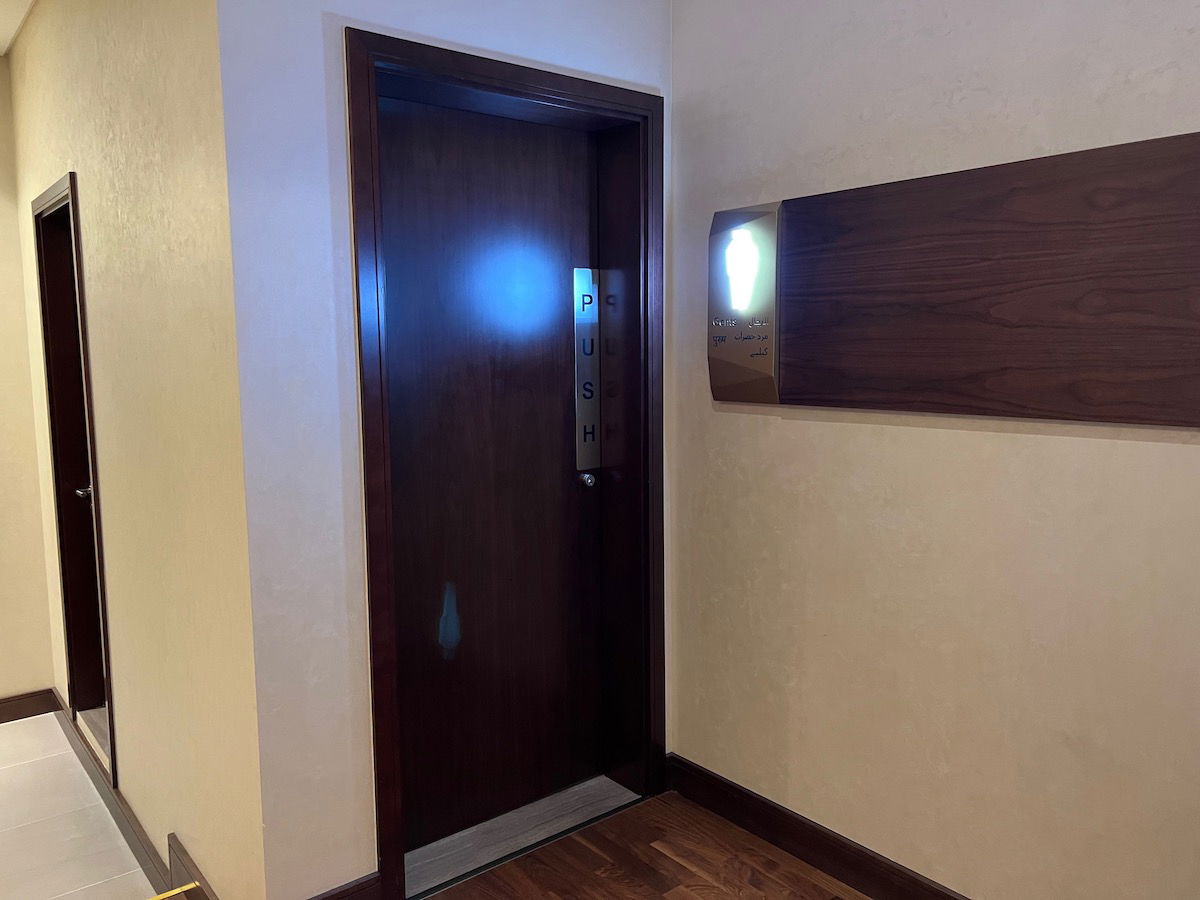 It seemed like almost no one used them, and they were immaculately clean.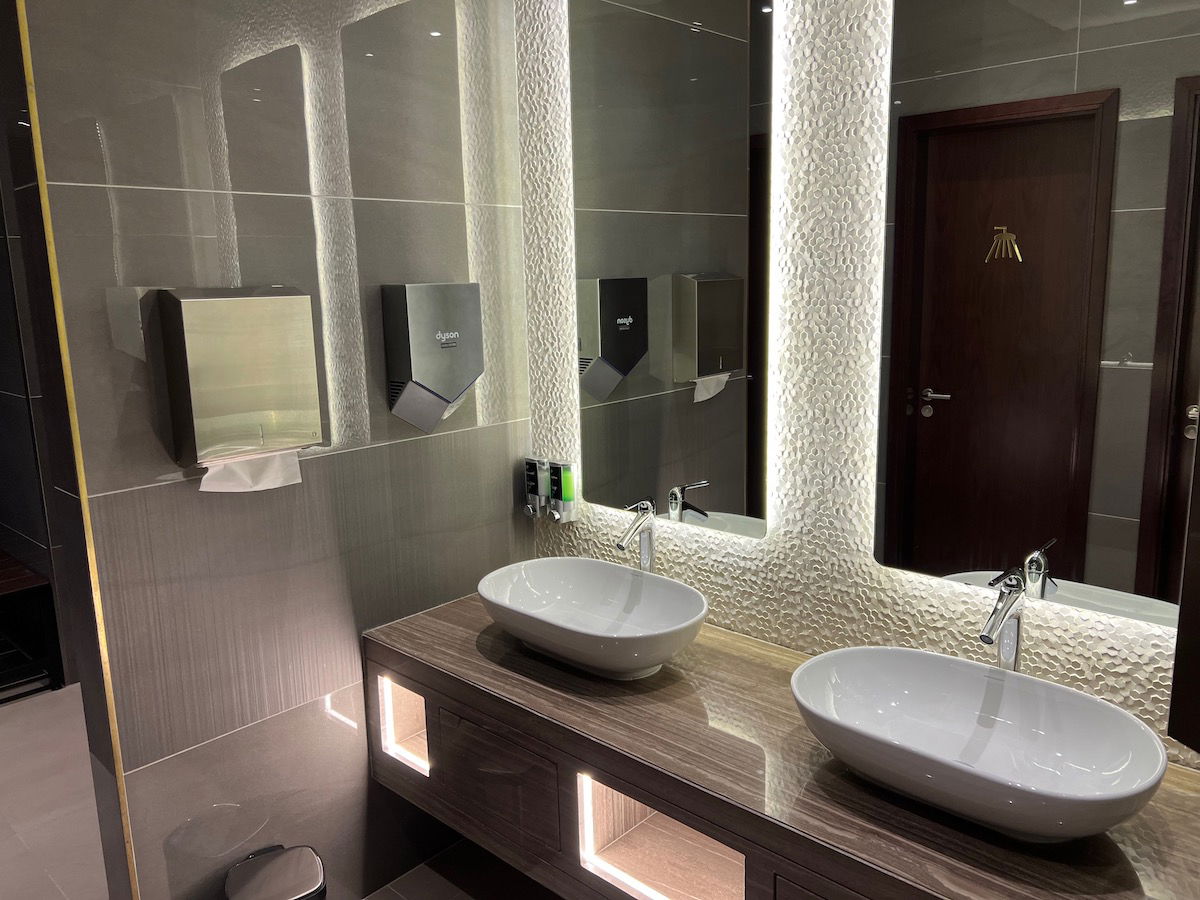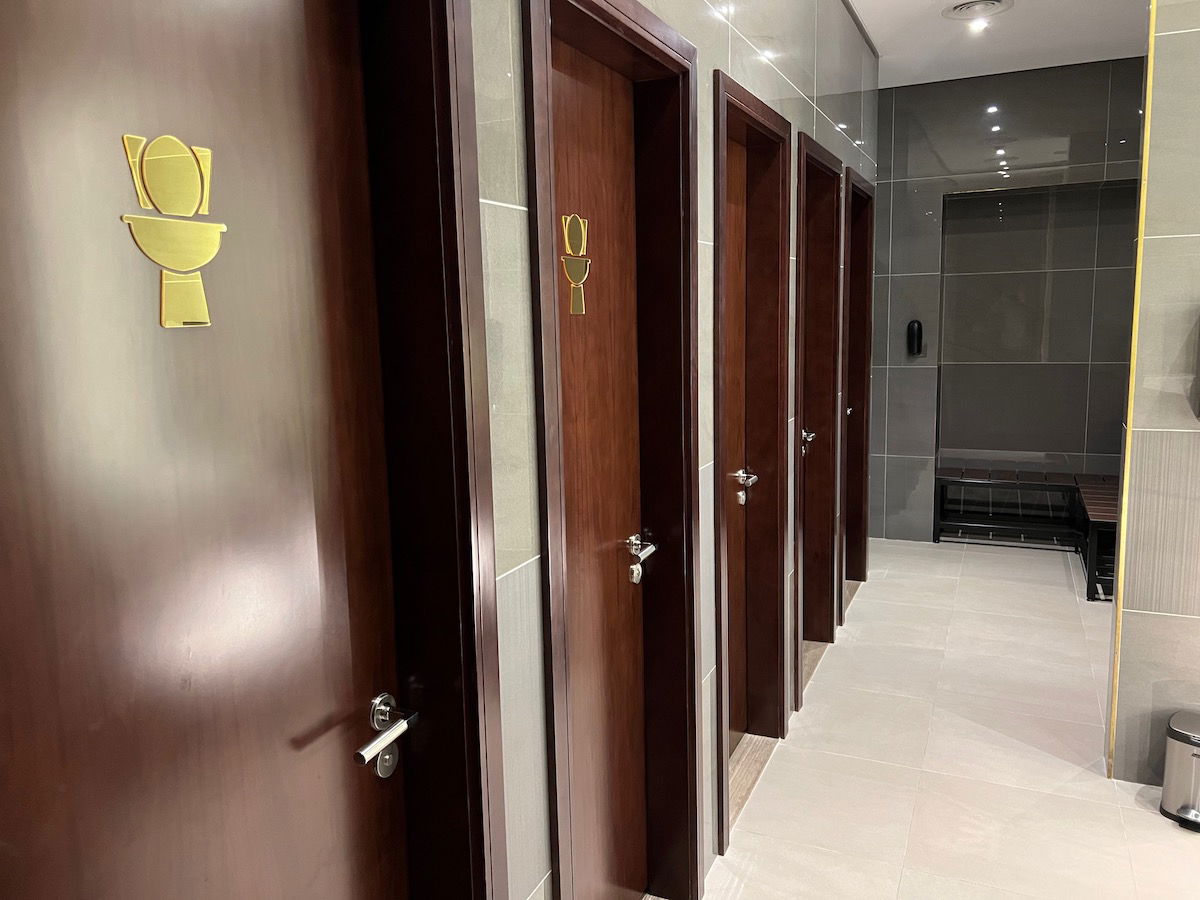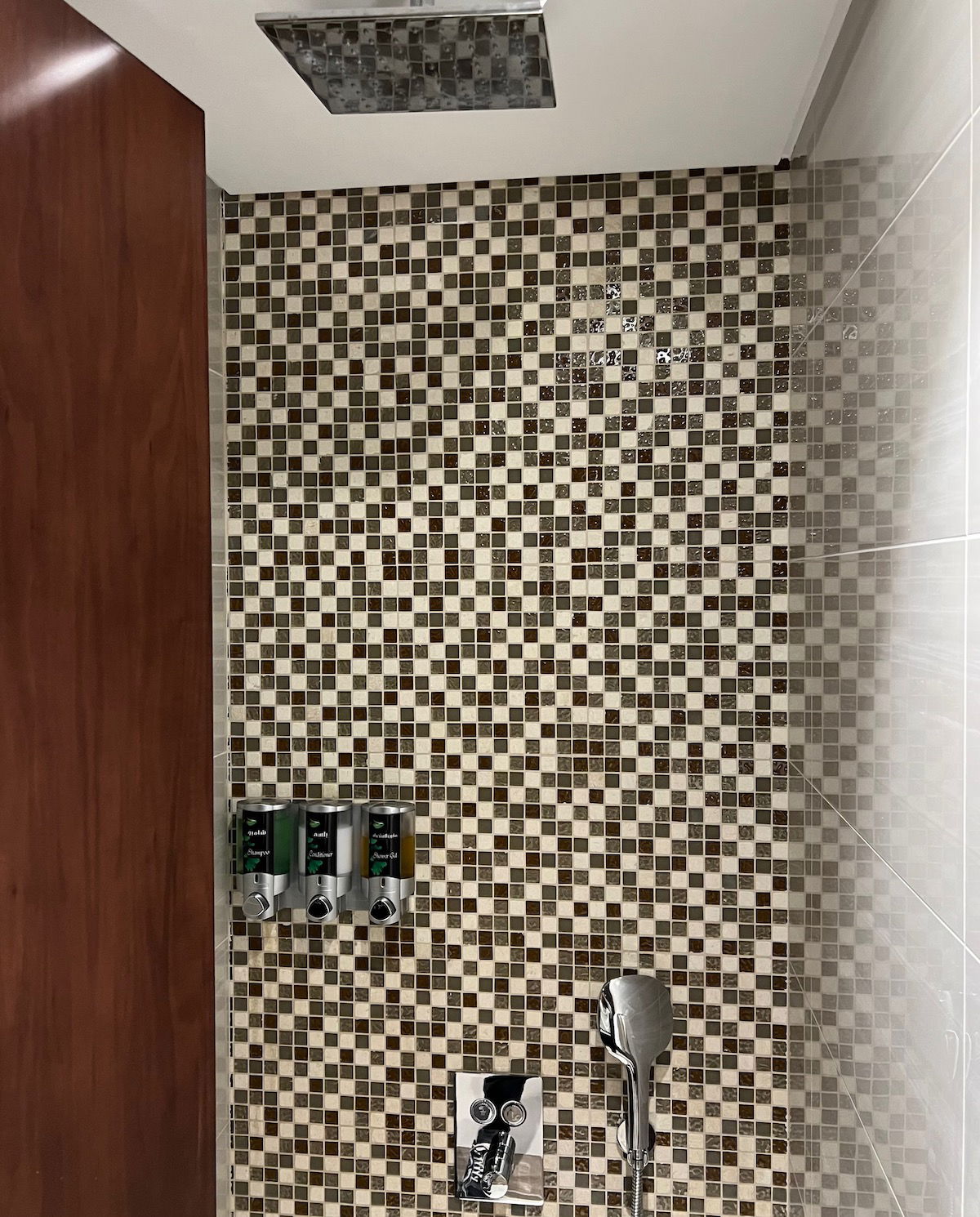 Bahrain Airport Hotel gym
Here's another cool feature. If you book a sleep pod at the Bahrain Airport Hotel, you also have access to the hotel's gym. I think that makes this the only Priority Pass "lounge" in the world that gets you access to a gym. The gym is located one level down from the main terminal, and can be accessed by elevator.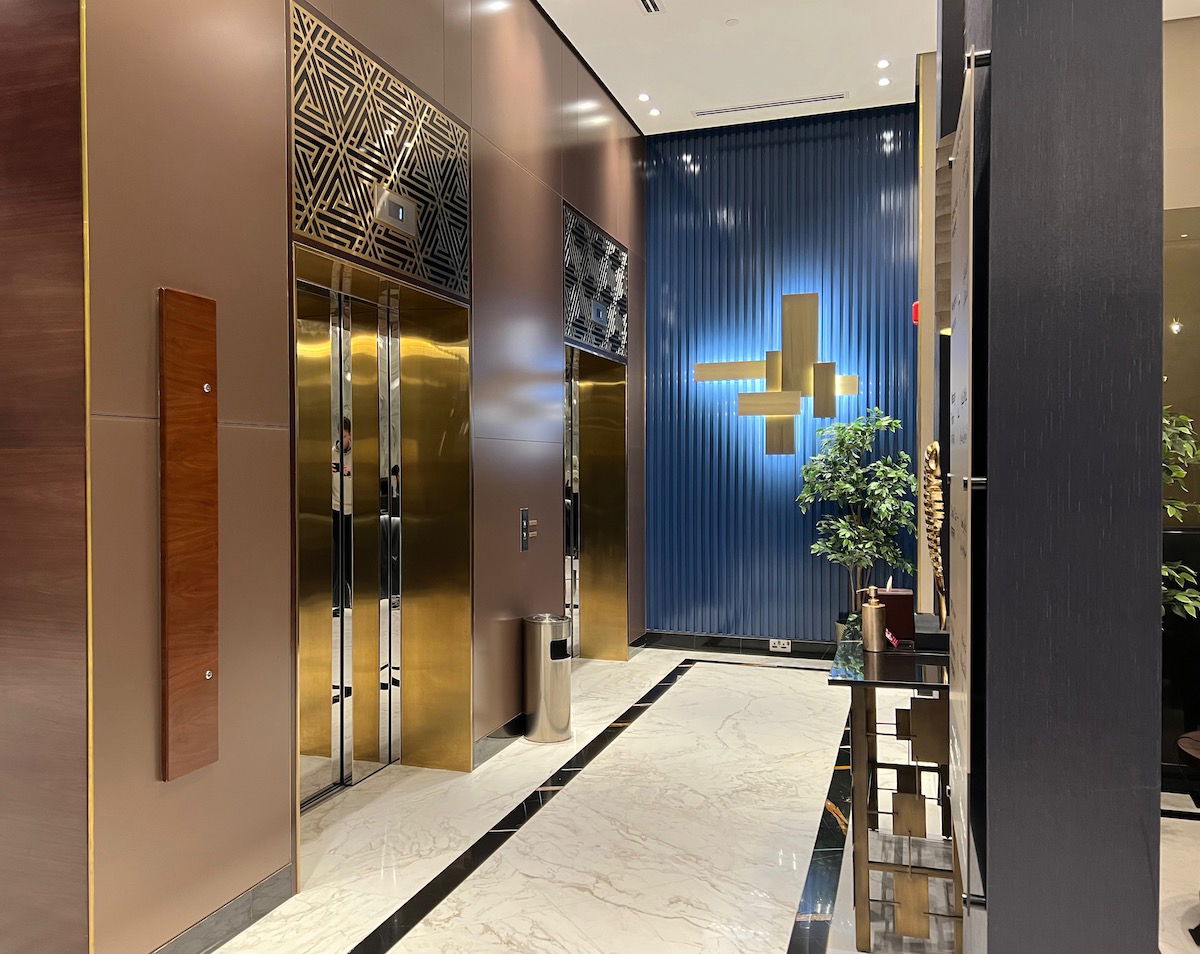 This is the level with the standard hotel rooms.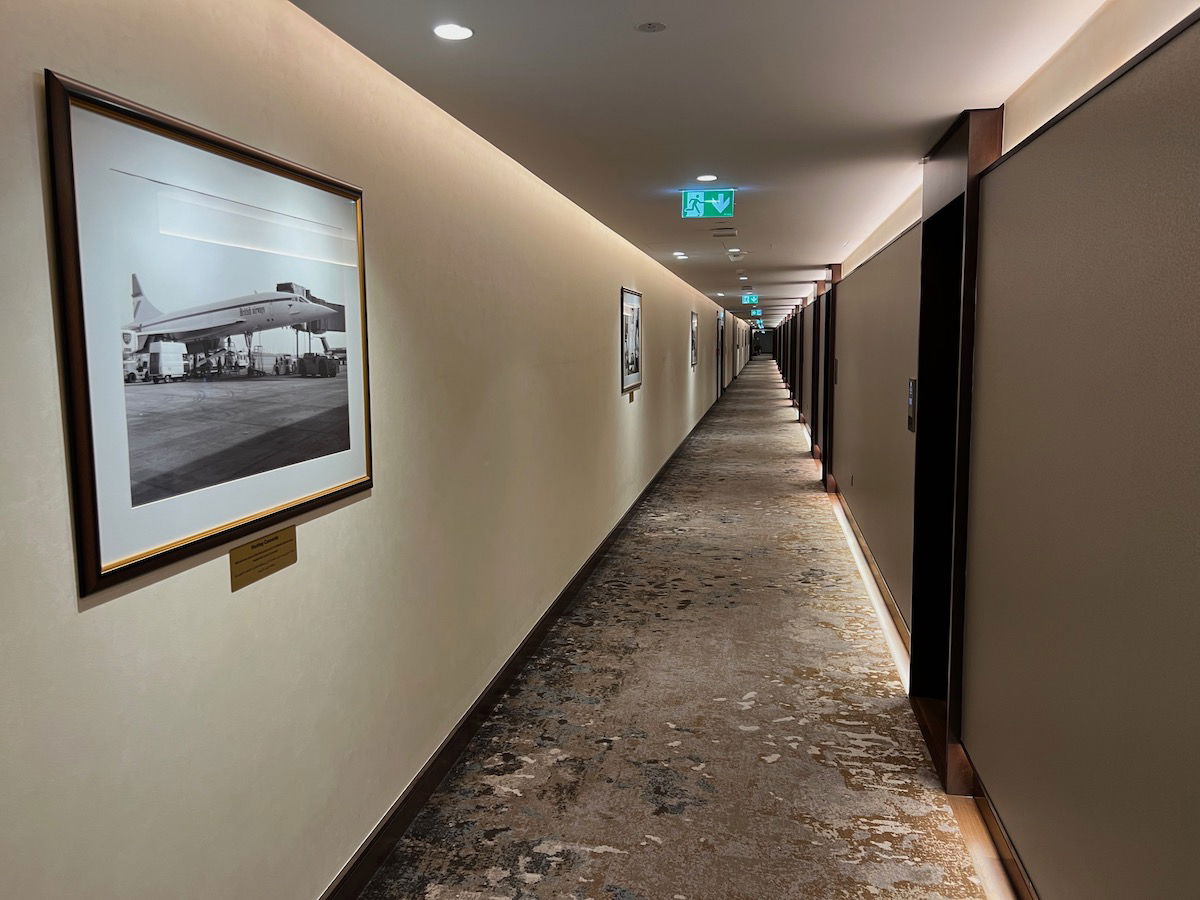 I loved the aviation themed art in the halls, including a picture of the British Airways Concorde, which at one point flew to Bahrain (oh, how the region has shifted!).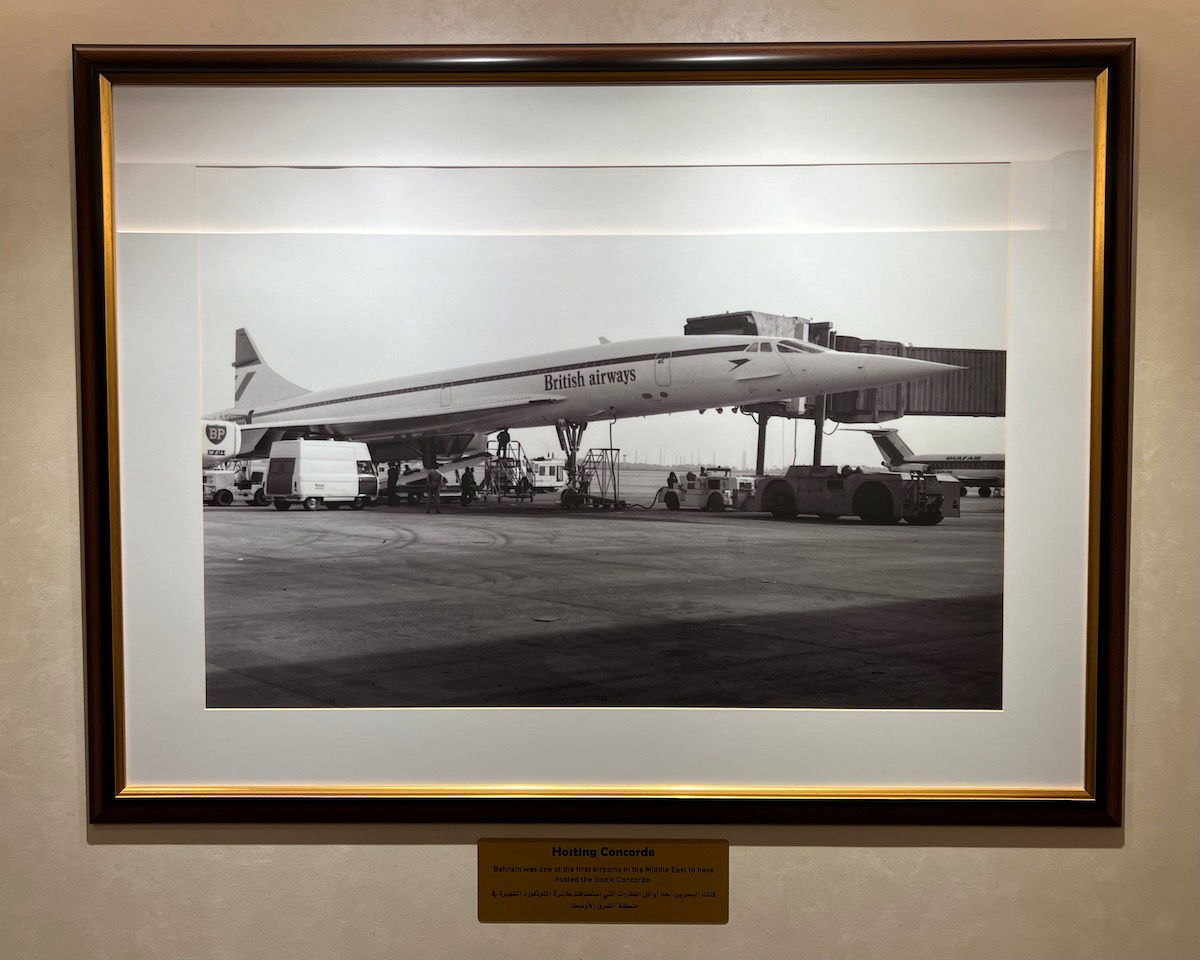 The Bahrain Airport Hotel has a solid gym for an airport, with two treadmills, an elliptical, a bike, and free weights. If I weren't so exhausted, I would have totally taken advantage of this amenity.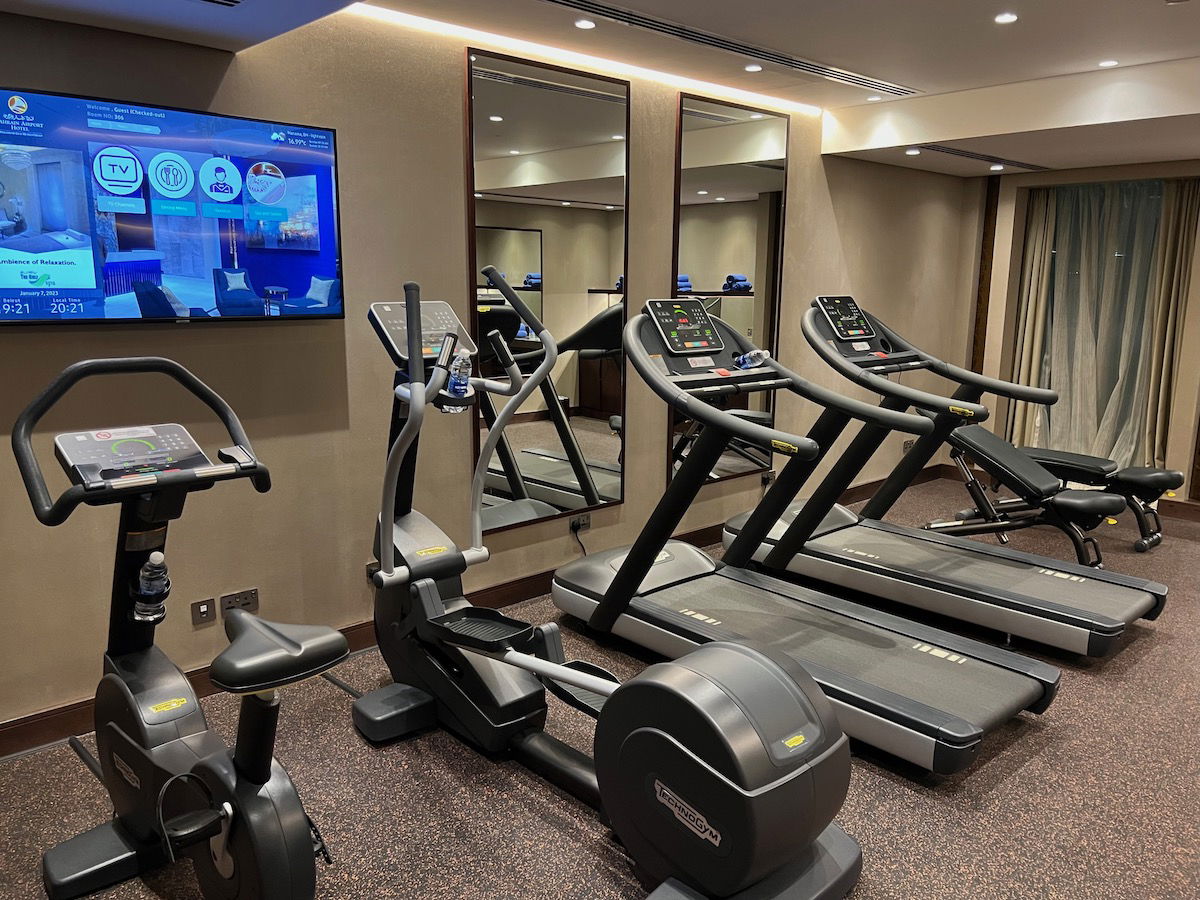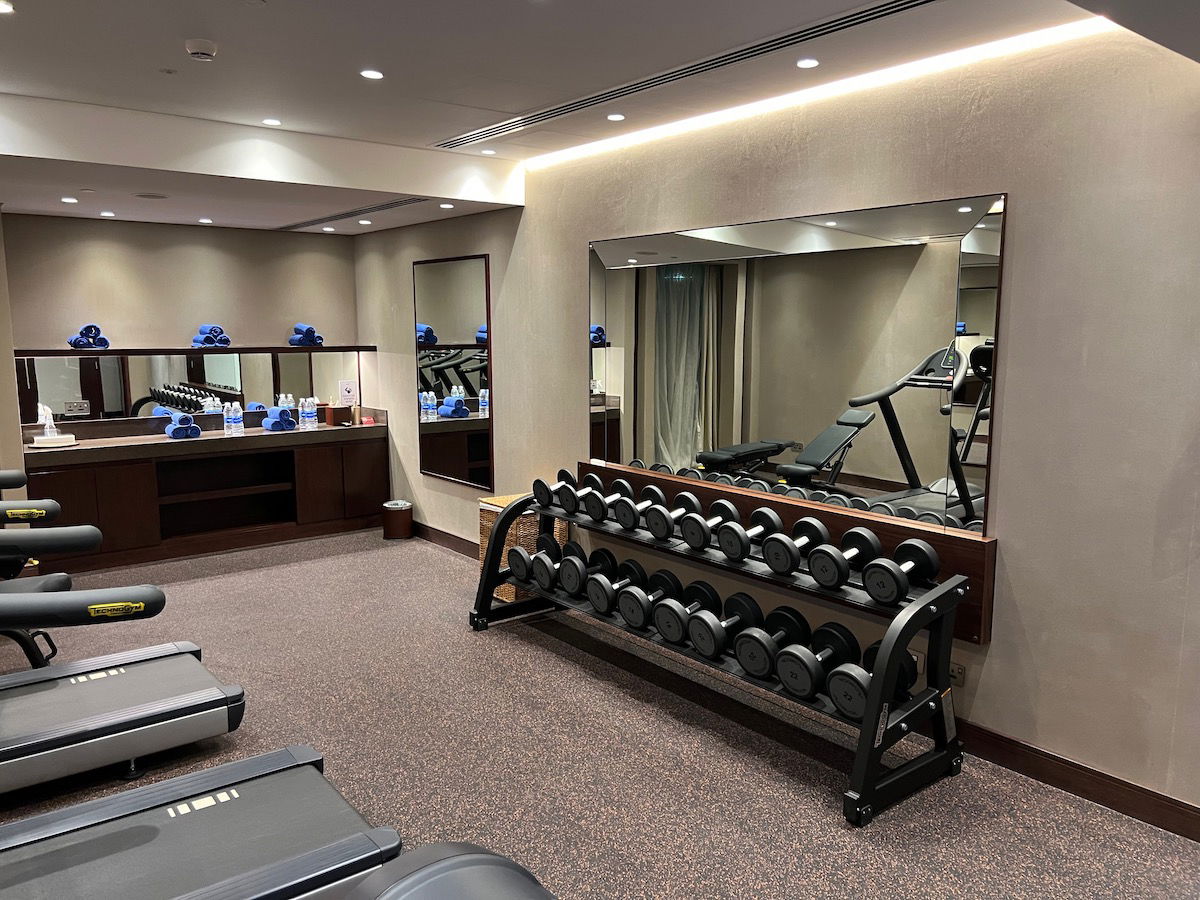 Bahrain Airport Hotel spa
The Bahrain Airport Hotel has a spa, though don't get too excited. This isn't a spa with proper treatment rooms, but rather there are two dedicated areas (one for men, one for women), each of which has two reclining chairs and two massage chairs.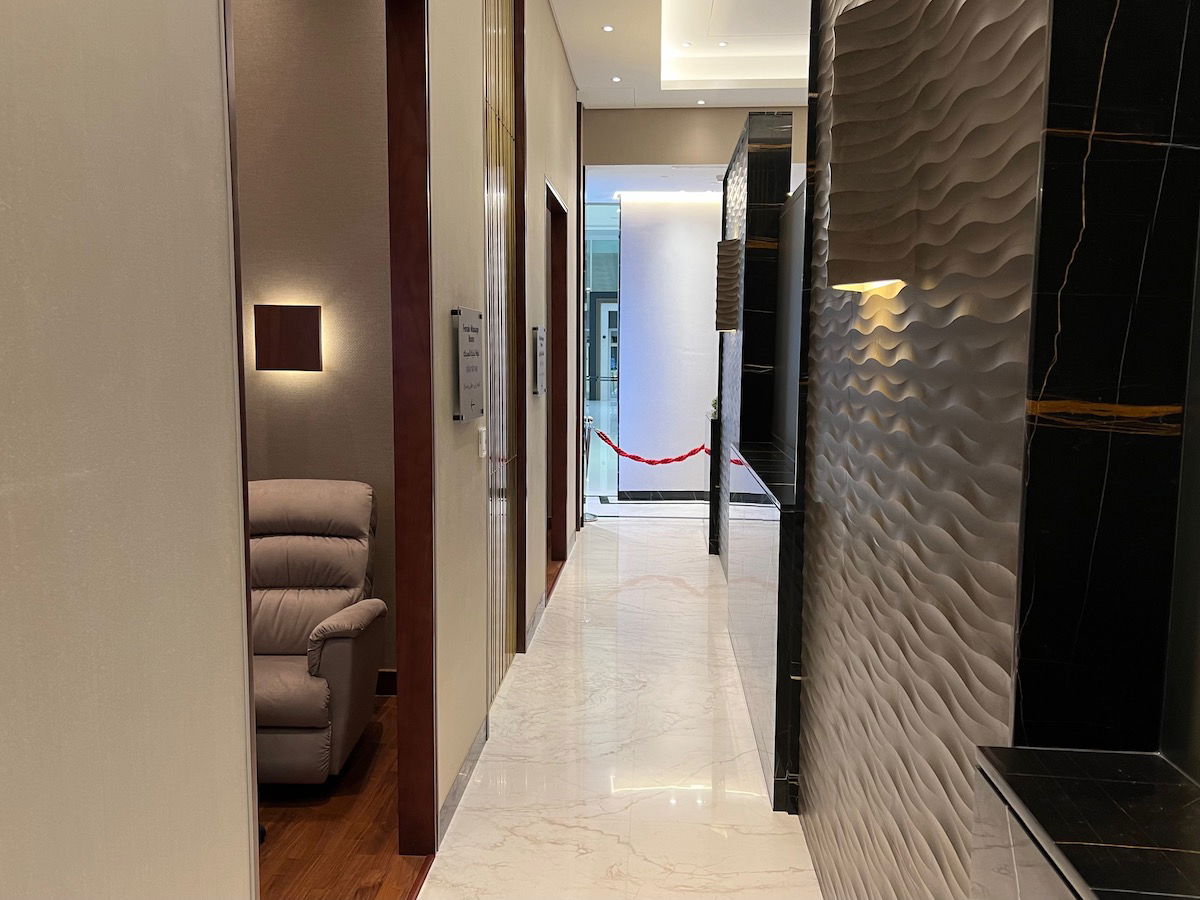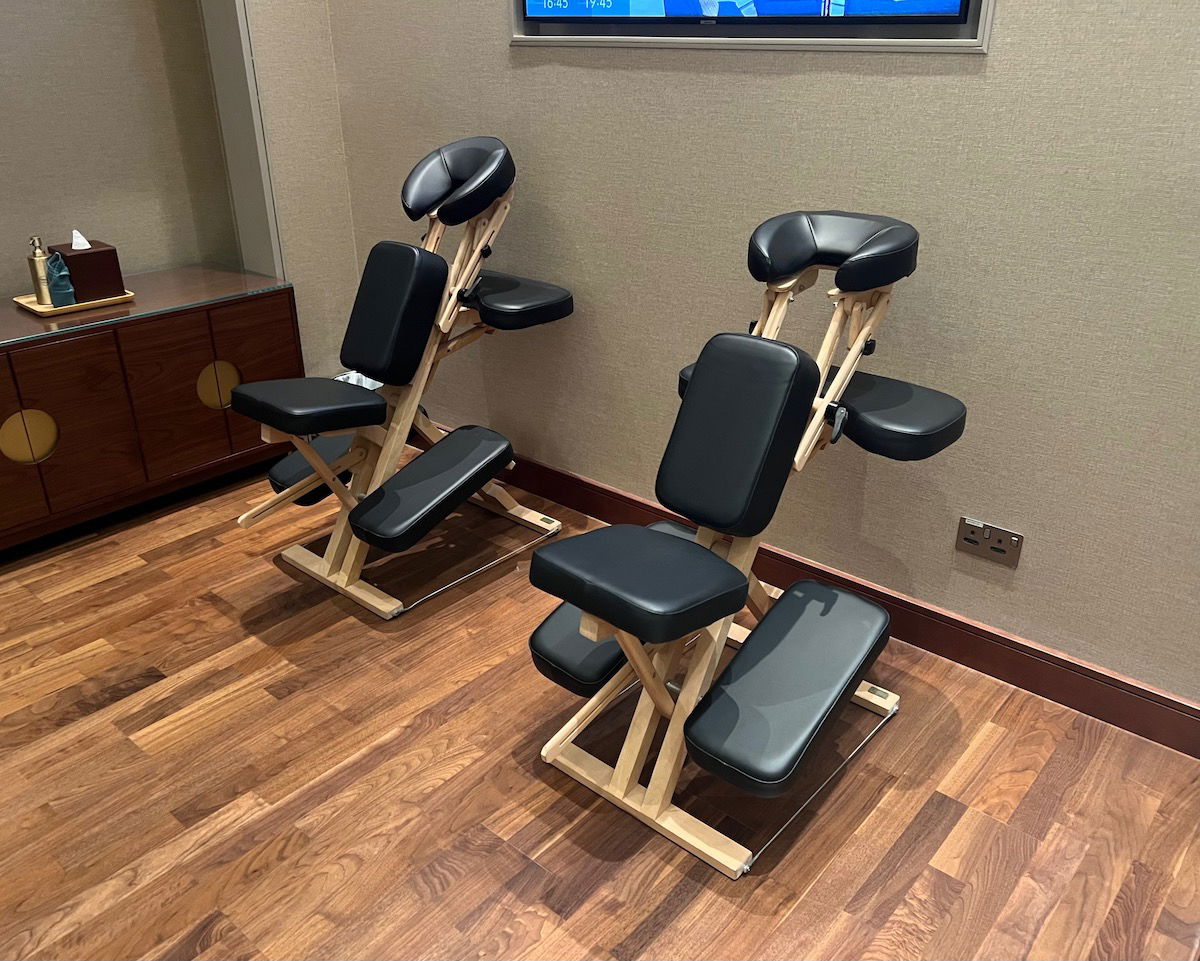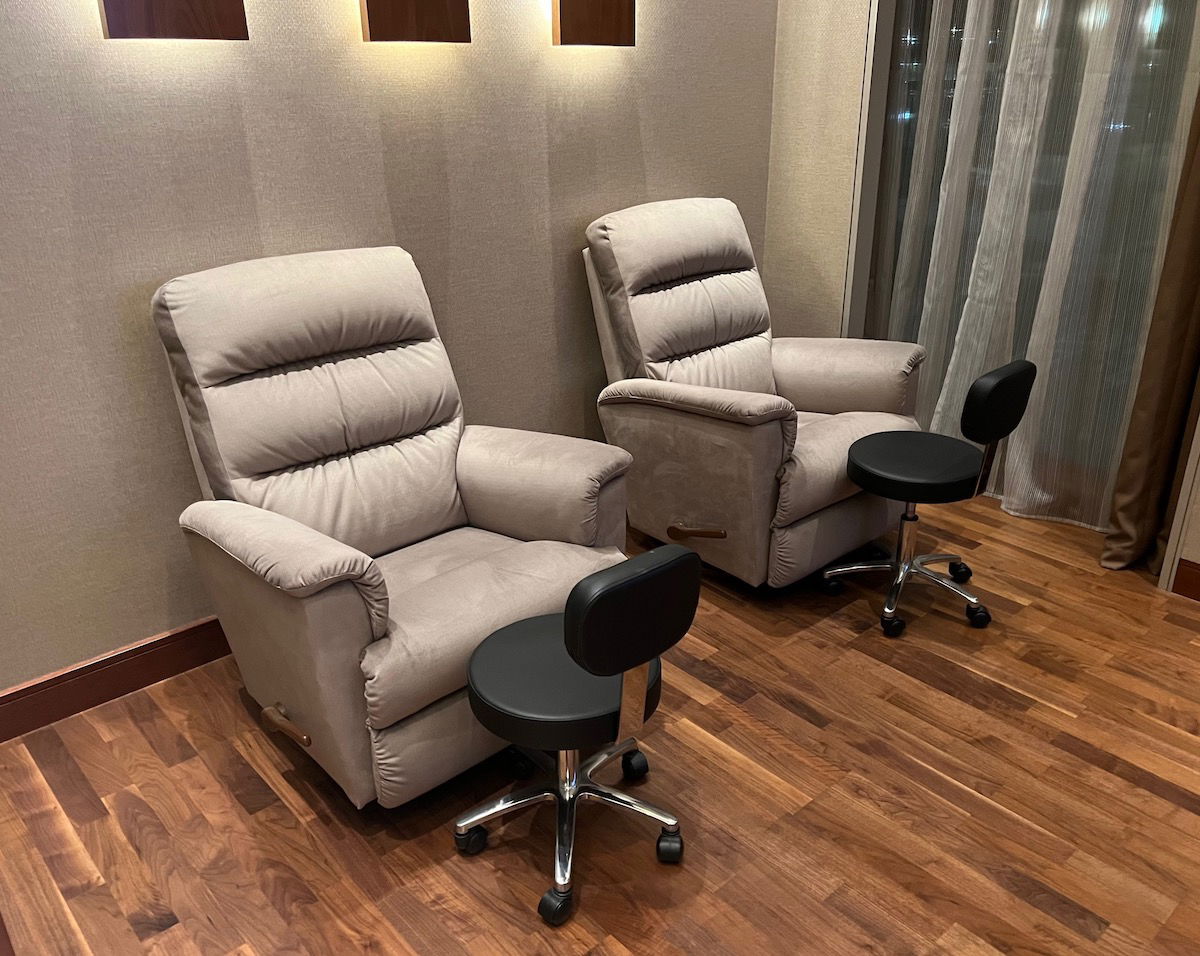 You can find the Bahrain Airport Hotel spa menu below (for context, 1 BHD is equivalent to $2.65).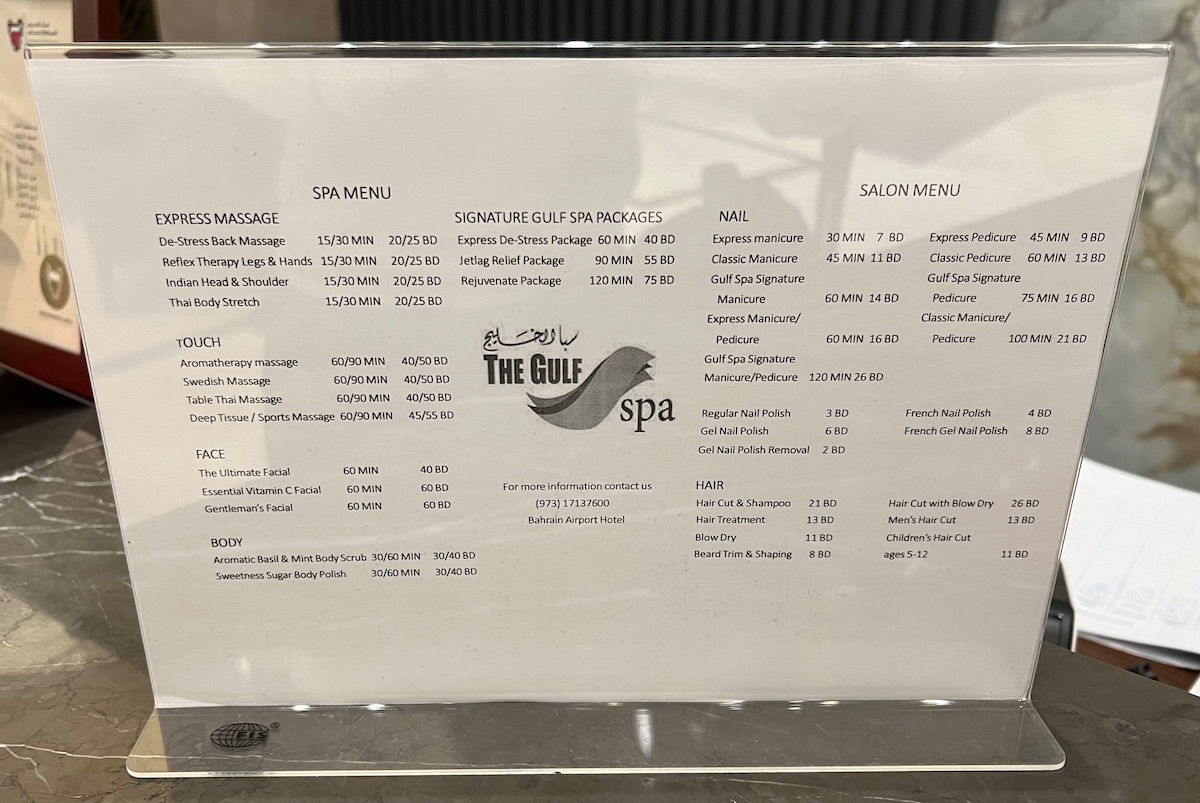 Priority Pass' website indicates that you receive your choice of a destress back massage, reflex therapy for hands and legs, or Indian head and shoulder massage. However, in reality I was never asked what kind of treatment I wanted, but rather was just massaged for 30 minutes.
The massage was "no frills" but very good, and it lasted a full 30 minutes, and covered by back, arms, and head. The ambiance wasn't terribly relaxing, as there was no music, but rather you just heard the noise from the terminal.
Admittedly this is a low bar, but I definitely think this is the best massage experience you can have through Priority Pass.
If you're a Priority Pass member and trying to decide whether to choose a sleep pod or massage, I'd say:
If you're at all interested in resting, and/or want to use the gym, then get a sleep pod
If you have no interest in resting or using the gym, enjoy the massage
Bottom line
The Bahrain Airport Hotel is a great airside transit hotel, with unbeatable convenience. Even if you're not looking to spend a night here, the hotel has some features for Priority Pass members. Priority Pass members can enjoy either a sleep pod for three hours, or a massage for 30 minutes.
Both are great, though note that you can only choose one or the other. These are some pretty unique features, as this is probably the best massage you can get anywhere through Priority Pass (it's certainly the longest), and it's the only Priority Pass "experience" I know of that includes gym access. If you have a long enough layover at Bahrain Airport, I'd highly recommend checking this out.
What do you make of the Bahrain Airport Hotel?