Update 1/31/23
:
Troy in the comments notes
that there are several versions of this offer when you call. As per his comment, I called and booked a 3-night stay for $279 that comes with 80,000 Choice Privileges points and a $25 bonus Amex Gift Card for booking within 30 days. I've included more detail about my experience with it under "Quick Thoughts" below.
Choice Privileges is offering several different timeshare presentation deals that may be intriguing: get up to 80,000 Choice Privileges points and a $25 American Express gift card (or one of several other versions of the deal) when you "explore vacation ownership" (i.e. attend a timeshare presentation). That can be a solid deal, but beware of the cancellation policy (see more in the post below).
The Deal
Choice Privileges is currently offering several different deals for attending a 2hr Bluegreen Vacations timeshare presentation. Troy in the comments notes receiving the following offers:

For $299, Choice Privileges is offering a 3-night Bluegreen Vacations resort stay, 40,000 Choice Privileges points, and a $100 American Express Gift Card. Plus get an extra $25 Amex Gift Card if you book within 30 days of purchasing the package. You need to call to book at (855) 240-6573.
Pay $279, get 80,000 Choice Privileges points + $25 Amex Gift Card if you book within 30 days
Pay $279, get 30,000 Choice Privileges points + $25 Amex Gift Card if you book within 30 days
Pay $279, get a $300 American Express Gift Card+ $25 Amex Gift Card if you book within 30 days
Key Terms
Must attend a two-hour Bluegreen Vacations timeshare sales presentation and tour
Must have a household income of at least $50K (may be waived if one of a cohabiting couple is 62 years old or older) and creditworthy (minimum score of 600)
Late cancellation / no-show fee of $125 if check-in date is modified less than 14 days prior to check-in date
$200 no-show fee charged to your debit or credit card if you fail to show up for your reservation (on top of forfeiting whatever you've already paid)
Quick Thoughts
Update 1/31/23: As noted at the top, I personally called and booked this deal last night. A few takeaways from my experience:
The agent led with the fact that I would receive Choice points just for agreeing to be transferred to her. I assume most people must get transferred after calling customer service. I didn't ask how many points to expect. She said it takes a few days for them to reflect in the account and I don't see them yet, but I'll be happy with any little bonus that appears.
The agent led with the 40K + $100 offer. I asked whether there were any other offers (hoping to hear about the ones that Troy noted). She asked whether I was looking for a longer stay or something else. I said I'd be interested in something including more points. She immediately told me about the 80K offer, but she said that in the location where I was looking this would be a hotel stay rather than staying at the Bluegreen property (the $299 deal for 40K + $100 would have been in a 1bdrm unit at the property). I was fine with the hotel stay in part because I wanted to see if I could get booked into a Marriott property and earn double elite night credits (I don't expect this to work, but you hit 0% of the balls at which you do not swing). She did not proactively mention the $25 bonus for booking within 30 days and I didn't ask about it. Note that the hotel stay vs resort stay is location-dependent. Troy in the comments notes having booked the 80K offer with the stay at a Bluegreen property still rather than a hotel.
The phone agent was able to confirm availability for the check-in dates I had in mind but couldn't tell me which hotel — she said I would need to contact the reservation team after buying the package and they would have different options. She was able to name a bunch of the hotels, which included brands from Choice, Hilton, and Marriott.
I would have had 12 months to book, but I already had a trip planned where I needed a few nights, so I was happy to lock in a check-in day on the call. After I paid the $279 over the phone, I received an email from Bluegreen Vacations. I had to register for an account with them to see my stay information. I was automatically booked into a Marriott property but expect that I can call and change it based on what the agent told me.
After paying, the agent noted that because I booked within 30 days I'd get the additional $25 bonus. Good to know it's automatic!
The confirmation information says that I'll still owe about $40 in taxes directly at the (hotel) property when I arrive.
By our Reasonable Redemption Values, 80,000 Choice Privileges points should be easy to redeem for $544 or more. In my experience, I rarely redeem Choice points for a value of less than 1c per point compared to the cash rate, so I expect to get quite a bit more than $544 in value by cherry-picking good redemptions. This feels like a solid trade even if you don't value the hotel / Bluegreen stay. If you do, this is a great deal in my opinion.
All that said, keep in mind that you need to be good at saying "no" if you're going to attend a timeshare presentation. Whatever the first offer may be, there is always a better offer or two or six. Some people love their timeshares, but don't get cornered into buying something that isn't a fit for you. If you are easily convinced, I'd recommend avoiding timeshare presentations. Personally, I'll be curious to hear the pitch.
I have noted some discomfort with the cancellation policy that is buried in the offer terms in the past and I'll include it here again:
Late Cancellation/No-Show Policy: Because Bluegreen Vacations subsidizes the cost of this vacation package in order to offer it to you at a discounted price, Bluegreen Vacations has instituted this Late Cancellation/No-Show Policy. Your scheduled check-in day may be modified at no charge only if the request is made AT LEAST FOURTEEN (14) DAYS PRIOR TO THE SCHEDULED CHECK-IN DATE. If your check-in date is modified less than fourteen (14) days prior to this check-in date, a $125.00 Late Cancellation Fee will be required. Participants with reservations who fail to show up on their scheduled check-in date, will have a $200.00 No-Show Fee charged to their debit card or credit card (dependent upon the method of payment used to purchase the vacation package), and will forfeit any prepaid fees or deposits. By making a reservation in response to this promotion, you are agreeing to this policy.
I find that cancellation policy pretty ridiculous in the current environment. On the one hand, many hotels have cancellation deadlines and with the nature of vacation rentals maybe they face reduced prospects of selling the room if you can't make it. However, it would cost you $125 to cancel within 14 days, so keep that in mind.
Note also that I highlighted in the post about the previous promotion that there is a requirement to have a minimum FICO score of 600 to qualify and the phone agent did reiterate that twice. As I noted last time, I don't know how they verify that as the terms go on to state that they only verify your precise credit score through a hard inquiry upon "consent and decision to purchase a timeshare interest or Sampler product from Bluegreen Vacations". Be careful to closely read any paperwork you fill out to be sure that you don't consent to a pull that you don't want. I assume the hard pull is not required to attend the presentation or receive the promised award, but I am always vigilant about what I sign at these types of things.
If interested, it looks like you'll have to call to book. You might try your hand at negotiating an even better deal over the phone. While I don't know for sure that Choice negotiates these (and I think the 80K offer is a pretty hot deal on its own), I know that timeshare offers are often negotiable, so it might be worth a shot.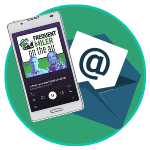 Want to learn more about miles and points?
Subscribe to email updates
 or check out 
our podcast
 on your favorite podcast platform.