It's finally happening: As of today, Feb. 1, Delta Air Lines is offering free inflight Wi-Fi to nearly all passengers on most domestic flights.
Last month, Delta CEO Ed Bastian announced the airline was ready to offer free Wi-Fi on its flights starting Feb. 1, a promise he initially made four years ago. As of right now, only 80% of Delta's domestic aircraft are equipped to offer free high-speed internet access onboard, but the airline is working to outfit the rest of its domestic mainline fleet with the technology as soon as possible.
And by the end of 2024, the Atlanta-based airline plans to offer free Wi-Fi on both long-haul international routes as well as Delta Connection flights operated by smaller, regional partner carriers.
To access the free Wi-Fi service, passengers will need to log onto their Delta SkyMiles account. There's no limit on how many devices passengers can connect to the inflight Wi-Fi, meaning you can get online with a laptop and phone simultaneously or even log in to get your children online.
Anyone who doesn't have a SkyMiles account can sign up for free inflight and get online in just a few short minutes.
We tested out Delta's free inflight Wi-Fi during the trial last year and can confirm it's as fast and reliable as the airline promised.
The easiest way to know if your Delta flight will have free Wi-Fi on board is to look for the red banner stating "Fast Streaming Wi-Fi" on flight options during the booking process at delta.com. It's a safe bet that these aircraft are equipped with the new Viasat technology that makes this possible.
You can also look for a decal located near the boarding door of the aircraft that reads "Delta Wi-Fi. Faster Streaming Awaits. Powered by Viasat." If you see the decal, you should have free Wi-fi available starting today.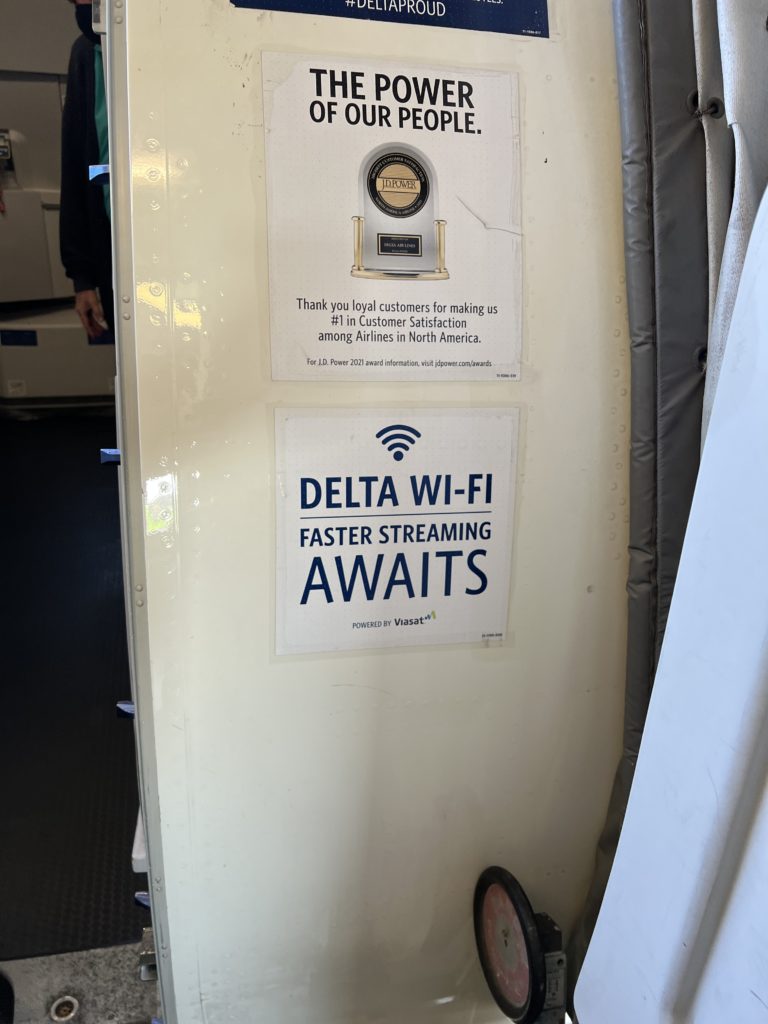 Delta is now the first of the big four U.S. airlines – a group that also includes American, Southwest, and United – to offer free gate-to-gate Wi-Fi for all, but they're not the first U.S. carrier to do so.
JetBlue has been offering complimentary Wi-Fi service for its passengers for years. As the competition for customers heats up, it won't be long before other airlines join them. American and Southwest have both trialed free inflight Wi-Fi recently, and Hawaiian Airlines has said it plans to launch free high-speed internet access on select transpacific flights through SpaceX's Starlink service sometime later this year.
This day has been a long time coming for Delta. Bastian first set this in motion in October 2018 when he mused aloud: "I don't know of anywhere else, besides in an airplane, that you can't get free Wi-Fi." That goal, however, proved too lofty as the realities of offering fast, reliable internet to 150-plus passengers in a metal tube thousands of feet in the air quickly became clear.
Coming out of the pandemic, Delta has gone further than other airlines when it comes to offering inflight connectivity. The airline pivoted to a new Wi-Fi carrier a few years ago and brought Viasat on board, equipping more and more of its domestic fleet with that technology over the last two years in the pursuit of free Wi-Fi.
Now that Delta has officially launched free Wi-Fi service, the airline certainly has an edge with customers over its closest rivals.
And by offering free Wi-Fi only to those with a SkyMiles account rather than absolutely anyone on board, Delta can capture consumer information and deepen ties with flyers, targeting them with promotions or even convincing them to sign up for a co-branded SkyMiles American Express card. Delta added a record 8.5 million new SkyMiles accounts in 2022 – a number it could easily surpass in 2023 thanks to this new benefit.
Bottom Line
Delta has officially launched its free inflight Wi-Fi service for nearly all passengers – but it's not yet available on every flight.
By the end of 2023, travelers should have access to free Wi-Fi on every domestic flight and Delta plans to expand the service to international and regional aircraft by the end of 2024.