I just flew Air France's new Boeing 777 business class from Paris to New York. While I'll have a separate post with my overall thoughts on the flight, in this post I wanted to address what amazed me most about this flight — Air France now has what I consider to be the world's best business class seat. There's a slight catch, though.
We're entering an era of business class "plus"
Airlines are all about maximizing real estate onboard, and that involves utilizing space creatively. In most business class configurations nowadays, seats utilize the space to the side of the seat in front, to minimize each seat's overall pitch.. That's why we often see business class seats with small footwells, since that's what's needed to make the seats economical.
In the first row of the cabin, though, space can't be utilized as efficiently, since there's no seat in front where you can place a footwell. Historically airlines haven't done much to differentiate the first row, perhaps aside from a marginally larger footwell. However, that's a trend that's changing. From the JetBlue Mint Studio on the A321LR, to the Virgin Atlantic Retreat Suite on the A330-900neo, we're seeing lots of airlines create special, spacious seats in the first row.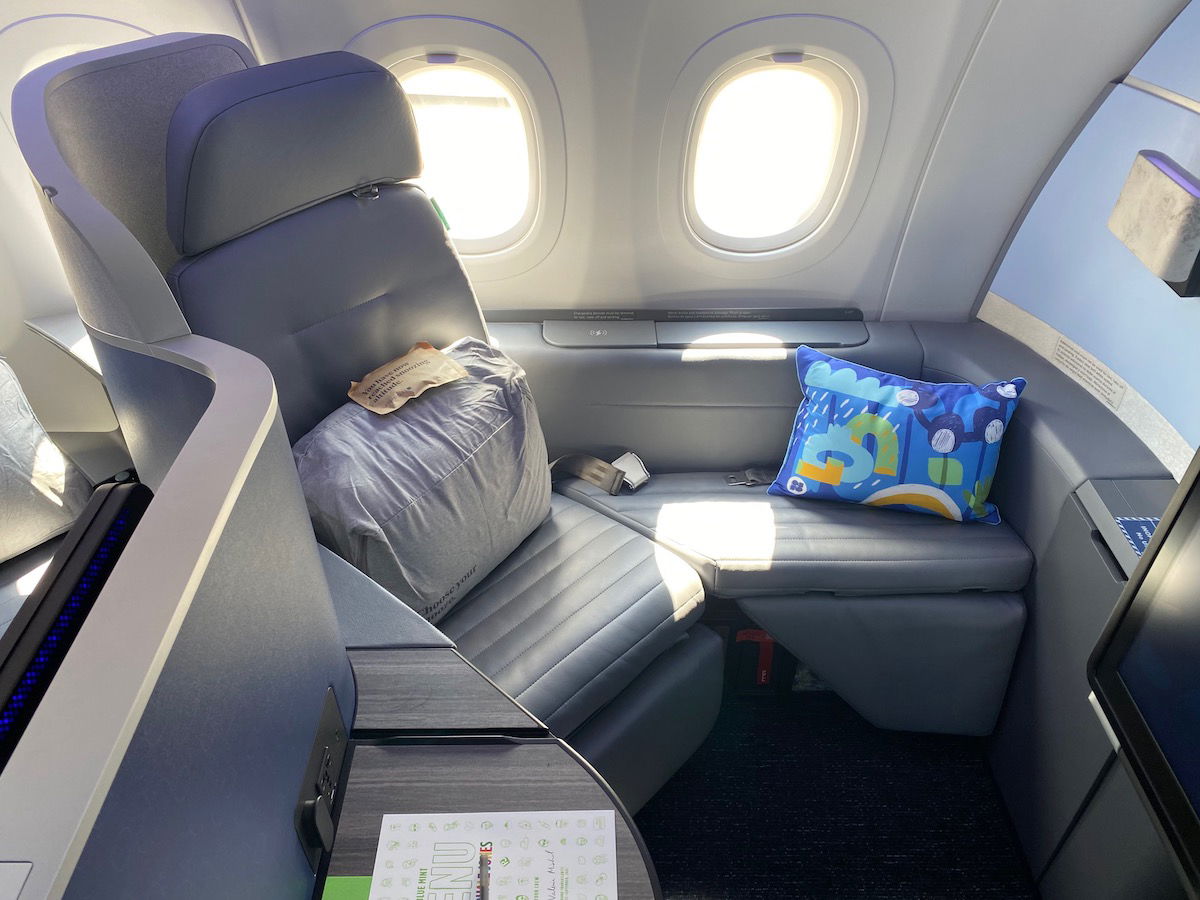 There are more airlines introducing similar "business class plus" products, ranging from Air New Zealand, to Condor, to Lufthansa. As it turns out, Air France's reconfigured 777-300ERs also have a special product, which the airline has been pretty modest about, and hasn't marketed much.
Air France's eight incredible business class seats
Air France's new business class cabin consists of Safran Versa reverse herringbone seats in a 1-2-1 configuration, which are very good (I'll talk more about the seats and overall experience in a separate post). Based on the below picture you may think the seats are all the same, but nope, they're not.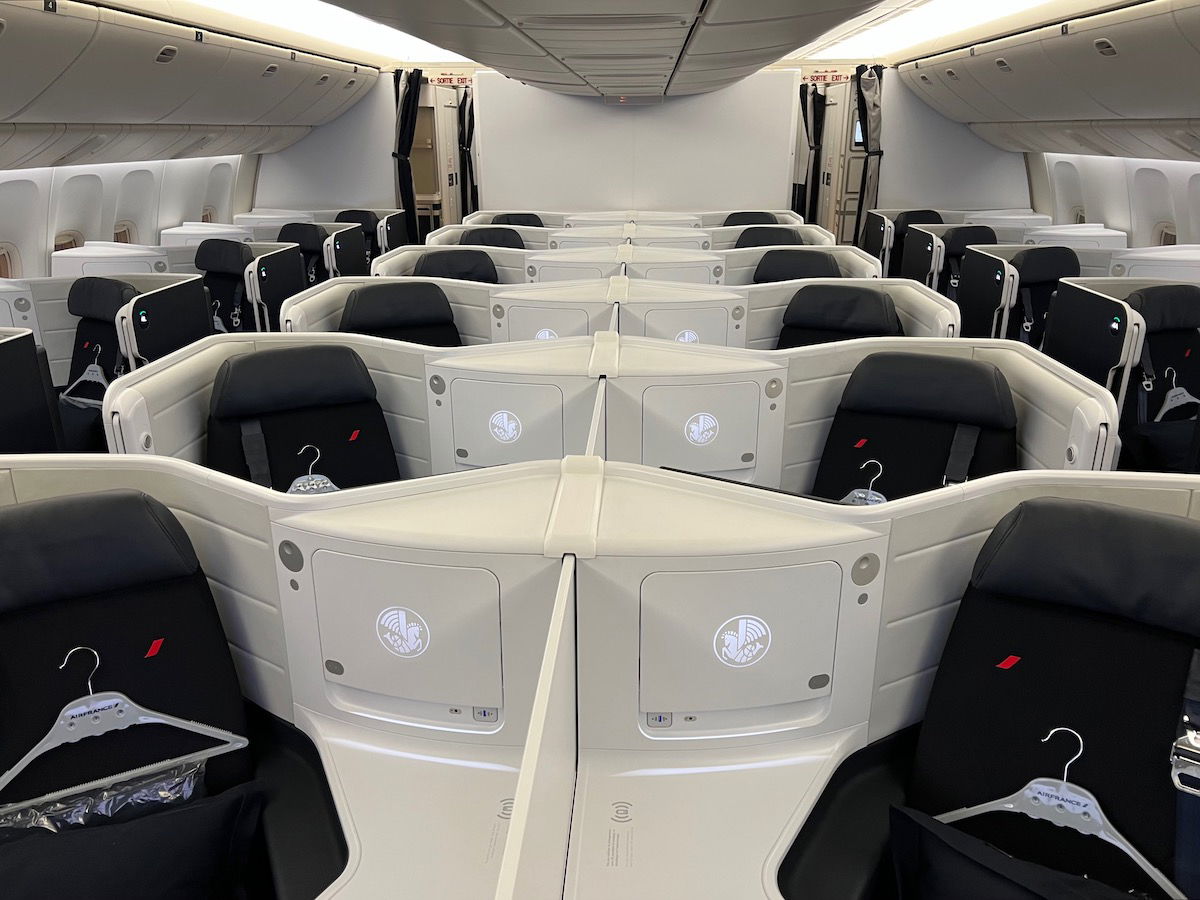 The seats at the bulkheads — specifically rows one and nine — feature an unbelievable amount of space. I'm going to go on record in saying that these eight seats are the best business class seats in the world (and I'm happy to be challenged on this in the comments section).
What makes these seats so great? To start, they're cutting edge reverse herringbone seats which I find to be very stylish. They feature wireless charging, bluetooth audio, and all the other gadgets you'd expect from a new product.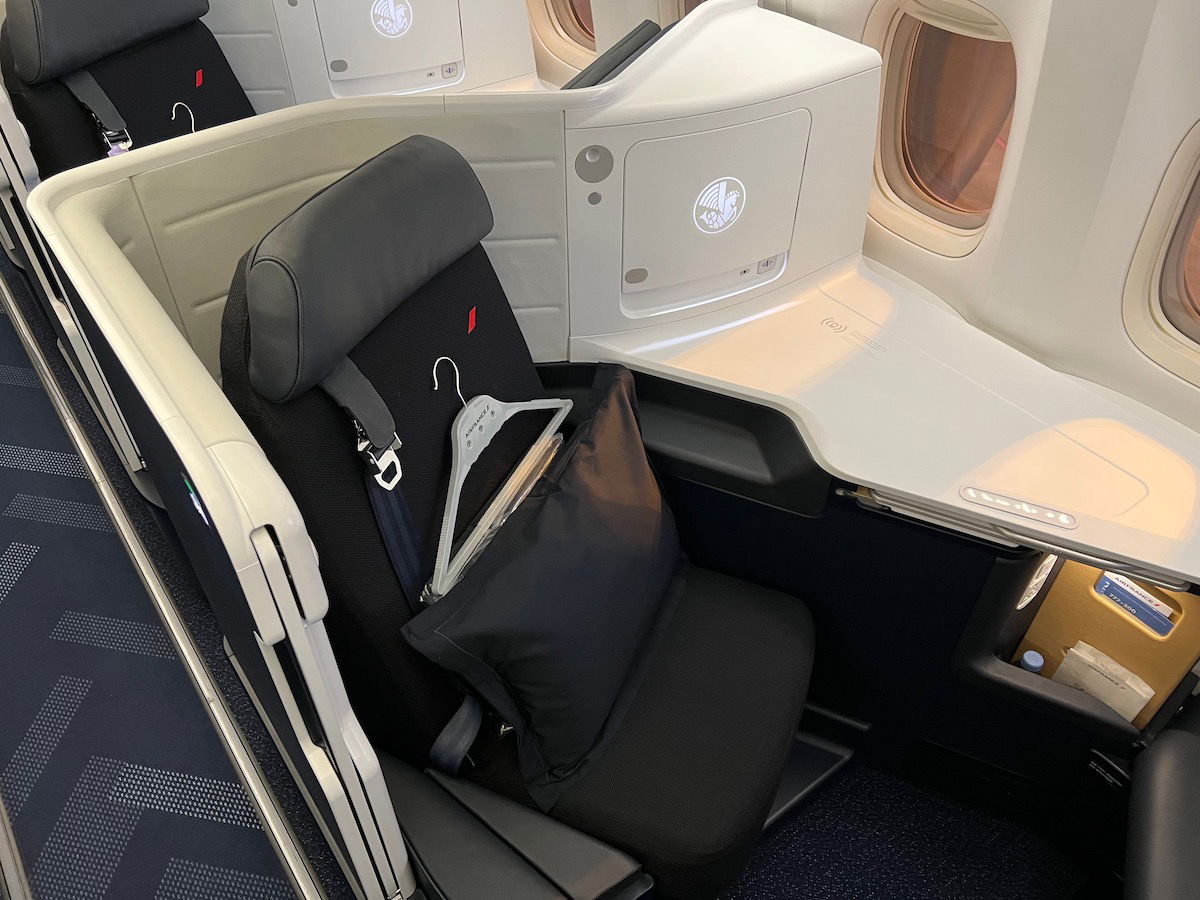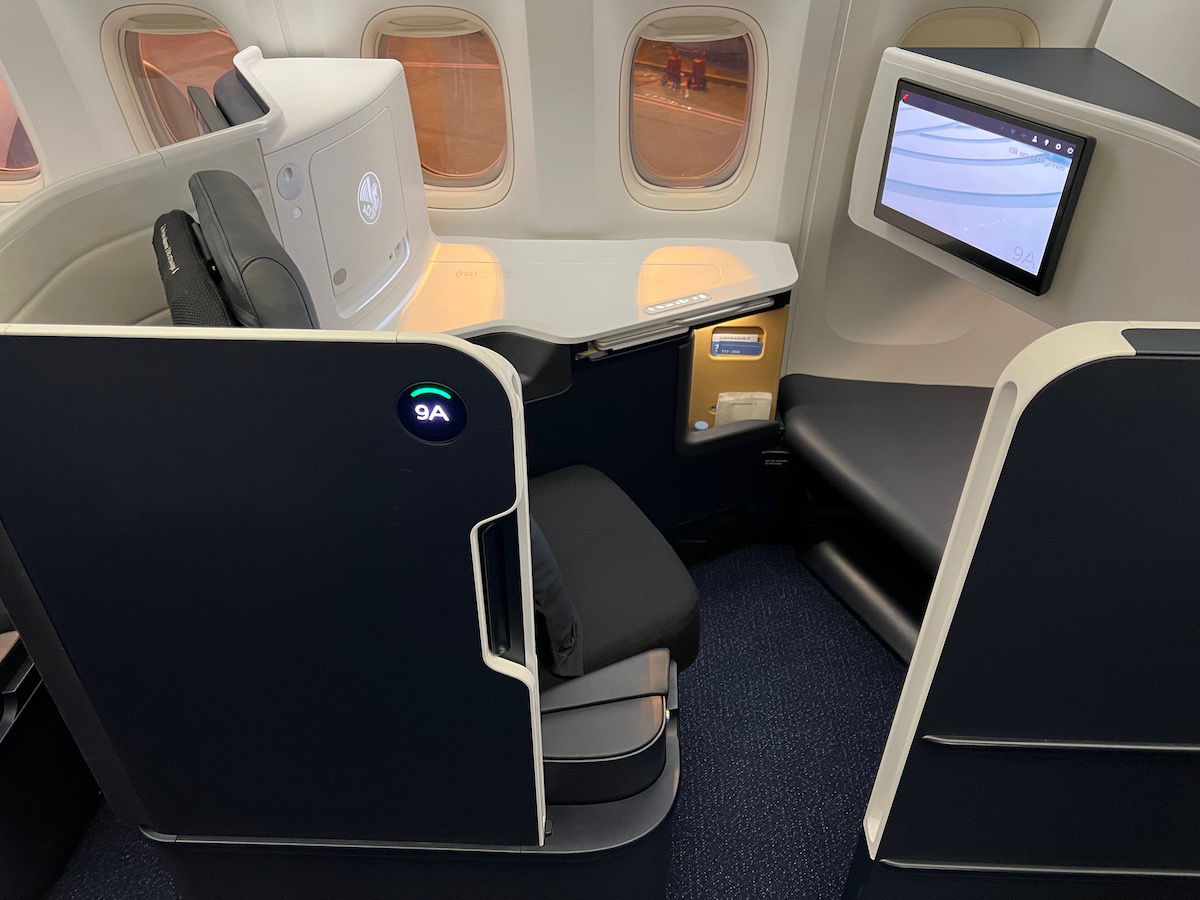 The seat also has a door, which many people will appreciate.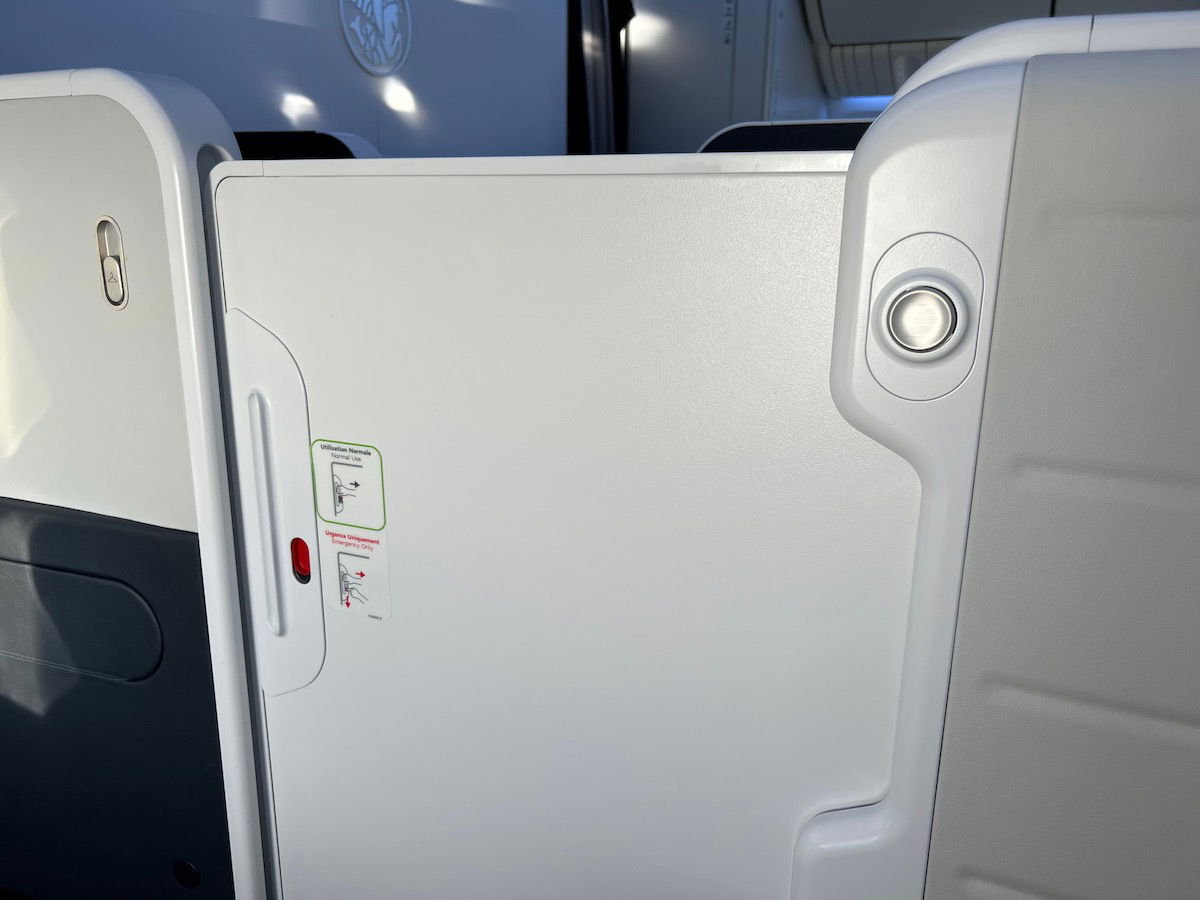 Those features make this a highly competitive product, but what makes the bulkhead seats the best in the world? Well, take a look at the amount of personal space you have, and the size of your ottoman. There's no small footwell you have to squeeze your feet into, but rather you have as much space as you'd expect in first class, if not more.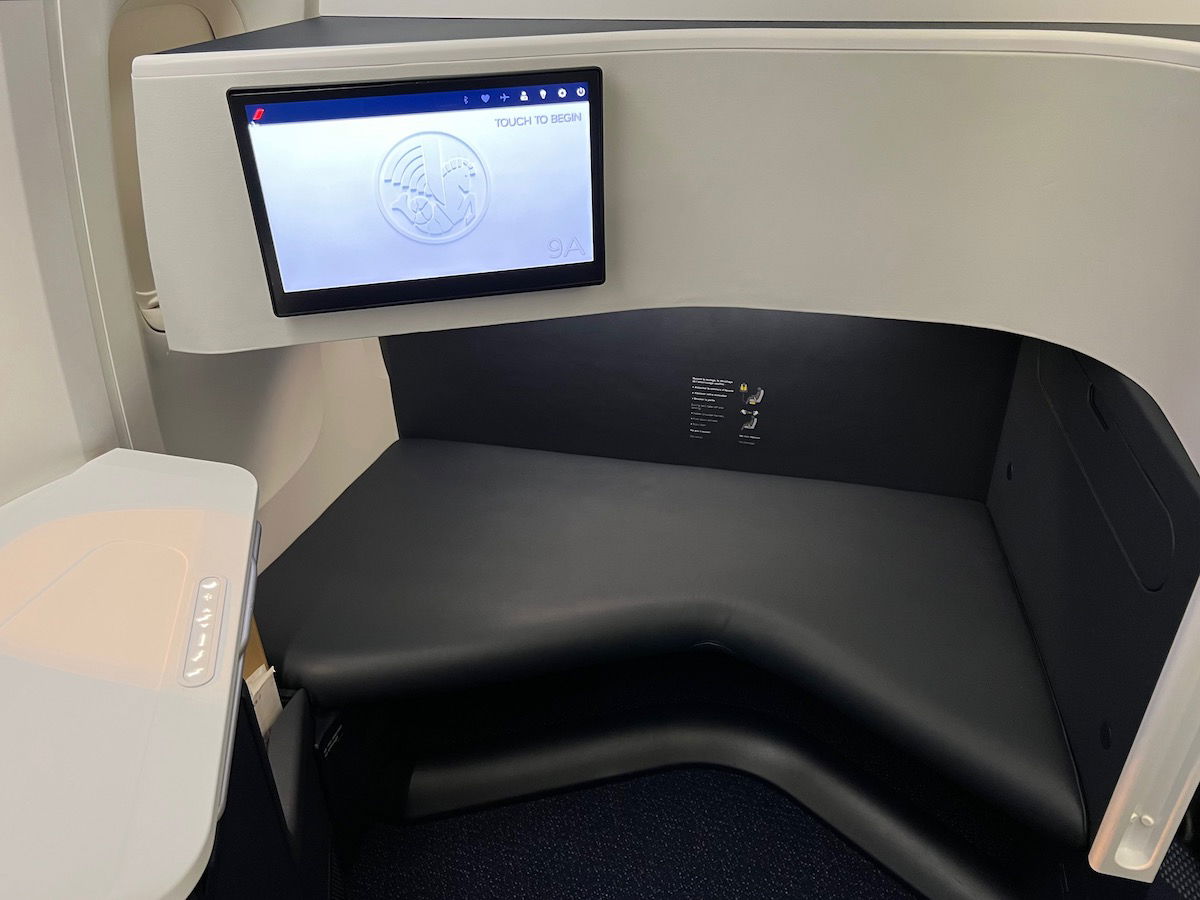 When resting, you can basically position your body any way you'd like, which is great for side sleepers.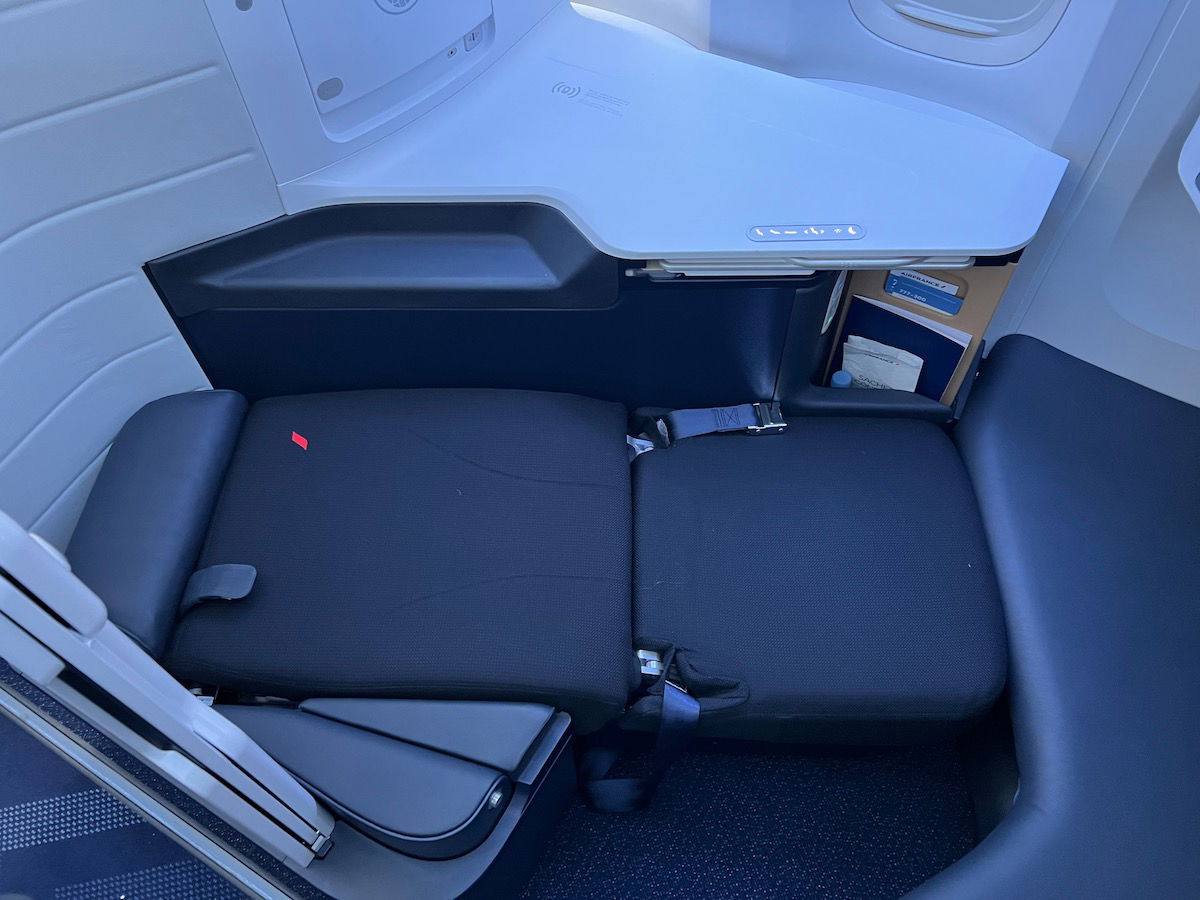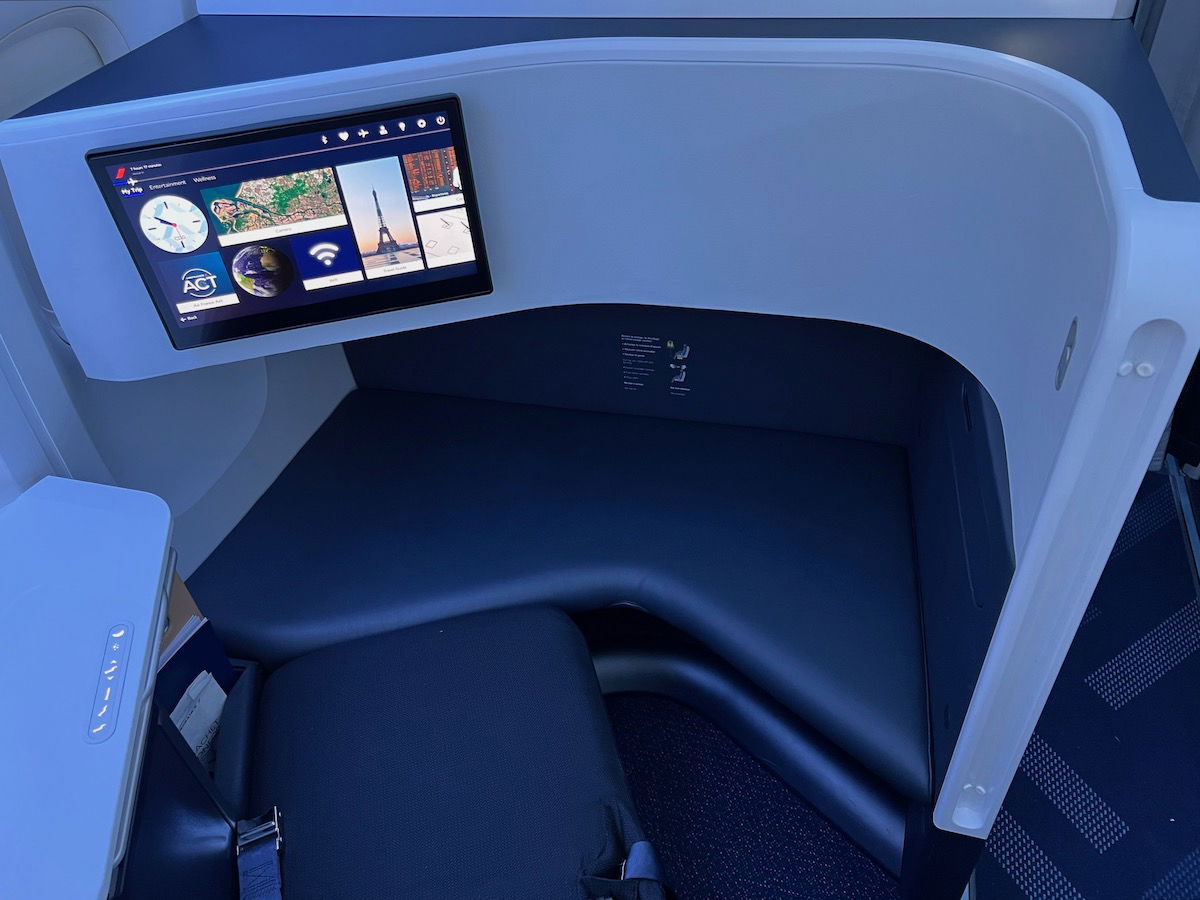 It's great that you have the option of selecting this as a single seat by the window, or in the center if traveling as a couple, as it gives you the best of both worlds.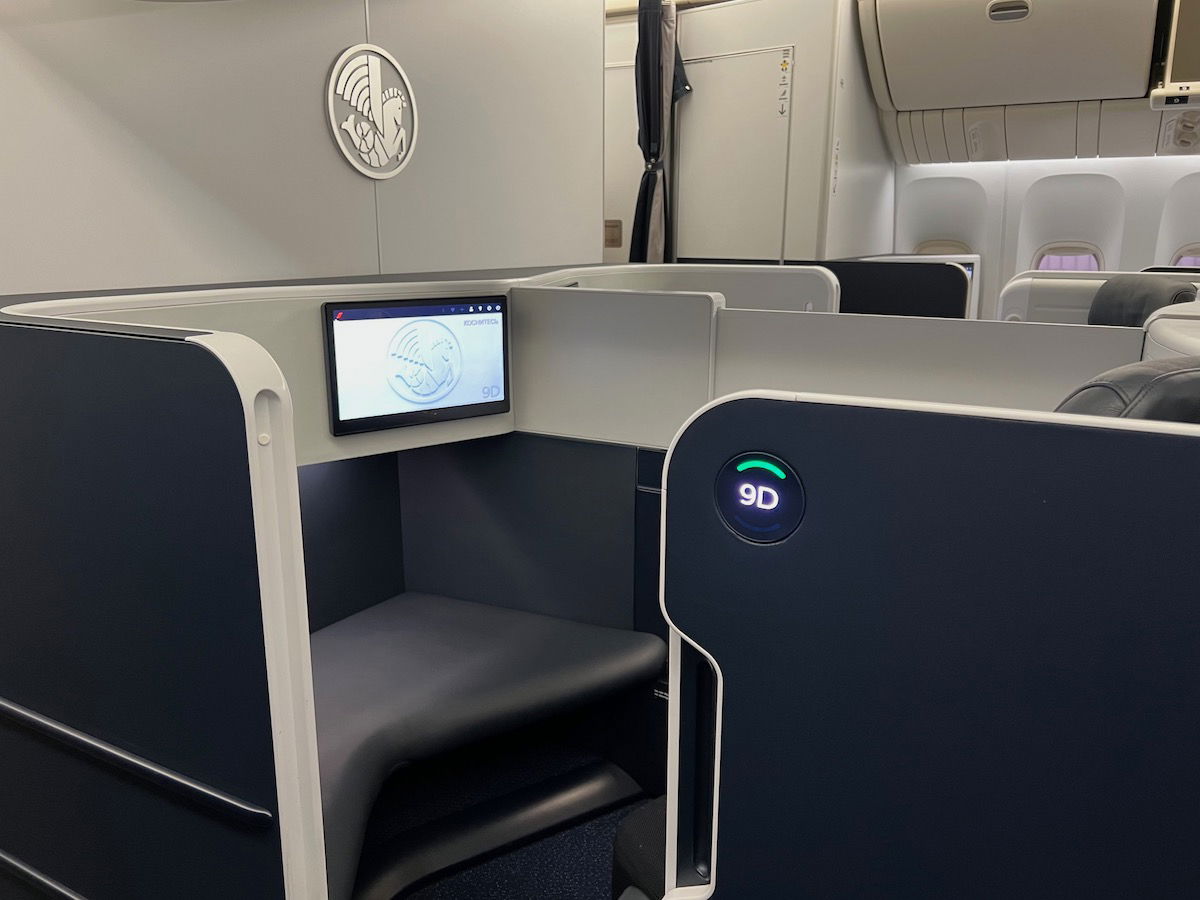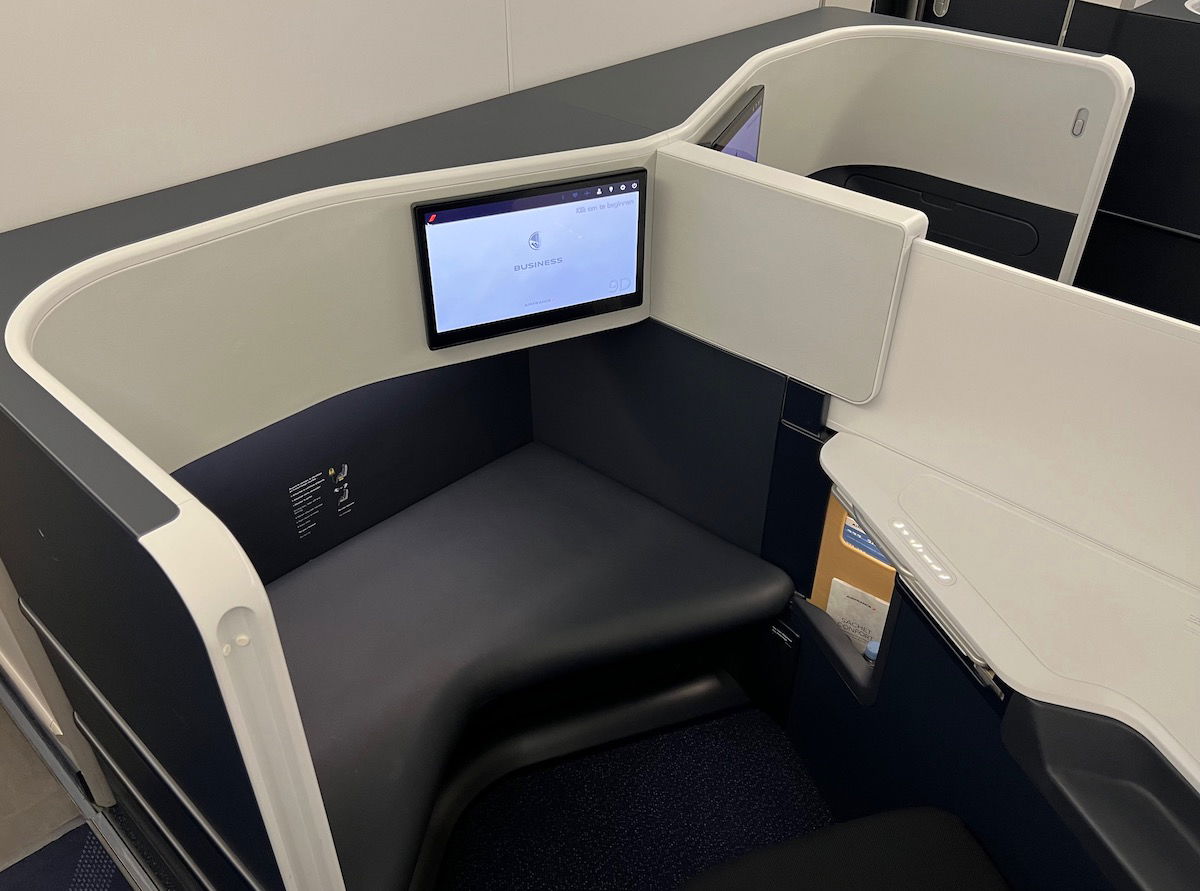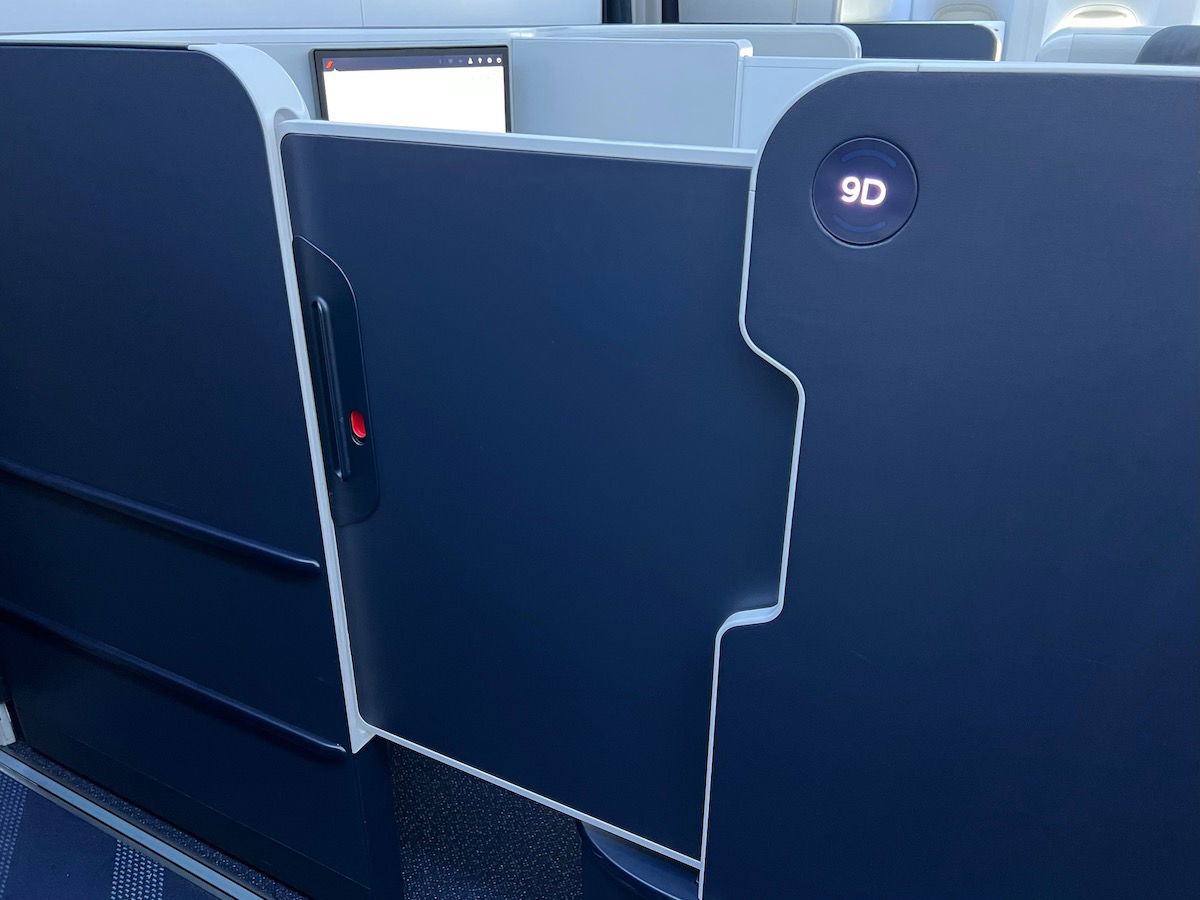 I just can't think of another seat out there that offers this combination of personal space, privacy, and modern technology.
This is much more spacious than the JetBlue Mint Suite, and you get to face the window rather than the aisle
While the Virgin Atlantic Retreat Suite looks great, those seats are only available in the center section, so they're not great if you're traveling alone, since you can't select one and sit by the window
I think Singapore Airlines' bulkhead seats are phenomenal as well, but they're not cutting edge otherwise, and have been around for a long time; they don't have doors or the other modern tech features you'll find in these seats
How you can select these special Air France seats
Air France's reconfigured Boeing 777-300ERs feature 48 business class seats. With only eight bulkhead seats, that means at most ~17% of business class passengers can assign these seats.
So, how can you secure one of these amazing bulkhead seats? Up until 72 hours before departure, these can exclusively be reserved by Flying Blue Gold and Platinum members, so assigning them is a perk of elite status.
However, starting 72 hours before departure, these seats can be assigned by any business class passenger, if empty. That's exactly how I snagged one of these. 73 hours out, the seats showed as not available (rather than occupied).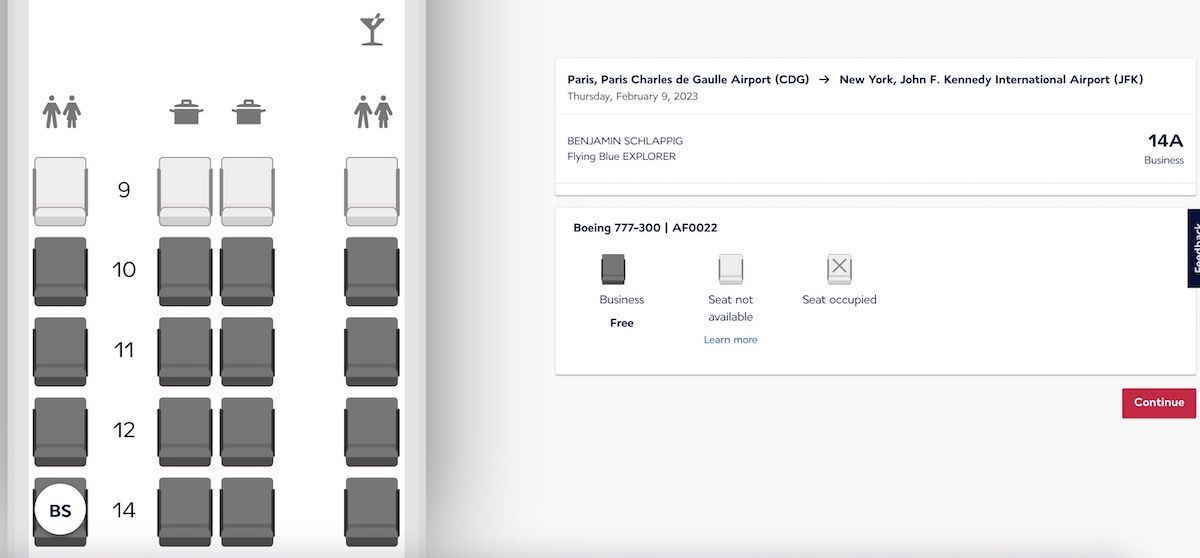 Then 72 hours out they showed as being available.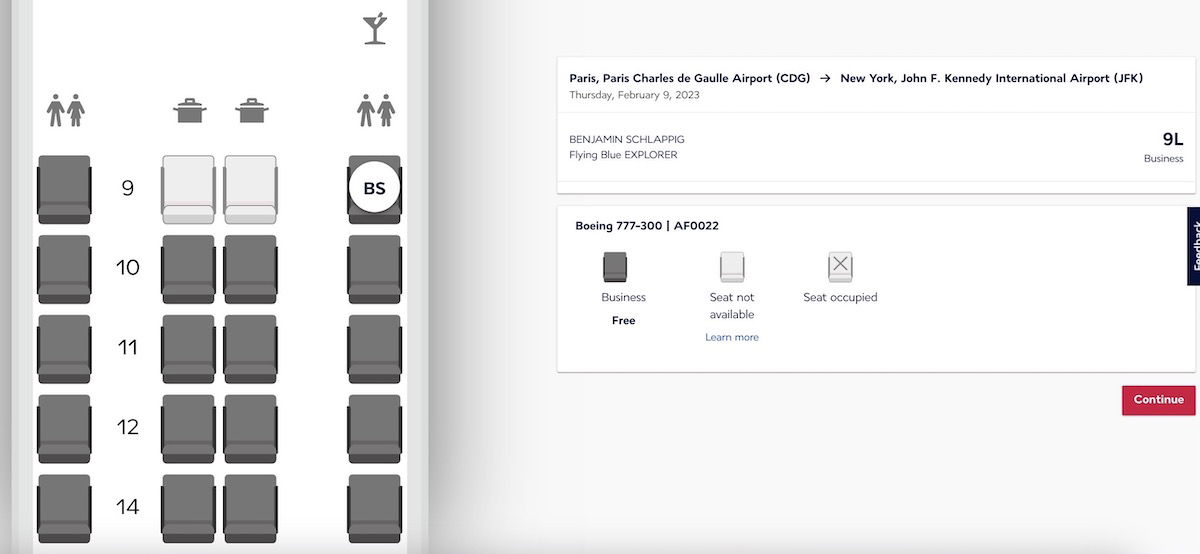 So if you are flying in this configuration, it's absolutely worth trying to assign one of these seats, either based on your elite status, or 72 hours out for everyone else. Personally I wouldn't be surprised if Air France tries to monetize these seats eventually, given how exceptional they are.
Bottom line
We're increasingly seeing airlines introduce "premium" business class products in the first row of the cabin, making the most of the extra space available in this area. I've flown in some of these over the years, but nothing has impressed me as much as the bulkhead seats in Air France's new 777 business class.
These are reverse herringbone seats with doors, amazing tech, and unbelievably spacious ottomans, which will make you feel like you're in first class. These are only available to Flying Blue elite members at booking, though anyone in business class can start selecting them 72 hours… for now.
I firmly believe that these eight seats on Air France's 777s are the best business class seats currently in service anywhere in the world.
What do you make of these Air France business class seats, and the general trend of "premium" business class seats?