Whether you're looking to get rewarded for walking around your hotel, you want a way to score flat-bed seats to Hawaii that you probably haven't considered, or you booked Air France business class and want the best seats in the house, this weekend's Saturday Selection has something for you. Read on for more from around the 'net.
If you missed the news yesterday, a bank in California that specialized in serving startups failed yesterday after a run on the bank. Gary at View from the Wing covers some of the most bizarre pieces of this — from their inclusion on a list of "Best Banks" at the beginning of the week to the steak dinners at an event the night before the bank was shut down. Brex is currently looking to attract customers who fled SVB in time, though JT Genter at Award Wallet covered their no-notice devaluation yesterday. Crazy times.
I've flown Air France business class before and I thought it was fine, but I wasn't overly enthused. It looks like my feelings on that might soon change: One Mile at a Time writes about a new Air France business class seat that looks awesome. The catch is that the best seats in the house can only be assigned 72hrs in advance unless you have Air France elite status. That's a great tip. I'll be flying Air France business class this summer and I'll definitely be looking to see if we can snag these seats for the extra space.
Points Miles & Bling covers an option to get to Hawaii in lie-flat seats that I'd never considered: upgrading paid Hawaiian Airlines tickets. What makes this really intriguing is that Points Miles & Bling reports so much upgrade space on example dates at relatively peak travel periods. I don't currently have an ExpertFlyer subscription, so I can't check for wider availability right now — and I'm still not thrilled by the prospect of paying 50K miles + the cost of a cash ticket, but I could certainly imagine that many people would be given the distance and ordinary cash cost for such seats.
One Mile at a Time has renderings of the new Lufthansa First Class and it looks pretty cool — except for the fact that once it launches (and it sounds like that will begin next year), I just can't see ever being able to score more than 1 first class seat again (and even that will be a small miracle with what looks like effectively 3.75 seats in the first class cabin). I've had a number of international first class experiences, but I haven't yet experienced Lufthansa first….and it sounds like if I don't do it this year, it may not happen. I'm thinking it's not likely that I'll get my first class duckie.
In a highly niche promotion, Thrifty Traveler shares that a specific Marriott properties is offering 30K Marriott points when you book and complete a two-night stay by April 30th and show proof that you walk 10K steps each day of your stay. I see some two-night stretches that come to $562 with taxes, so if you're interested in this Autograph Collection property, this could be an awesome rebate since our Reasonable Redemption Values peg the value of the points around $240. That's definitely not mattress run-worthy, but it's a great rebate and I think it should stack with the current promotion for double elite nights and 1K bonus points per night if you complete your stay by April 23rd.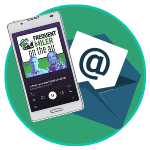 Want to learn more about miles and points?
Subscribe to email updates
 or check out 
our podcast
 on your favorite podcast platform.