Frontier Airlines is getting some bad publicity for its practice of paying staff a commission on collecting oversize bag fees, creating a system whereby employees are incentivized to act unethically. Is this frustration justified, though?
Frontier pays staff a bonus for collecting fees
Frontier is an ultra low cost carrier. That means the airline generally has low base fares, but also charges fees for just about everything, from seat assignments, to carry-on bags, to checked bags. A ticket on Frontier only includes a personal item, and no luggage beyond that.
The airline is incredibly transparent about its policies, and when you go through the process of booking a Frontier ticket, you'll repeatedly be asked to confirm you understand the luggage rules for the type of ticket you purchased.
Those who do show up at the gate with bags beyond their allowance are penalized with a higher fee for those bags than they would have paid if they purchased them in advance. That's fair enough, because you don't want to create a system whereby customers are incentivized to try to sneak something on, and only pay if they can't get away with it. That would consistently create huge departure delays.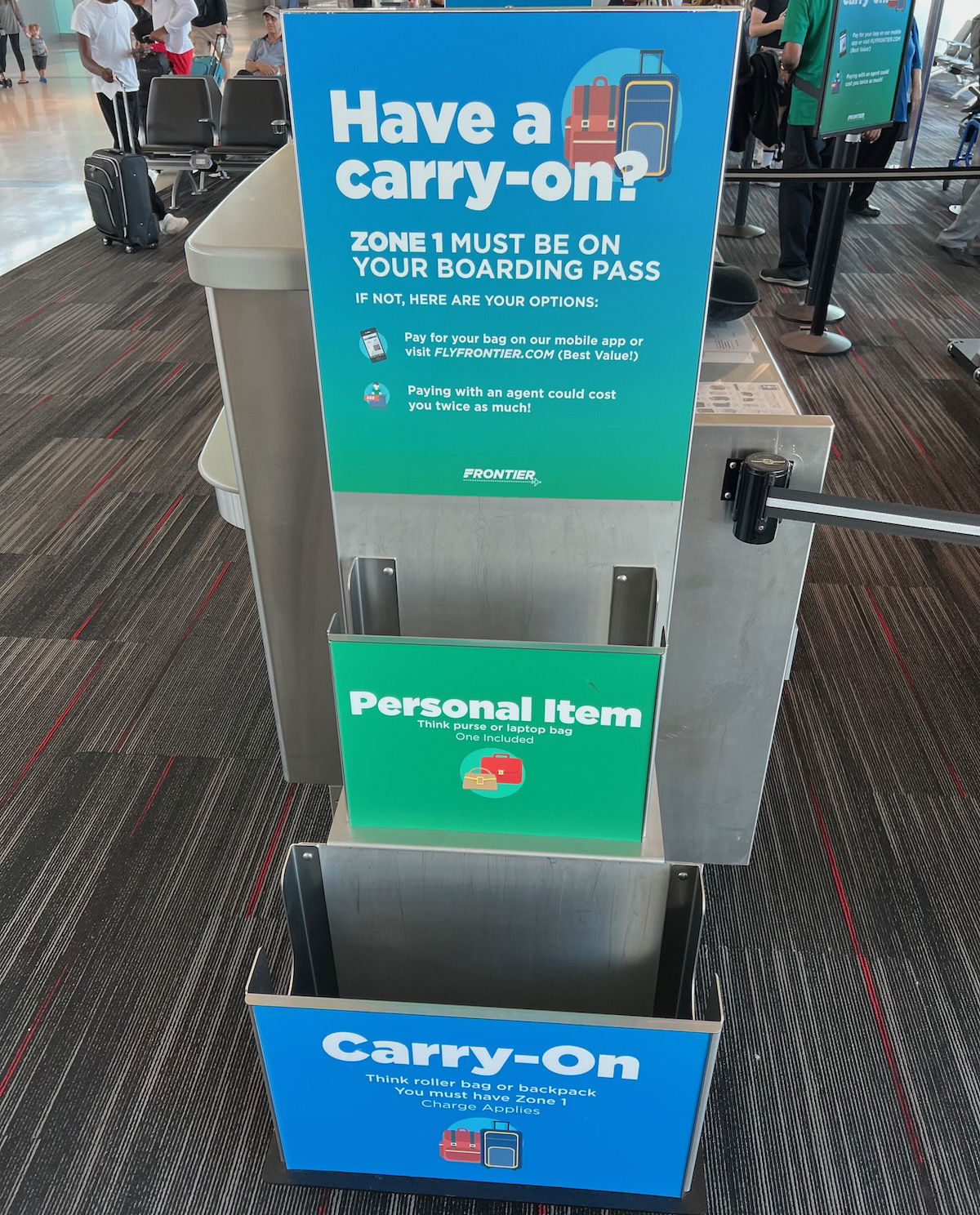 Along those lines, Frontier actually pays gate agents a commission on all the checked bag fees they collect. This is typically about $10 per bag, and it creates an incentive for employees to police carry-on bags, and make sure people are following policies. Keep in mind that Frontier largely uses contract agents, and I can't imagine employees would care a whole lot unless they had an incentive to.
Does this create too much of an incentive, though, and sometimes cause employees to act out of line?
Frontier customer accuses airline of unsavory practices
The Daily Mail has the story of how Frontier pays its staff a bonus each time they charge customers extra for oversized bags, "even when their bags aren't too big." This is based on a recent series of videos that were posted to TikTok — in total the person posted 25 different videos to TikTok about what happened.
For context, this incident occurred several days ago on Frontier Airlines flight 537 from Washington (DCA) to Denver (DEN).
Below is the claim of what happened:
Hello, I don't usually post these kinds of personal issues, but I feel the need… earlier today on my flight with @flyfrontier we were told our bags didn't fit the personal item bin, when they clearly do. Three of us were charged for bags that were personal items. I don't find this fair because no where on the sign does it say "it can't be pushed," yet that was what they argued to us. THE BAGS FIT. Please help me share this information to make sure there is better communication and these people are not being taken advantage of.
You can see the two most important videos below.
Okay, on the surface it seems like the Frontier agent is acting totally out of line. Those two bags easily fit in the personal item sizer, so it would be ridiculous if a gate agent tried to charge passengers for them. You can't even reasonably make the argument that the bags have to be smushed down in order to fit.
However, what the trio seem to conveniently ignore and not focus on is all the other things they're carrying. For example, in the below screen grab you can see that in addition to the actual bag that's in the sizer, she also has a backpack, a neck pillow, and two jackets in her hands.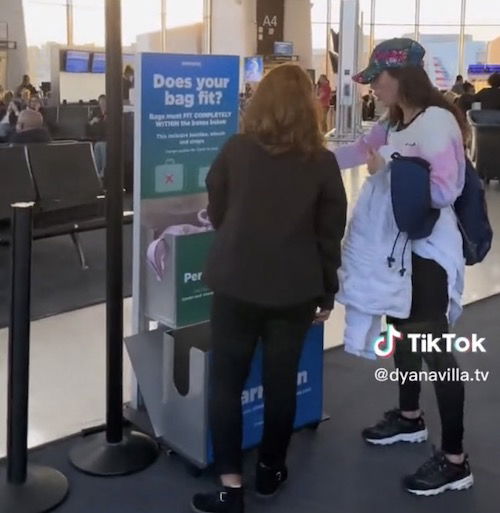 Meanwhile another person in the party very clearly has two carry-on bags.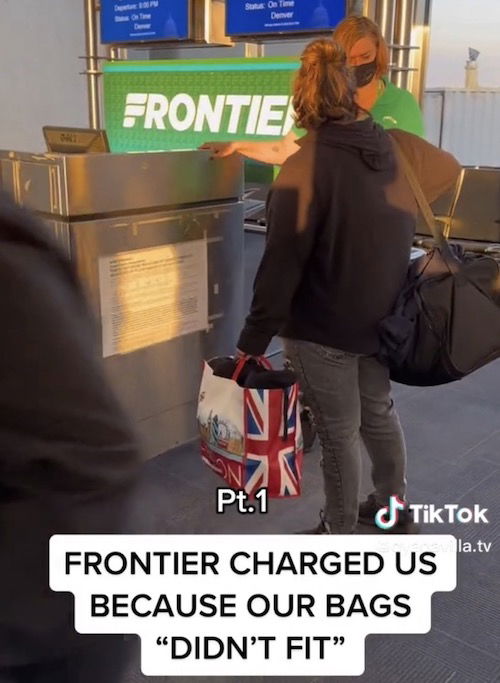 On top of that, in the video you can see some loose clothes sitting on one of the seats near the bag sizer, which presumably also belongs to this party.
Could the gate agents have communicated policies more clearly? Yes, though we only have the footage that one party decided to share. However, based on actually watching the video carefully, I don't think the gate agent crossed the line in terms of the policy she was enforcing.
The question isn't whether the bags they chose to squeeze into the sizer fit. Rather the question is whether all their personal belongings could fit in there, and that's something that they conveniently don't show.
In a statement, Frontier Airlines comes to the same conclusion:
"The video fails to show that the customer using the sizer box had an additional carry-on bag. Each customer is allowed one free personal item that must fit within the smaller sizer box. This customer had more than one bag and they were not able to combine them into a single bag that fit in the personal item box. The second customer's bag did not fit into the free personal item sizer box without removing much of its contents."

"Allowing these customers to board without paying would be inequitable to every other customer who was already onboard with paid bags."
Bottom line
Frontier Airlines makes much of its revenue from fees, though the airline is incredibly transparent about what customers should expect to pay. A recent TikTok series has gone viral, depicting a Frontier agent allegedly trying to charge passengers for bags that easily fit in the sizer.
What this seems to ignore is all the other luggage that passengers were carrying, which had been removed from these bags. So sure, if you show a video of a bag that easily fits in a sizer and claim that's the issue, I can appreciate the outrage. But that's only part of the story.
I'll be the first to call out Frontier when the airline does something wrong, but in this case I just see representatives of an ultra low cost carrier enforcing the company's policies.
What do you make of this Frontier incident?