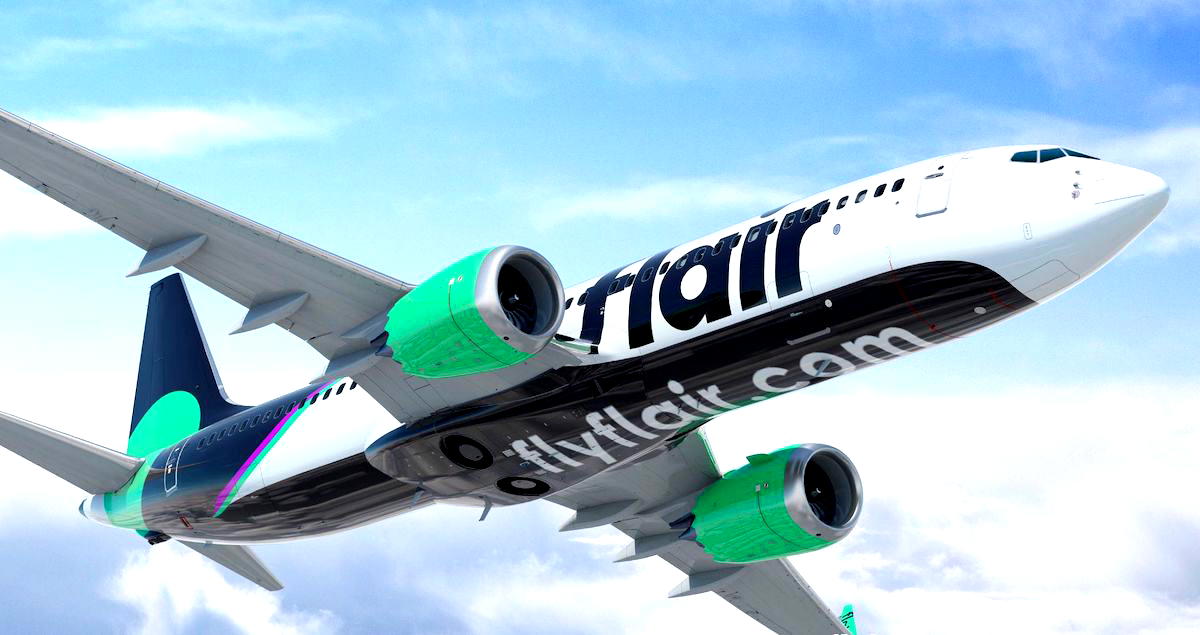 Ultra low cost carrier Flair Airlines, which is also Canada's third largest airline, seems to be having some financial issues, as four of its aircraft were seized yesterday. The carrier's communication surrounding this isn't doing much to reassure consumers either.
Four Flair Airlines Boeing 737 MAX 8s seized at airports
On Saturday, March 11, 2023, Flair Airlines had four Boeing 737 MAX 8s seized at three Canadian airports, including in Toronto, Edmonton, and Waterloo. For context, the airline has a fleet of 18 aircraft, including 15 Boeing 737 MAX 8s and three Boeing 737-800s.
The airline isn't doing a whole lot publicly to acknowledge what happened on social media, simply claiming that it experienced "some service disruptions" at three airports.
Meanwhile Flair Airlines is telling the media that these seizures have happened due to a "commercial dispute" with its leasing company, New York-based Airborne Capital. Flair Airlines claims that it has been communicating with the leasing company, and "payment has been initiated." Per a statement:
"Flair Airlines is aware of extreme and unusual actions taken by a New York-based hedge fund and lessor of certain Flair Airlines aircraft. The airline is aggrieved by this unprecedented action. Flair Airlines will continue to engage in a consensual mediation with the lessor to remedy the situation."
With these planes now being seized, Flair Airlines claims that it is activating three spare aircraft that it had planned to use in the summer, in order to cover most of the flights that were supposed to be operated by these 737 MAXs.
There will likely continue to be some disruptions in the coming days and weeks, which isn't ideal timing, given that it's the start of the busy March holiday travel period.
Is Flair Airlines in financial trouble?
Leasing companies seizing aircraft is highly unusual, and is typically only done as a last resort. Typically a leasing company wouldn't seize an aircraft if an airline were just late on a payment once.
An unnamed source quoted in the media suggests that Flair Airlines was five days behind schedule on a $1 million aircraft lease payment. If that's true, why was Flair Airlines behind on a payment? Is the carrier's financial situation so bad that it couldn't make a $1 million lease payment on-time?
I can't help but wonder if there's more to the story, though. Was the airline five days behind on a $1 million lease payment? Maybe. Was that really the first time that the airline didn't make a payment on-time? I'm skeptical of that, given the aircraft seizure.
Admittedly we're coming out of winter now, which is the toughest period financially for any Canadian ultra low cost carrier, given that there's not as much travel happening in winter, both due to school holidays and the weather. So maybe the airline was having some seasonal liquidity issues… who knows.
One thing is for sure — this does quite a bit to damage the reputation of Flair Airlines, both among consumers and among potential business partners. Consumers might be skeptical to book with the airline, worried if there are major financial issues that could lead to their flights being canceled. Meanwhile I can't imagine this helps with Flair Airlines getting attractive financing rates in the future.
Bottom line
Flair Airlines had four Boeing 737 MAXs seized this weekend by its leasing company. The airline is sort of trying to sweep what happened under the rug, and minimize what caused this. However, it's incredibly rare for aircraft leasing companies to seize planes without repeated issues with an airline.
Flair Airlines will now reactivate three jets that were otherwise parked for winter. I imagine this will cause a not-insignificant number of flight cancelations, so if you're flying Flair Airlines, keep a close eye on your itinerary.
What do you make of what's going on at Flair Airlines?