To continue my review trip, I flew British Airways first class from Newark to London. Prior to my flight, I had the chance to check out the British Airways Galleries Lounge Newark. This lounge is open to Priority Pass members during the day, and to British Airways passengers in the mornings and evenings.
All-in-all, I found this to be a solid lounge, with a pretty nice design, plenty of natural light, a pre-flight dining facility, a dedicated area for first class passengers, and friendly service. Let's get into the review…
Why I flew British Airways first class from Newark
Understandably some OMAAT readers may be confused, since I just reviewed the American and British Airways lounges at JFK, including the Greenwich Lounge, Soho Lounge, and Chelsea Lounge. On the day of travel, I was ticketed to fly British Airways first class from New York (JFK) to London (LHR). I was scheduled to fly in British Airways' new 777-300ER first class.
I got to the lounge at 4:30AM for my 11PM flight (I get to the airport really early to be able to review lounges when they're empty), and spent most of the day there. While at the lounge I noticed that the aircraft had been swapped at the last minute. So while sitting at JFK, I looked at what other options there were.
As luck would have it, British Airways swapped a new 777-300ER onto the Newark (EWR) to London (LHR) route that evening. There was even award availability, so I changed my ticket at the last minute, and then took an Uber from Kennedy to Newark.
British Airways Lounge Newark location
The British Airways Lounge is located in Terminal B at Newark Airport. Terminal B at Newark has several piers, each with their own security check. The British Airways Lounge is located by gates B50-57. Note that you can access a different pier from the one you're flying out of, though you'll want to leave extra time, since you'll need to clear security multiple times.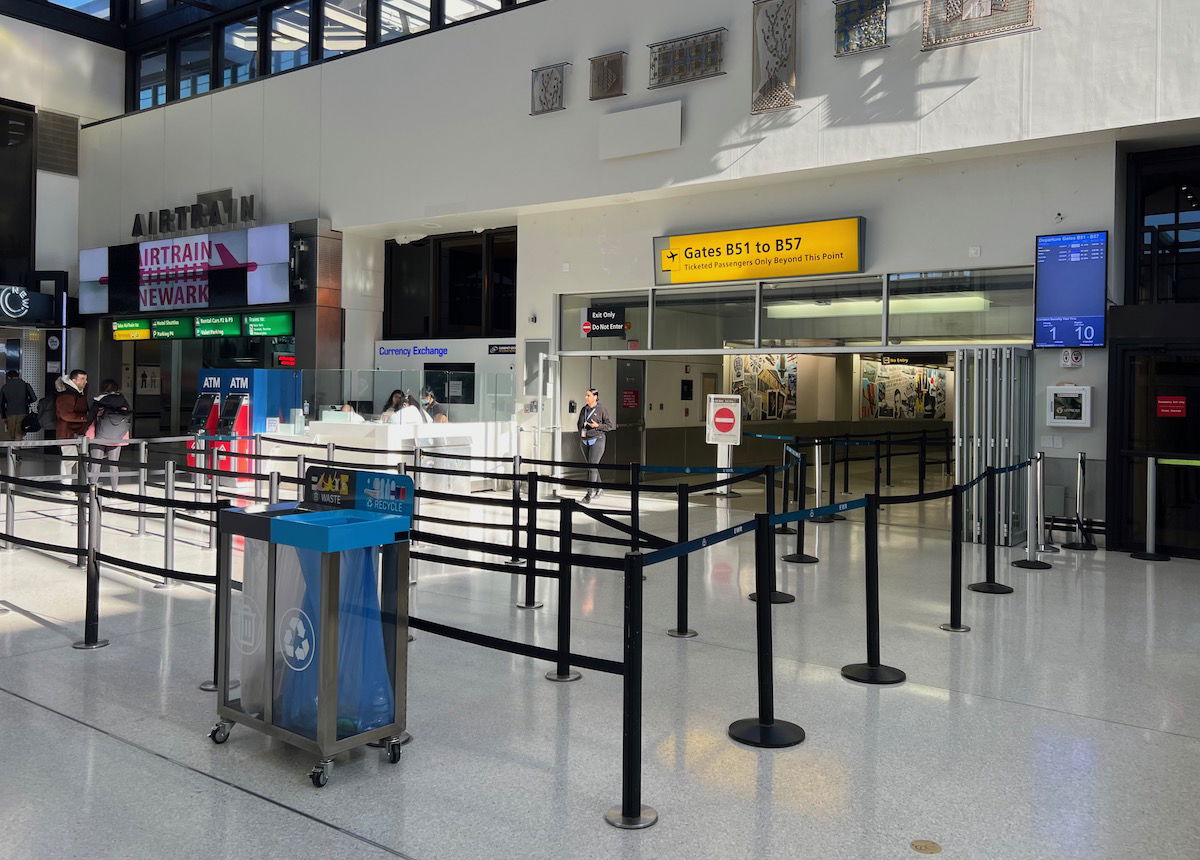 Once through security, just turn left and follow the signage toward gates B50-57.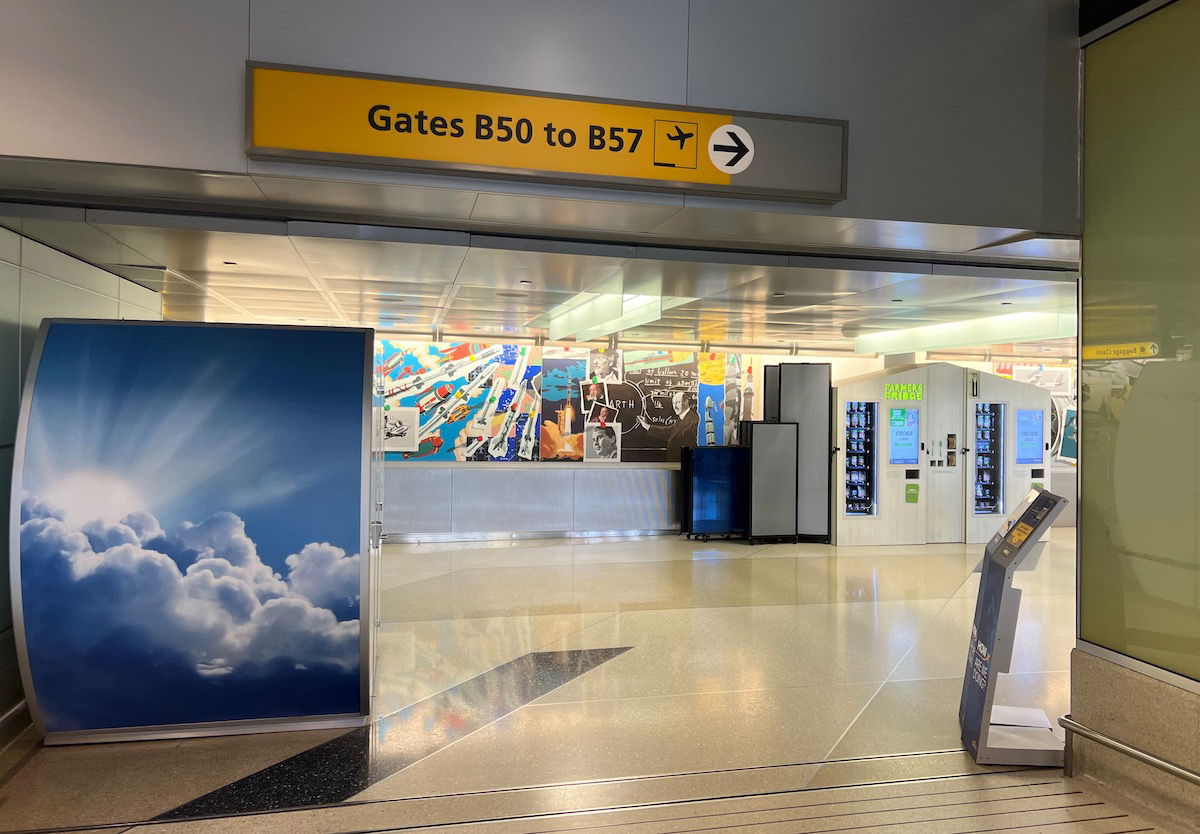 Then on the right you'll see the elevators leading up to the British Airways Galleries Lounge and Virgin Atlantic Clubhouse (which is operated by Plaza Premium as a contract lounge, since Virgin Atlantic doesn't even fly to Newark anymore).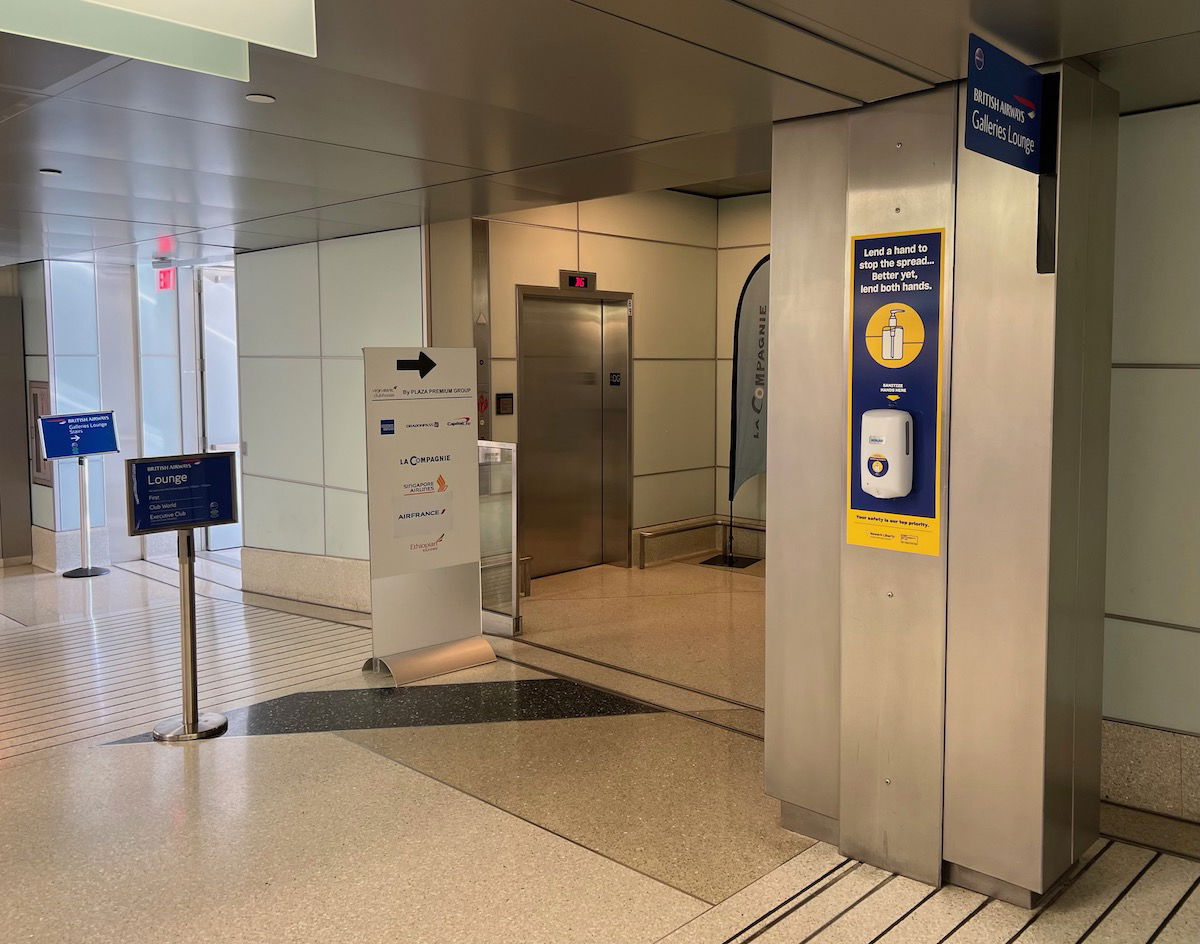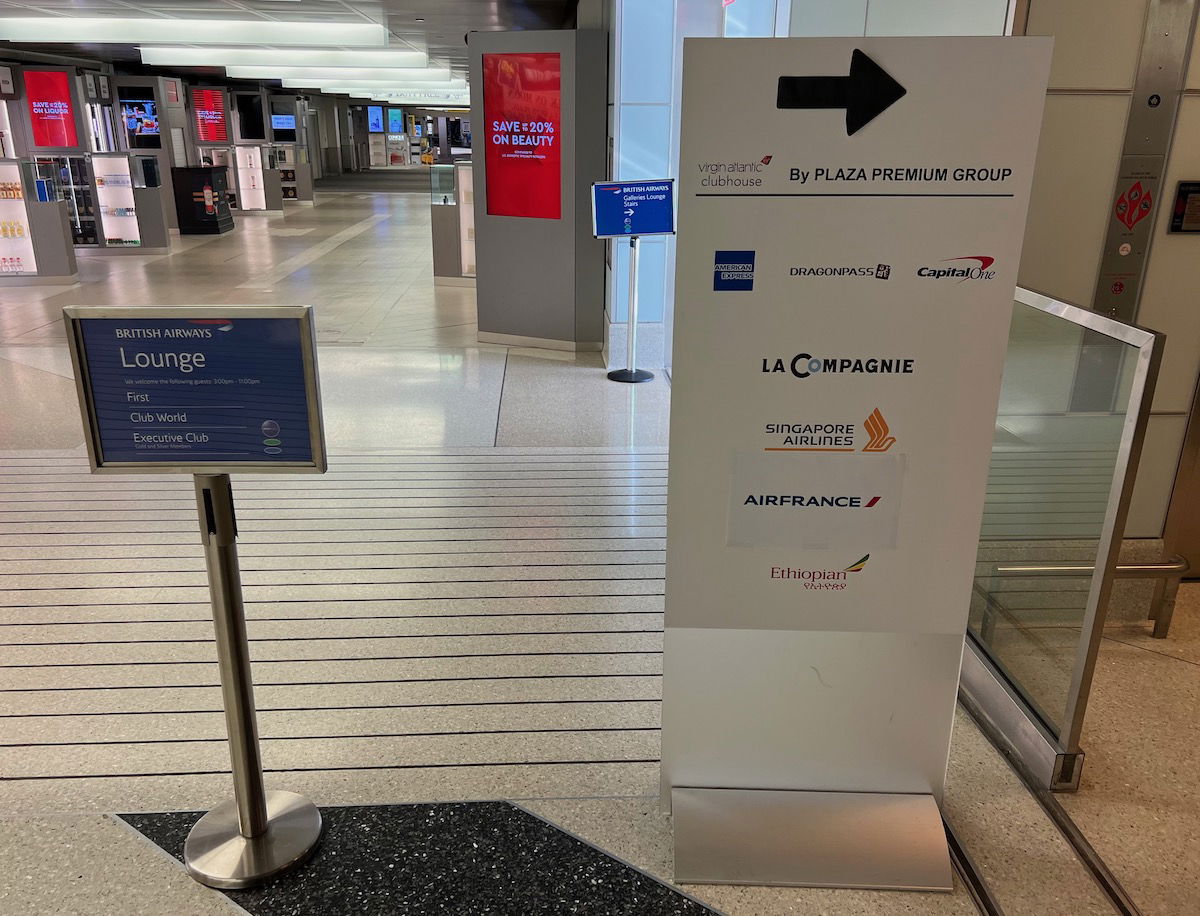 Once out the elevator, you'll see the entrance to the British Airways Galleries Lounge.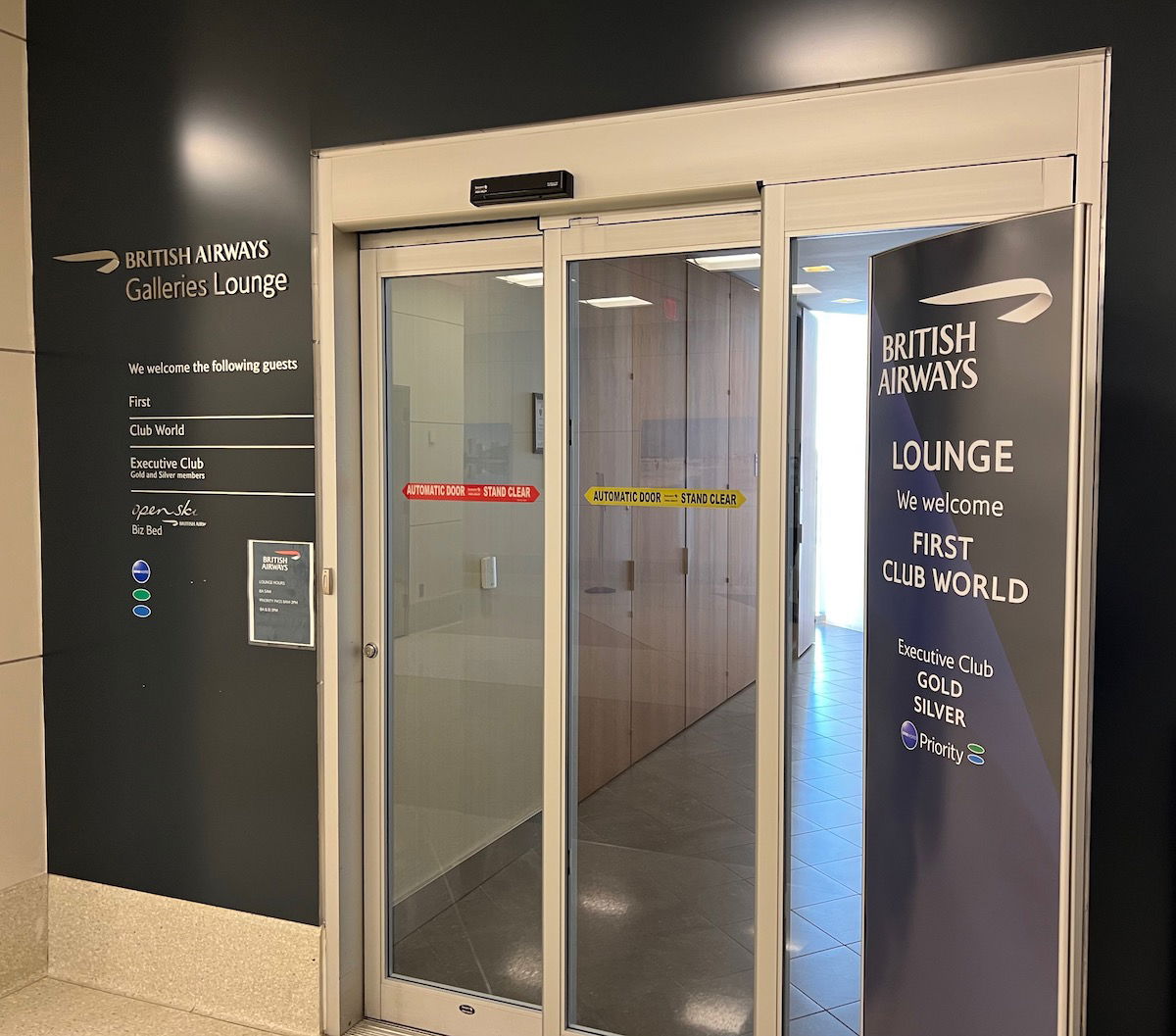 British Airways Lounge Newark hours
The British Airways Galleries Lounge Newark has variable hours, depending on the British Airways flight schedule at a particular time. British Airways currently operates two daily flights to Newark:
The lounge opens at 5AM for British Airways' daytime flight to London
The lounge opens at 3PM for British Airways' overnight flight to London, and this is also the lounge for Aer Lingus' flight to Dublin
The lounge is open to Priority Pass members from 8AM until 2PM
While the Priority Pass hours are pretty consistent, you can expect the hours to otherwise reflect British Airways' schedule at the airport at a particular time.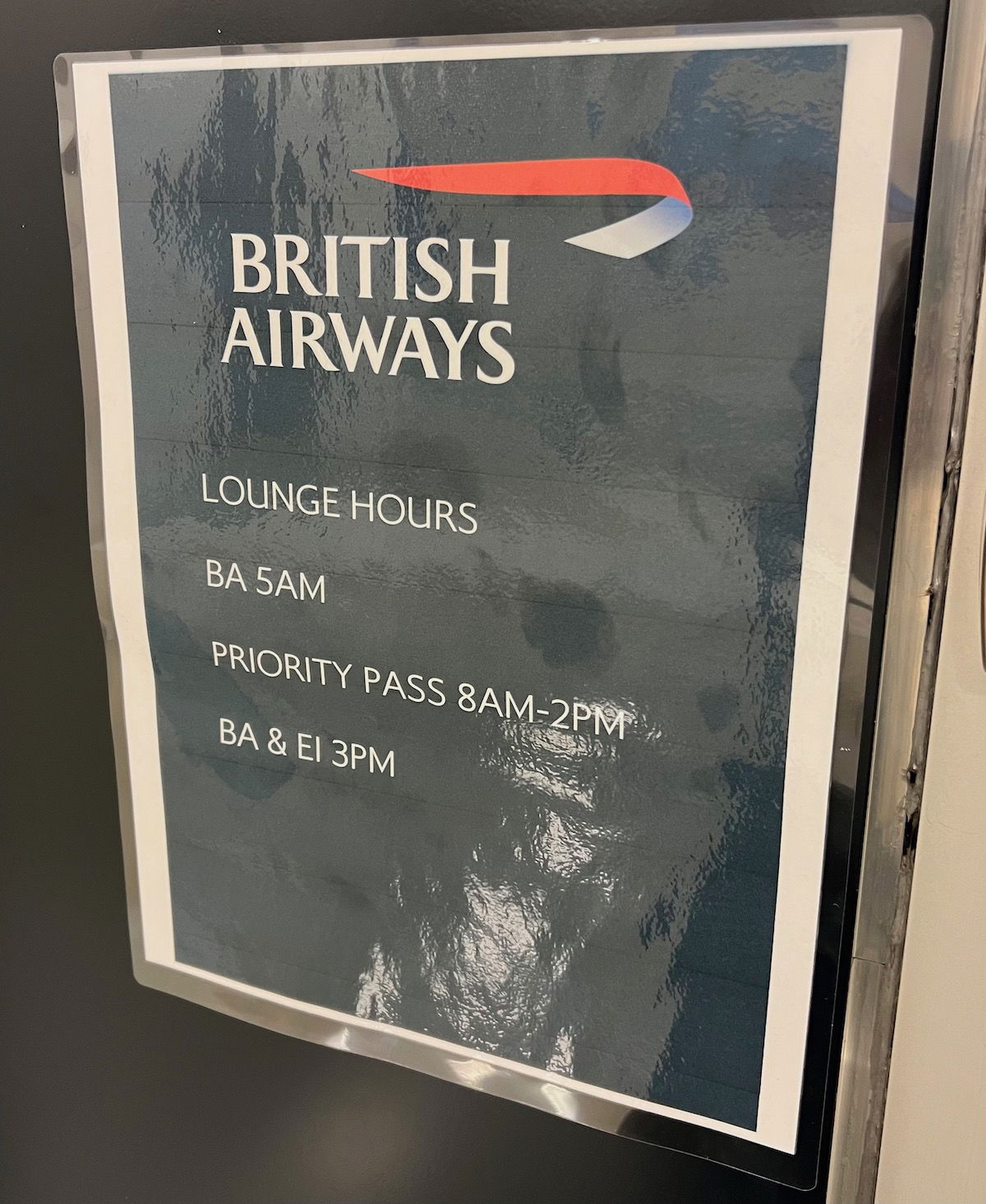 British Airways Lounge Newark entry requirements
The entry requirements for the British Airways Galleries Lounge Newark depend on the time of day you're visiting. The lounge is open to Priority Pass members during select hours. Of course that's a membership that comes with many premium credit cards. If you visit with Priority Pass, you can stay in the lounge for up to three hours.
For other periods, this lounge has standard oneworld lounge access rules. This means the lounge can primarily be accessed by British Airways first and business class passengers, as well as oneworld Emerlad and Sapphire members.
Furthermore, this is the contract lounge for Aer Lingus (which isn't part of oneworld), so premium passengers on Aer Lingus can also use the lounge.
British Airways Lounge Newark layout & seating
British Airways is incredibly consistent when it comes to lounge design around the globe, with the only major difference being how recently the lounge was renovated. I've gotta say, I was pleasantly surprised by the decor, since this lounge hasn't been renovated in over a decade, as far as I know, yet it still felt reasonably fresh.
The lounge features floor-to-ceiling windows throughout, which is a real treat in terms of plane spotting.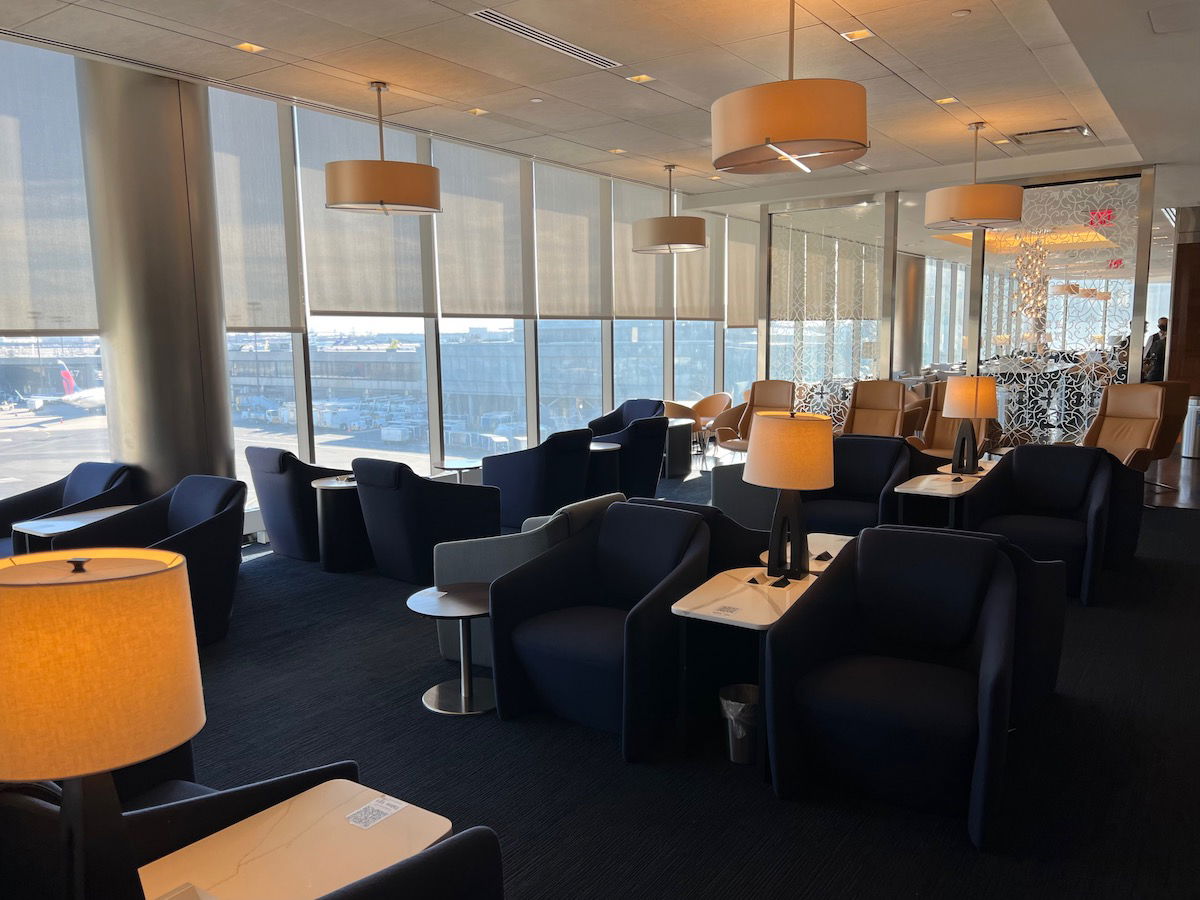 Along the windows, you'll find that the lounge simply consists of chairs arranged in various patterns, mostly with side tables. There's not a whole lot of variation when it comes to the type of seating, so I'll let the pictures largely speak for themselves. One thing to be aware of is that there's a real shortage of outlets at these seats, so you'll have to be strategic with your seating choice if you have electronics to charge.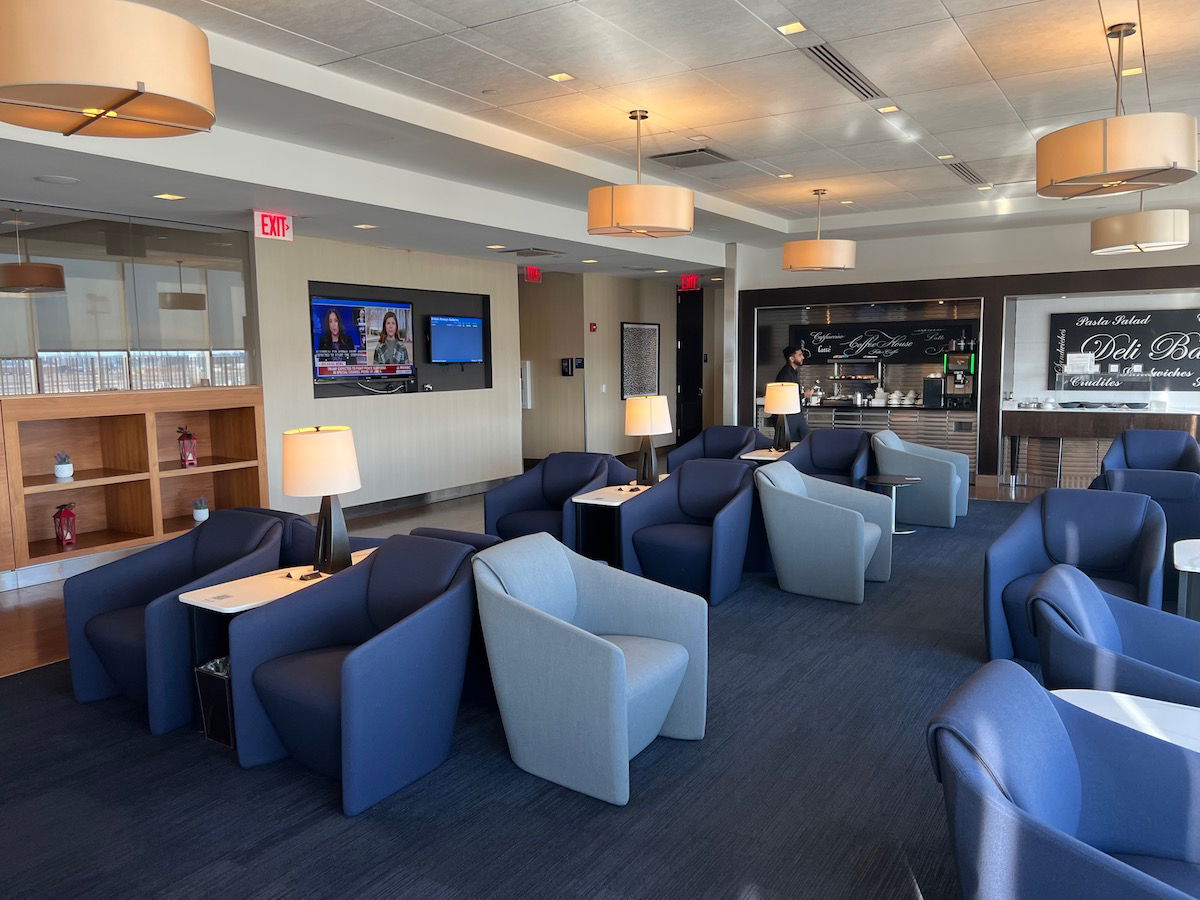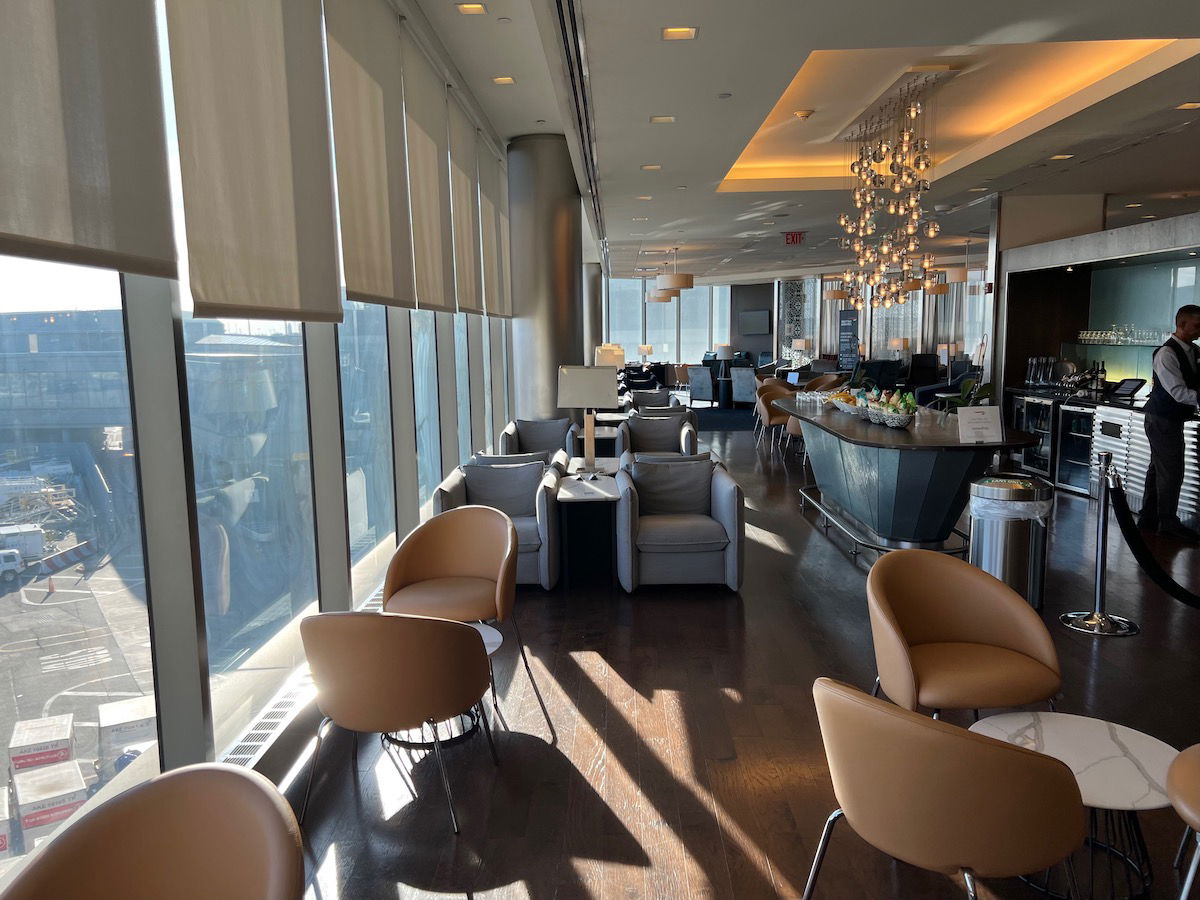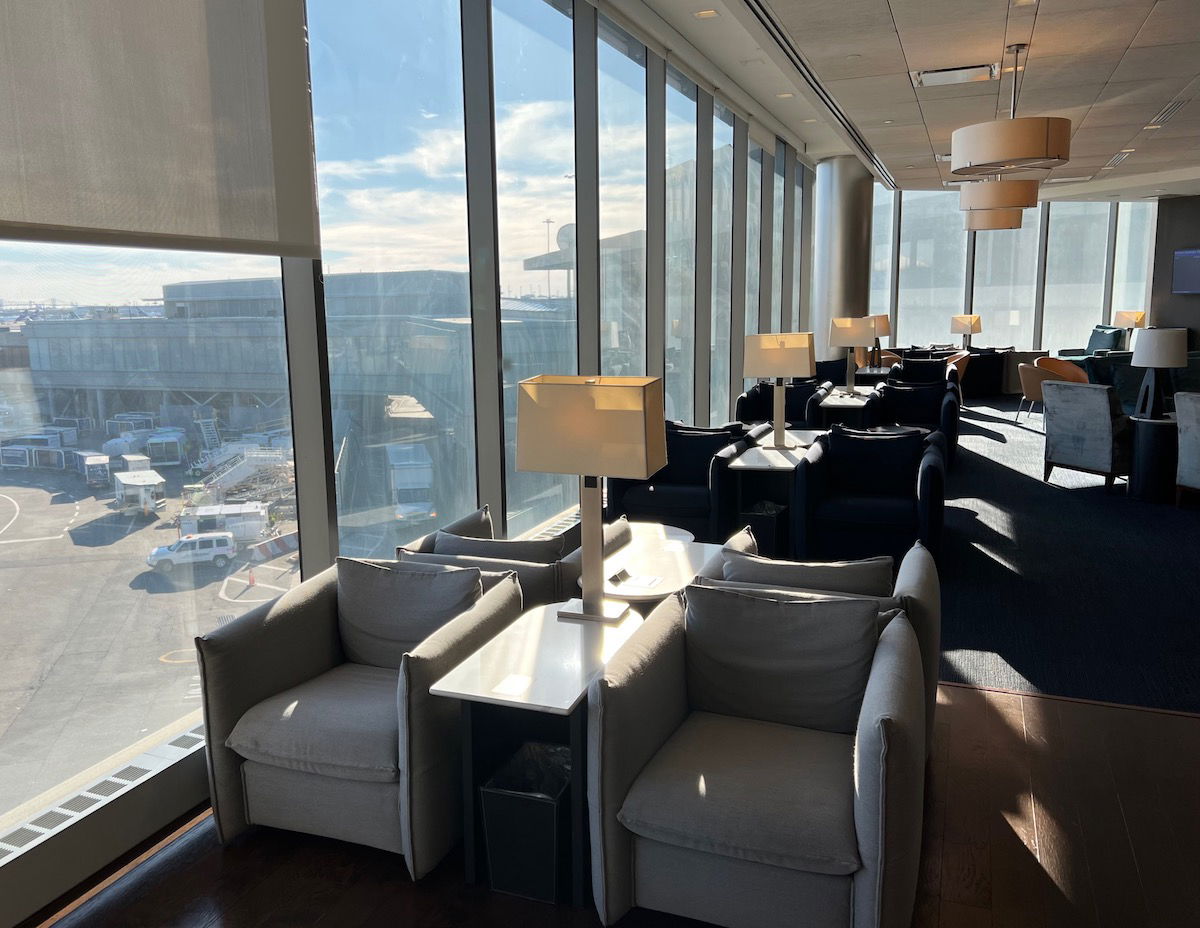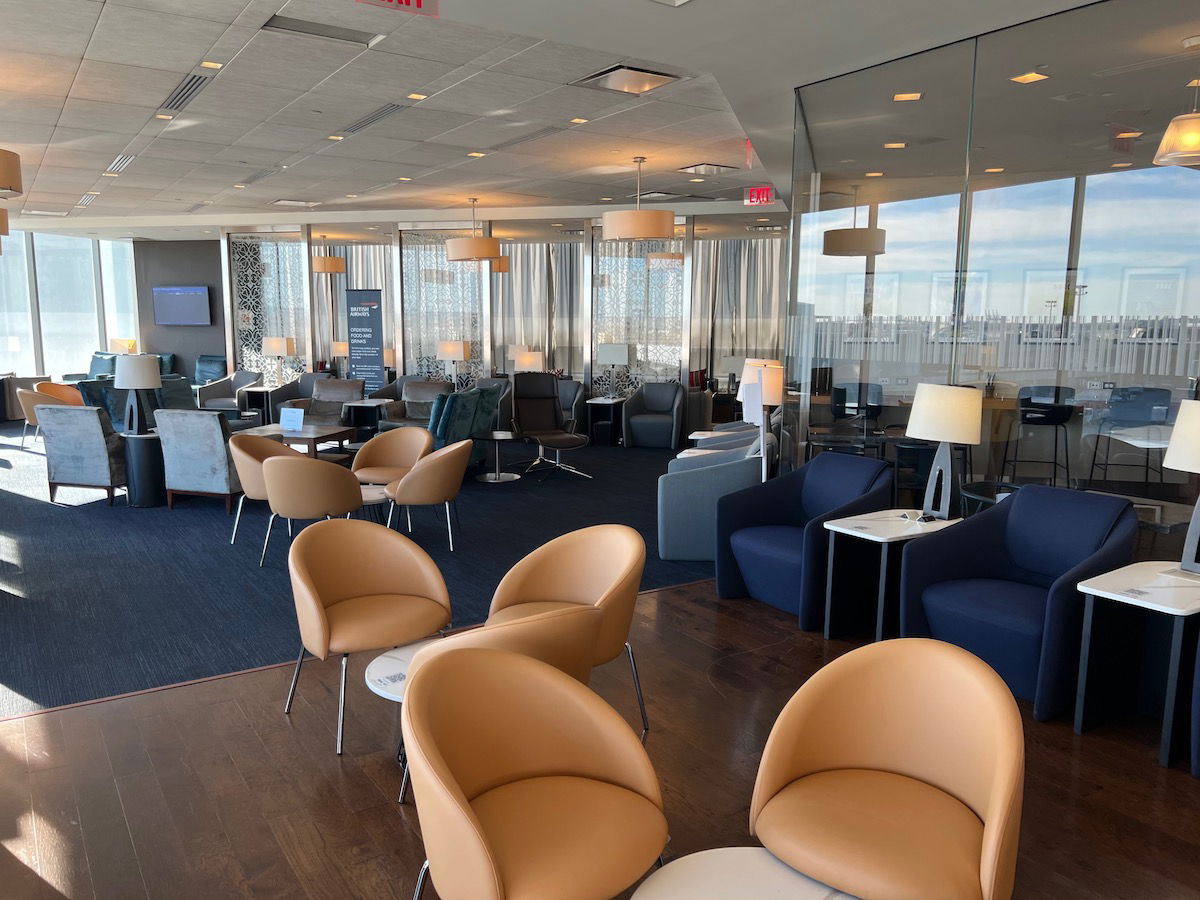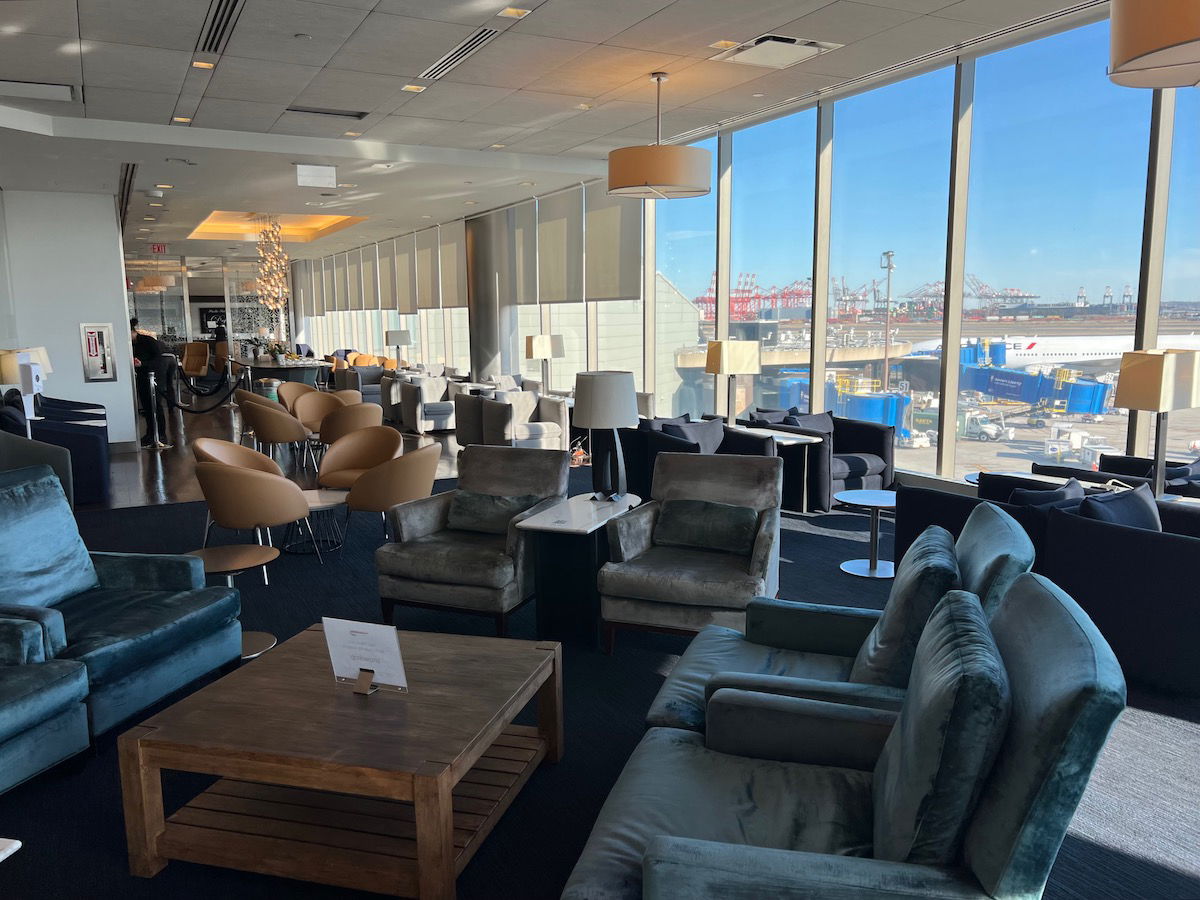 When you get to the back of the lounge, there's a space off to the side with two long rows of seats facing one another.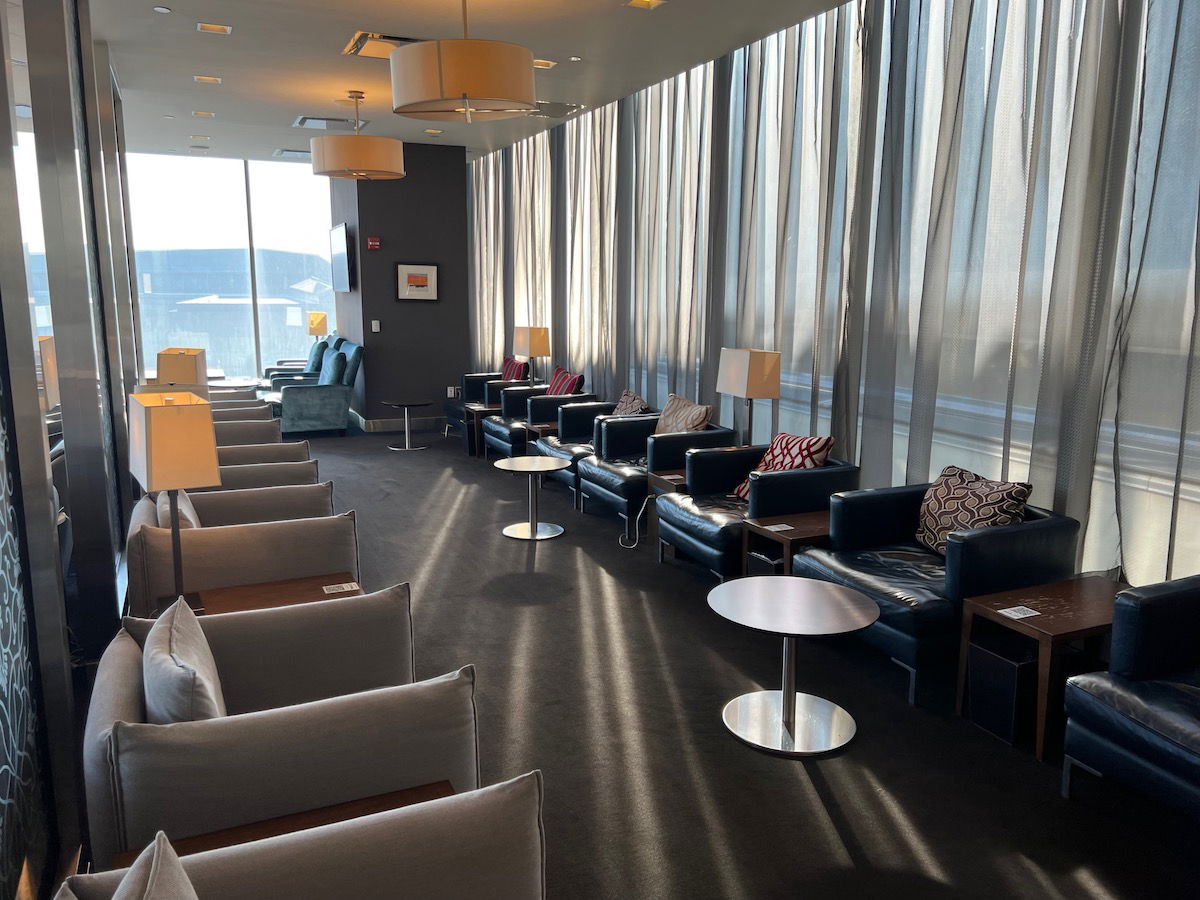 There's also a small communal workstation with a few rolling chairs and a printer.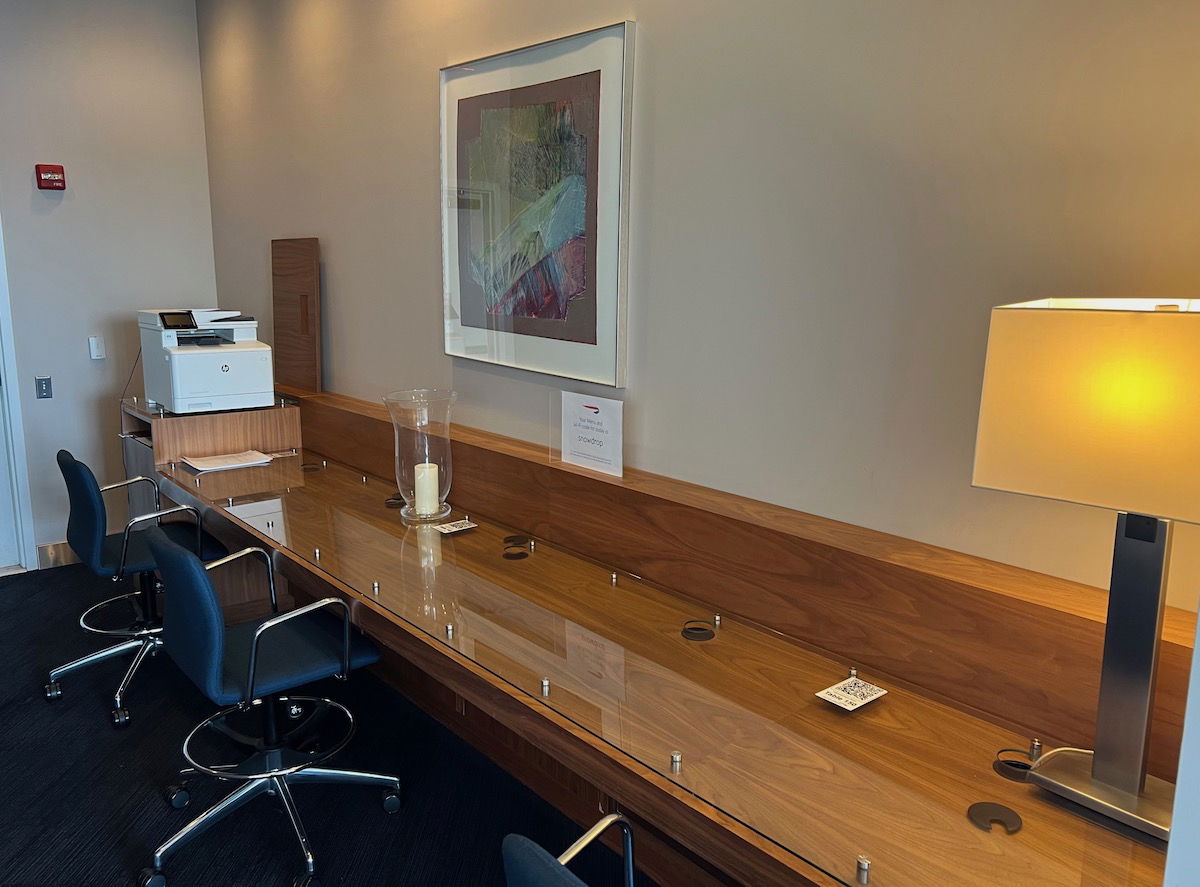 As mentioned above, the lounge has gorgeous views, so I enjoyed sitting by the window and just watching all the traffic.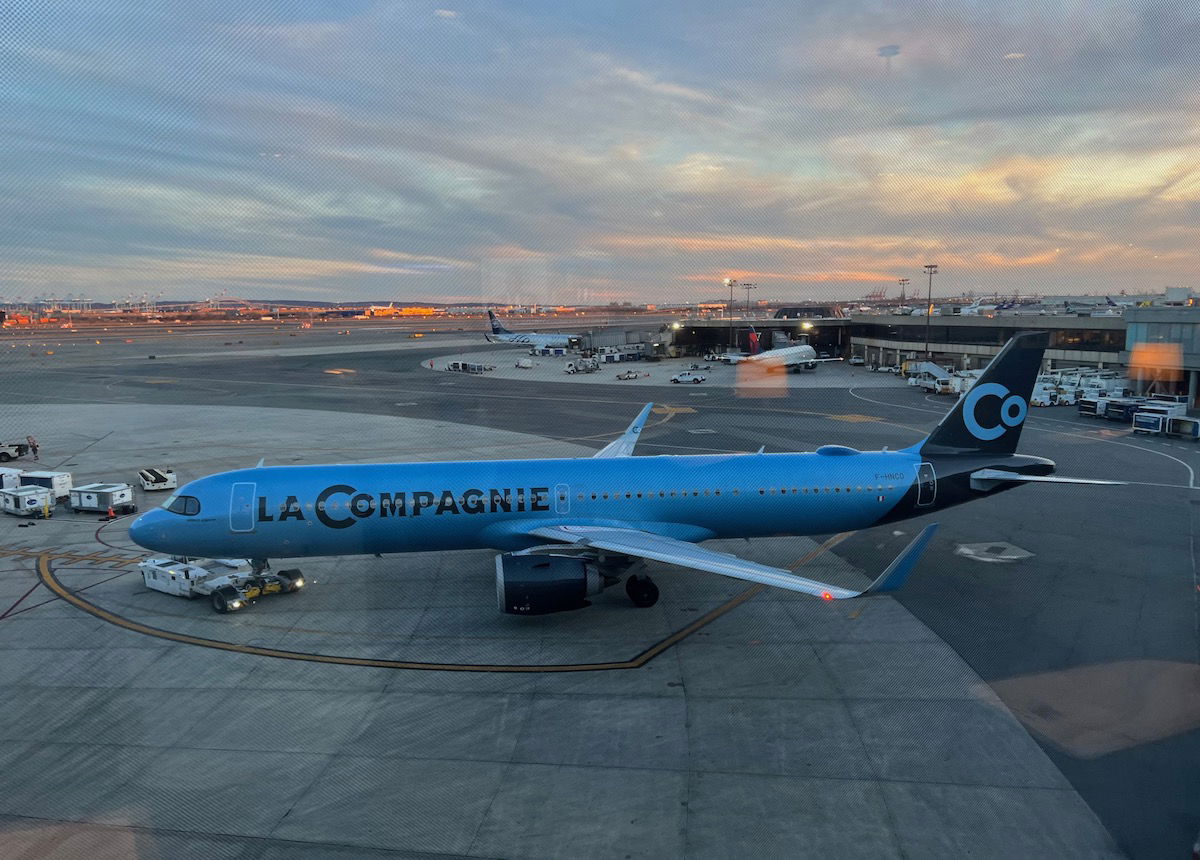 The lounge also has a pre-flight dining facility, which I'll talk more about below.
British Airways Lounge Newark food & drinks
Aside from the pre-flight dining facility (which is exclusively for premium passengers on British Airways), the Galleries Lounge has a very basic food selection. When you enter there's a small buffet area with the same coffee setup you'll find at virtually any British Airways Lounge, featuring a coffee machine, tea, and a few types of cookies.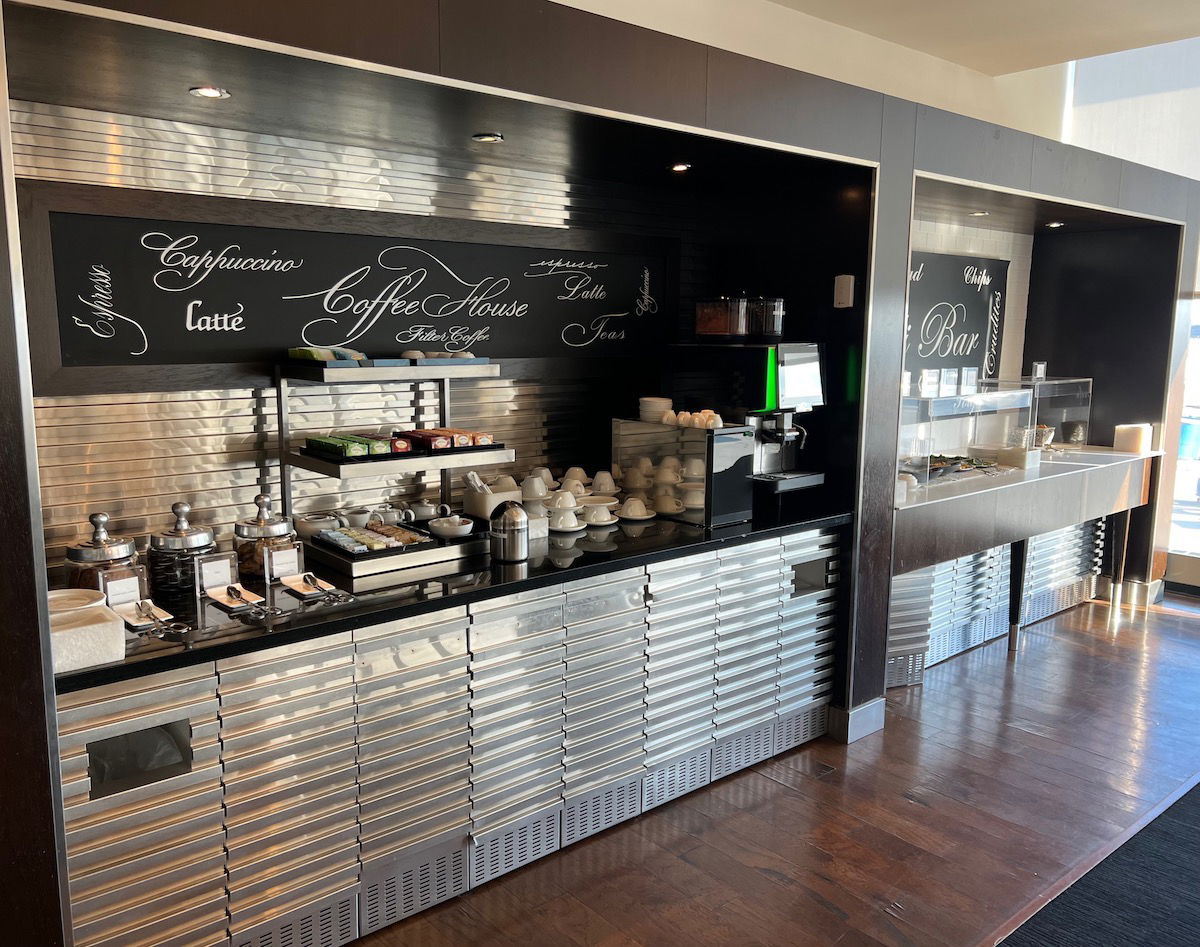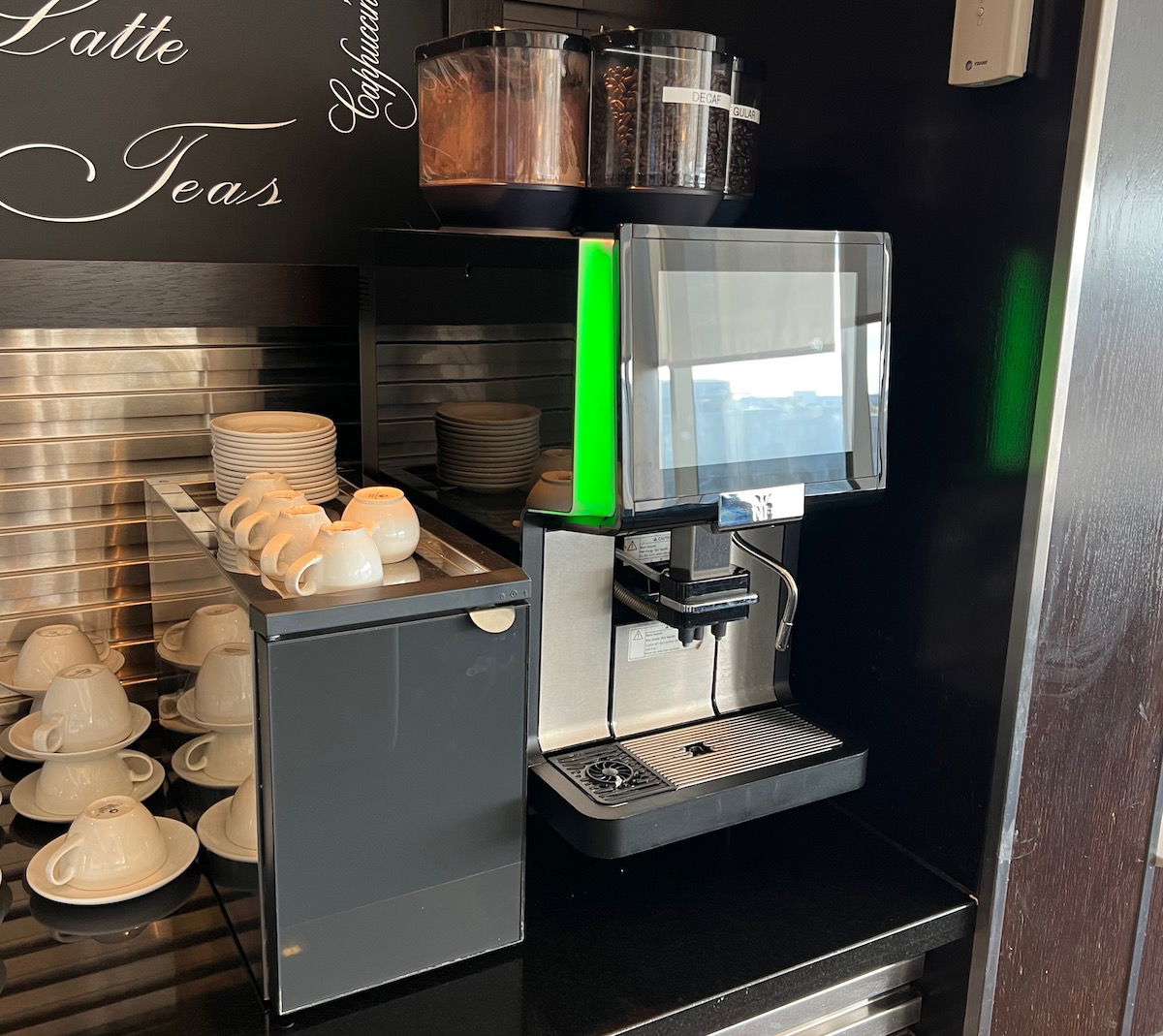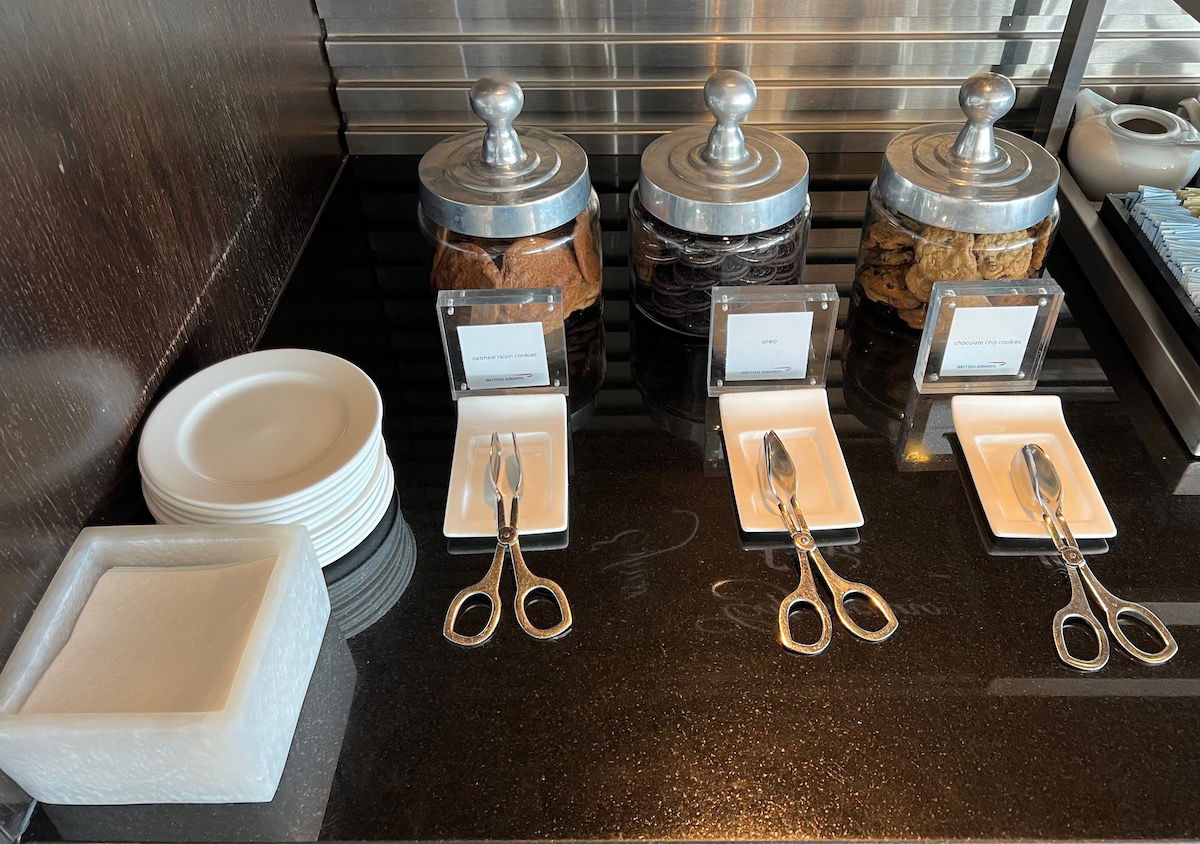 The food spread will otherwise make you yearn for an Admirals Club, and includes cauliflower, red pepper hummus, couscous salad, broccolini salad, gouda cheese, pita chips, and bread. That's it.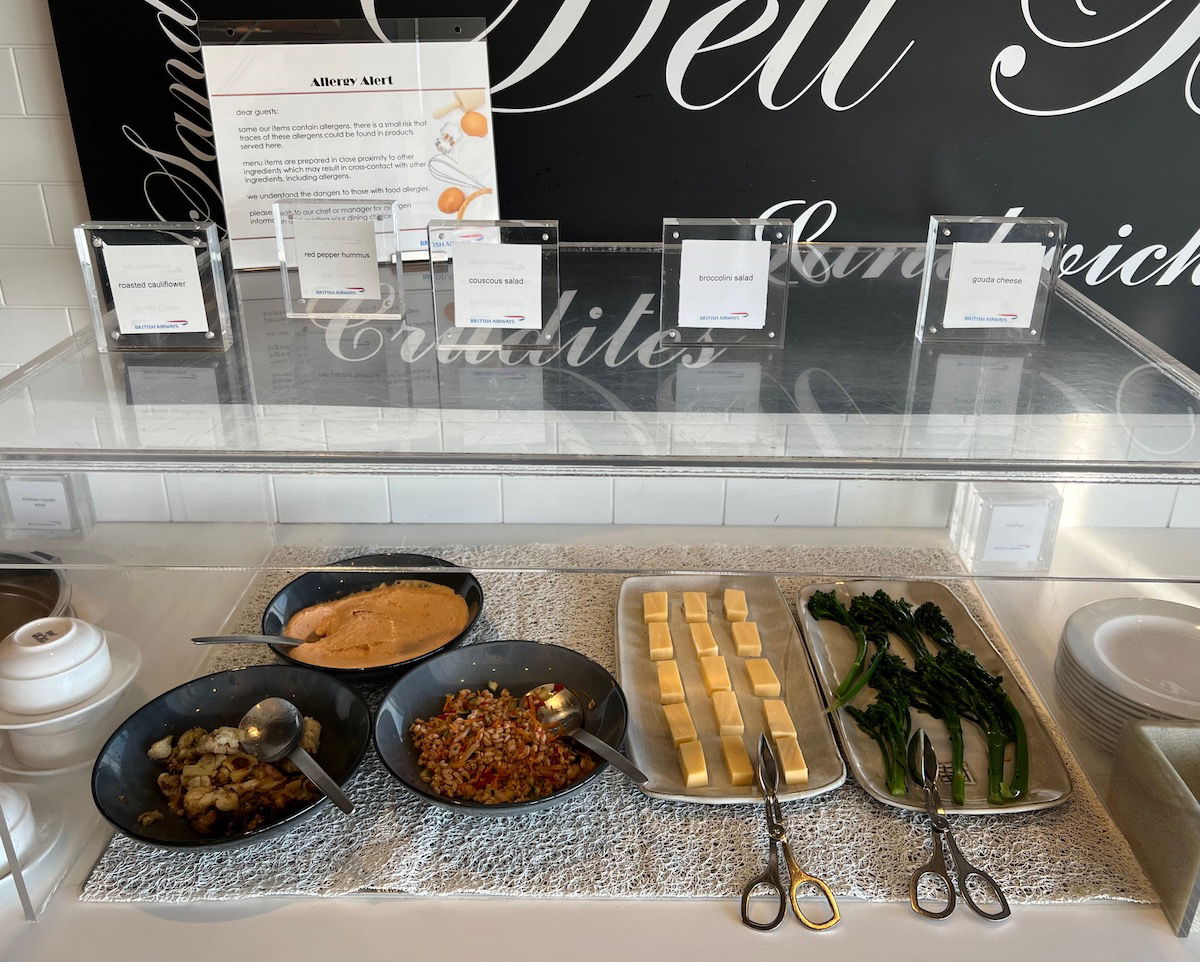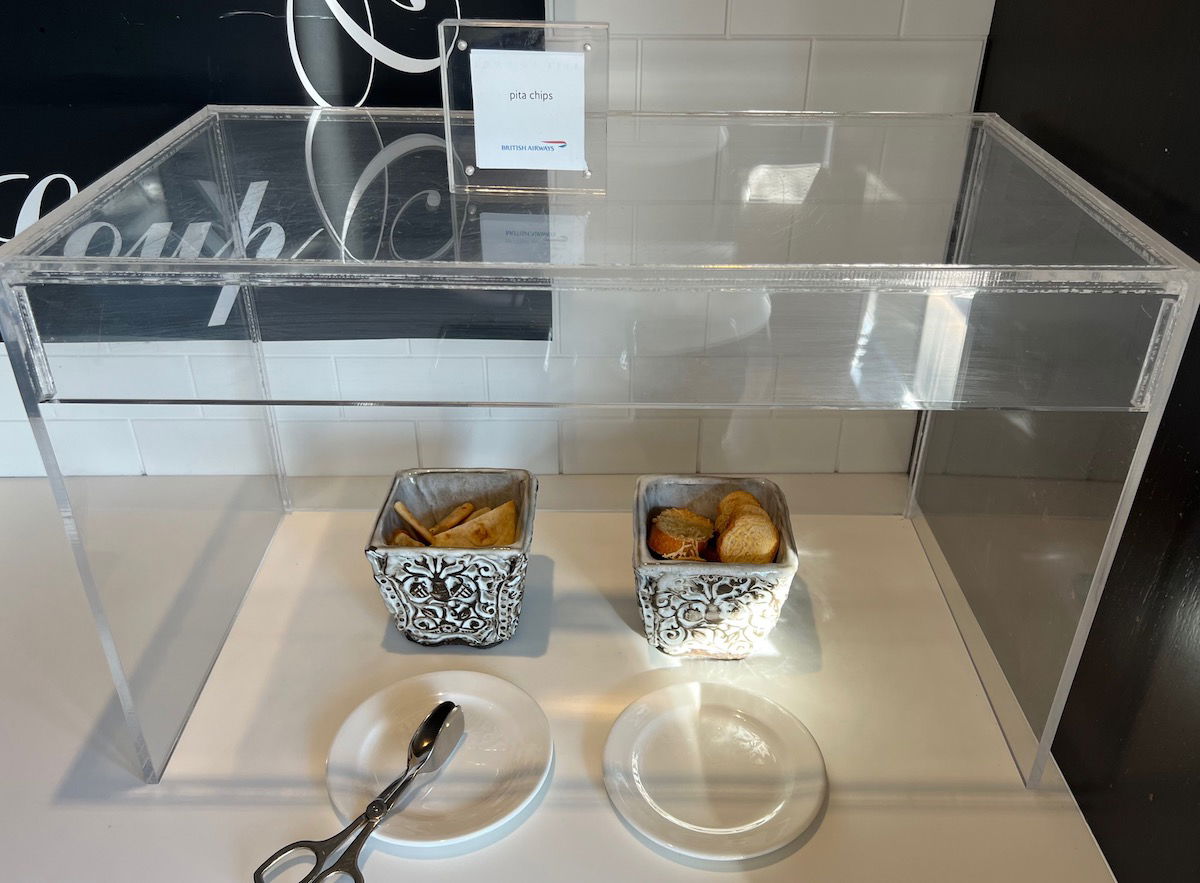 There's also a bar setup that's roped off, so it's not self-serve. There's someone staffing the bar, so you can either go up to the bar and order something, or you can order via the QR code that's located at each seat, and then your drink order will be delivered to you.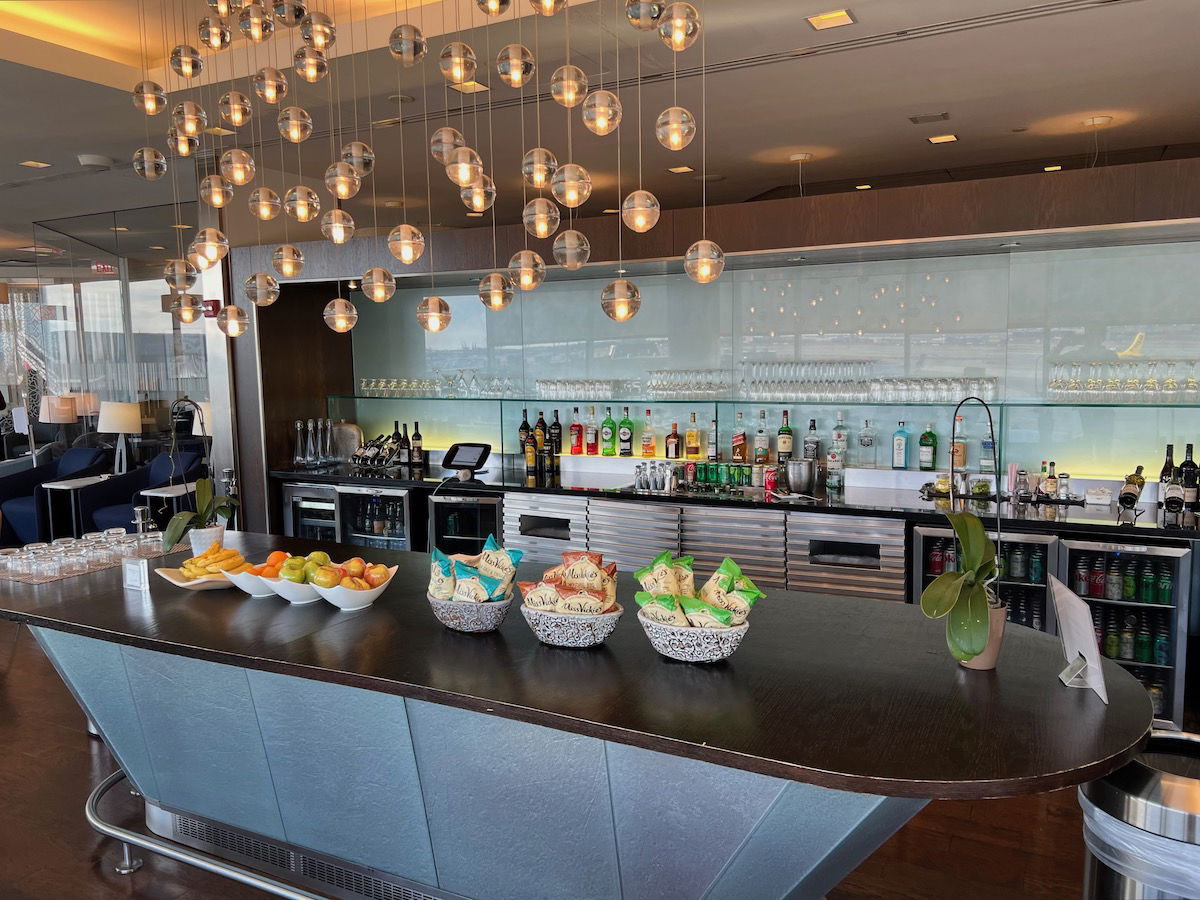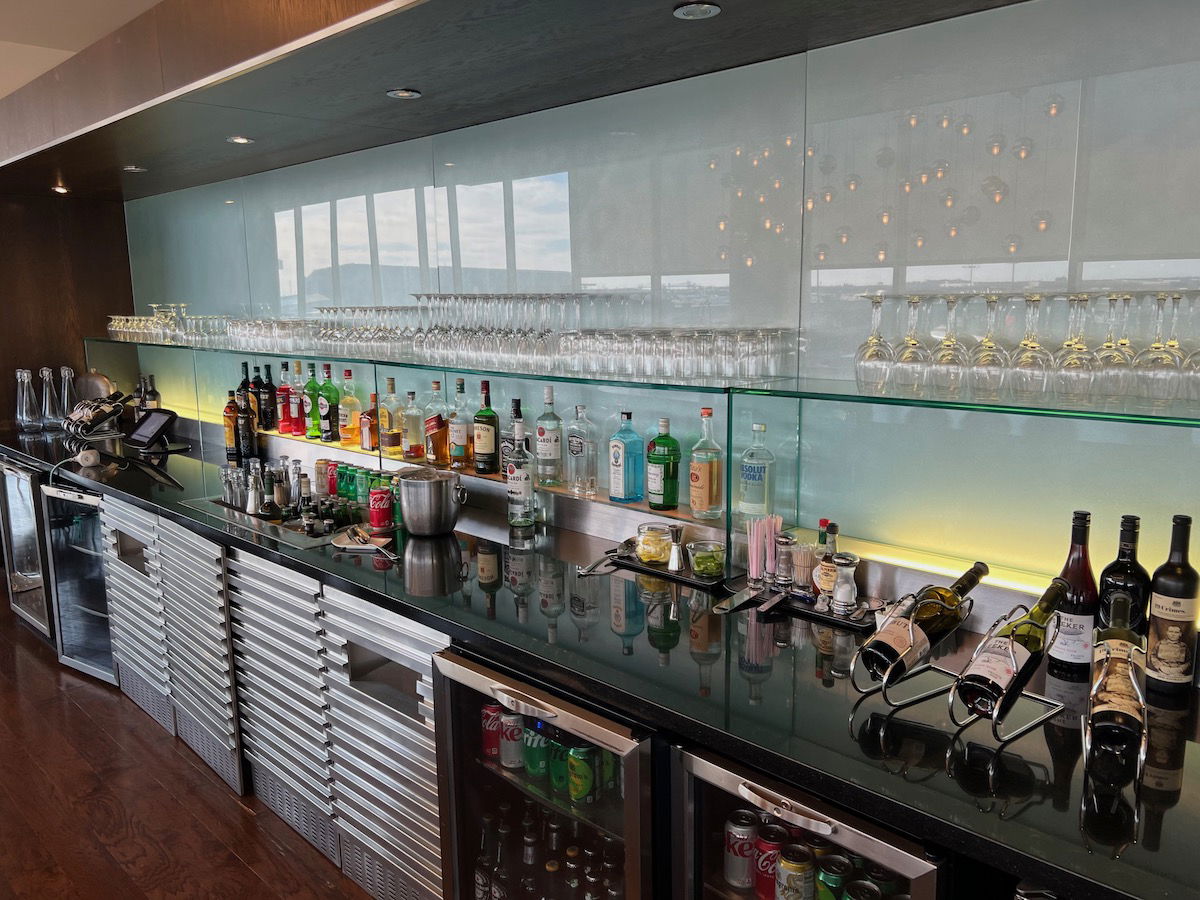 There are also some packaged chips and whole fruit on the bar.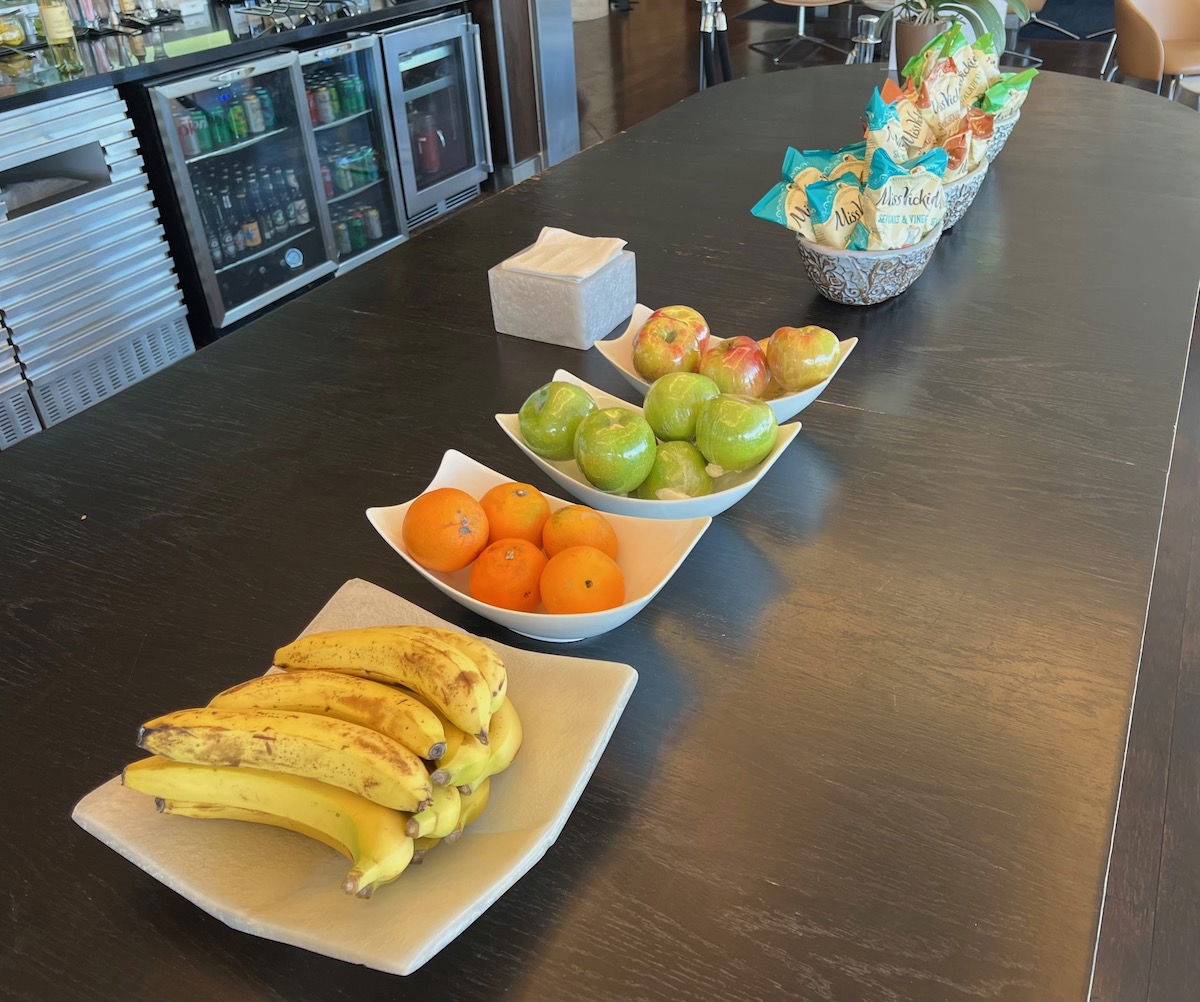 At the start of the pandemic British Airways introduced a mobile ordering system in its lounges, and I initially loved it. That's because food could be delivered this way, and at the time there were practices in place to limit contact with people.
However, at this point I'm not sure exactly what purpose this servers? I don't see the benefit of someone handing me a can of soda, and it's not like this is a proper bar setup in terms of specialty cocktails, etc.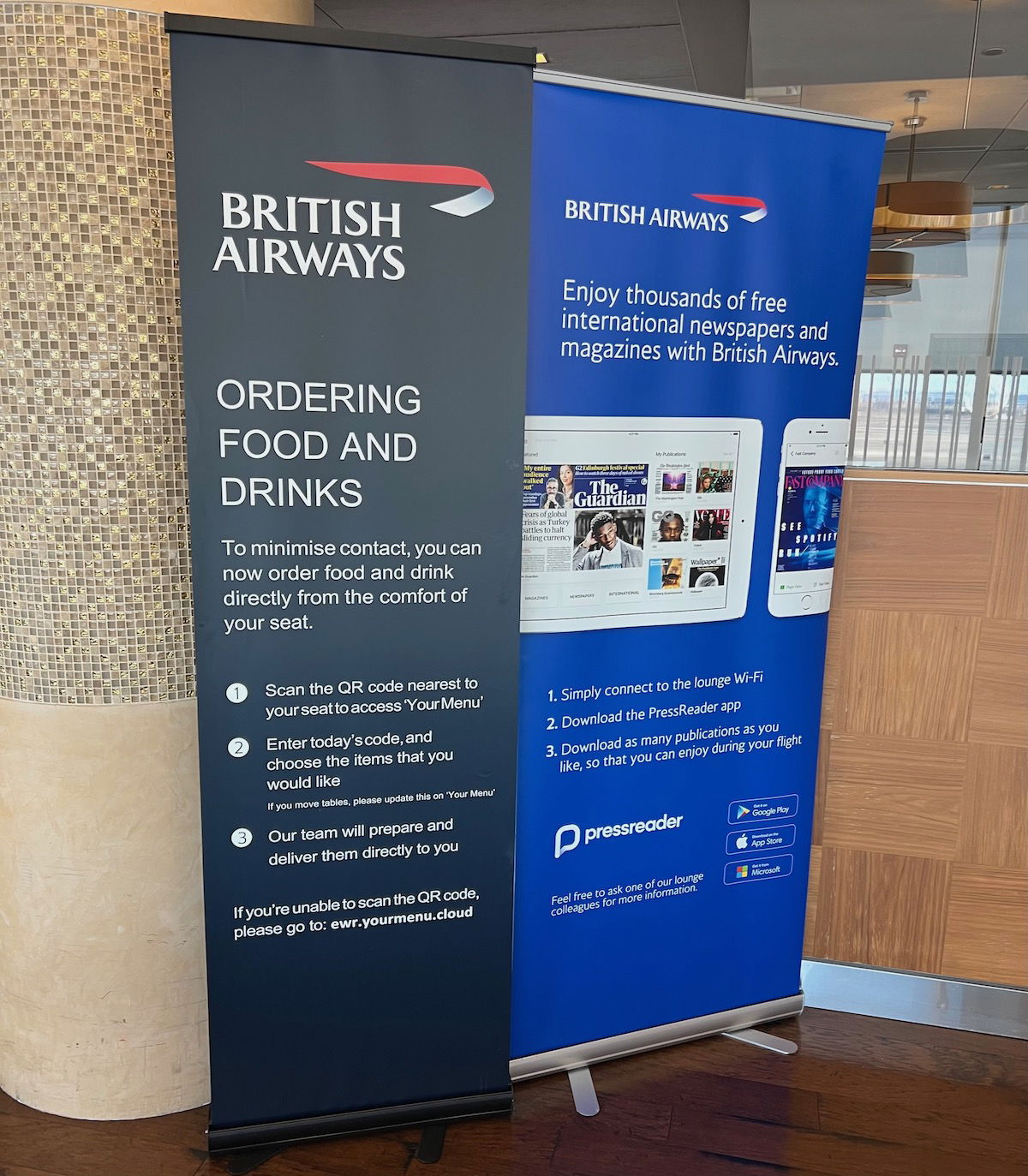 On the plus side, the system was easy to use. You just enter your table number, the code of the day, and your name, and you can then view the menu.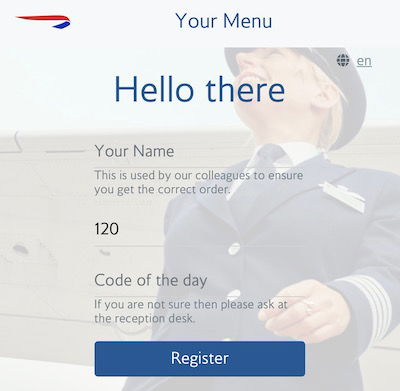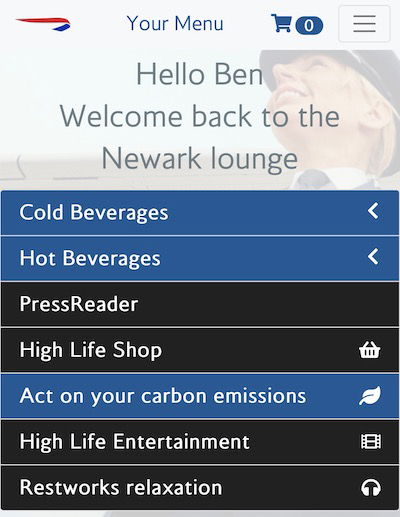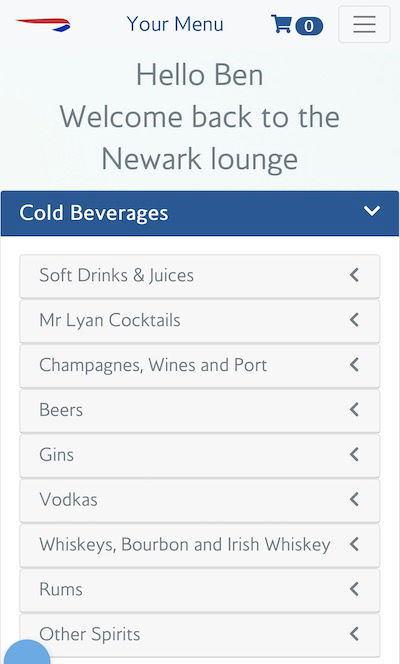 Below is a look at the wine selection, which exceeded my expectations. Free flowing Duval-Leroy isn't half bad for a lounge! I suspect this isn't offered when the lounge is open to Priority Pass members, but I could be wrong.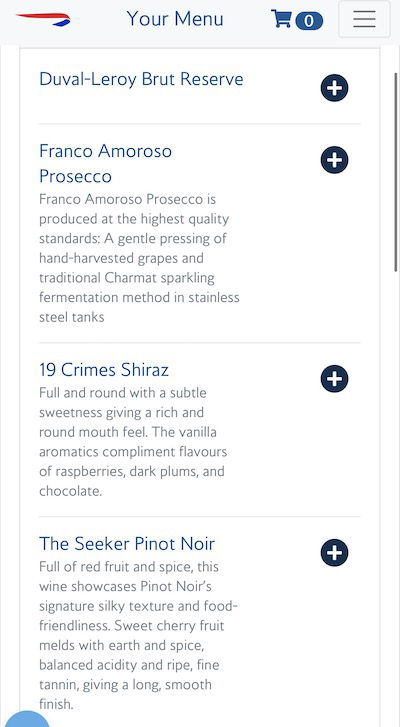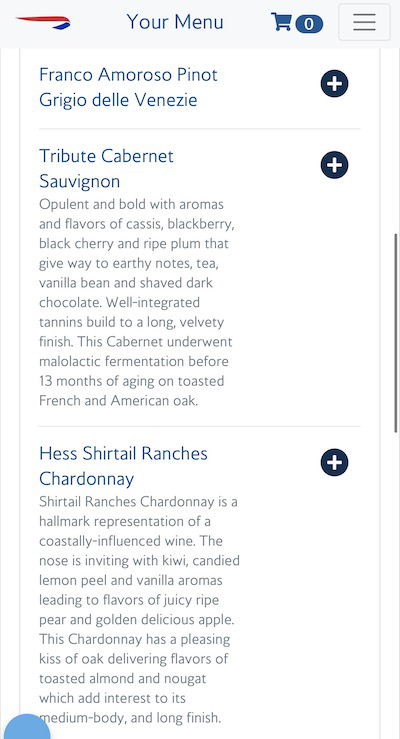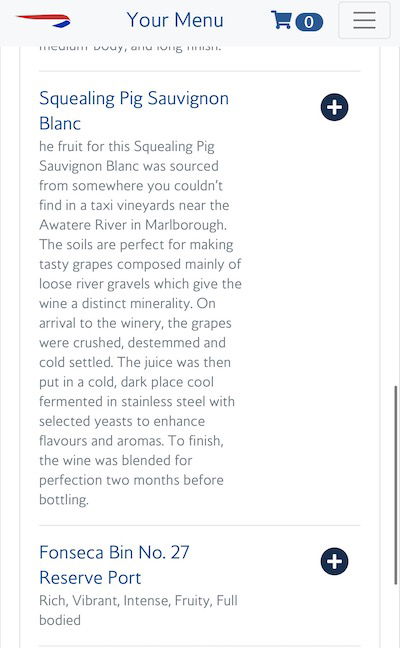 British Airways Lounge Newark pre-flight dining
One of the nice features of the British Airways Lounge Newark is the pre-flight dining facility. This is exclusively for British Airways premium cabin passengers, and it opened at 5PM for my 9:30PM flight.
The space isn't particularly elegant, with a variety of cafe-style tables seating two to four people each, as well as some larger communal tables.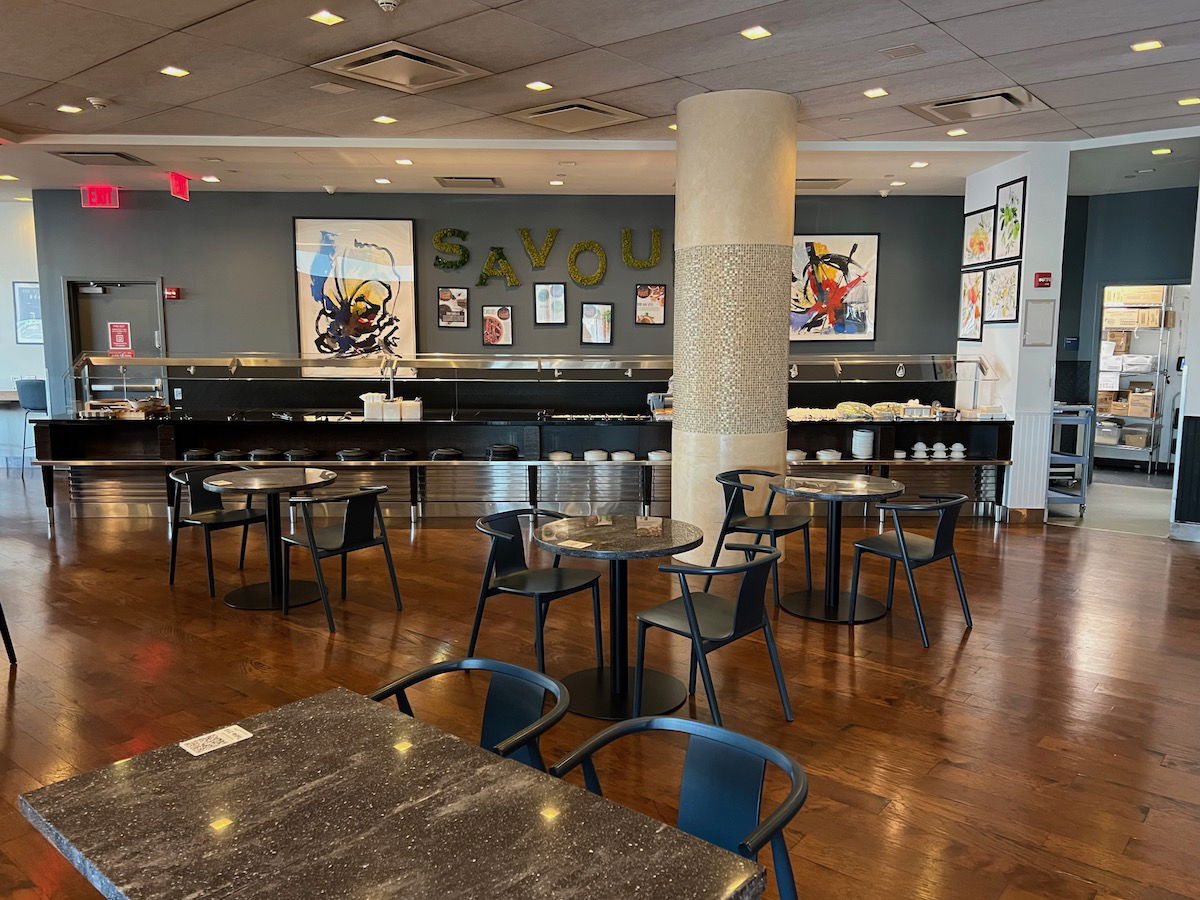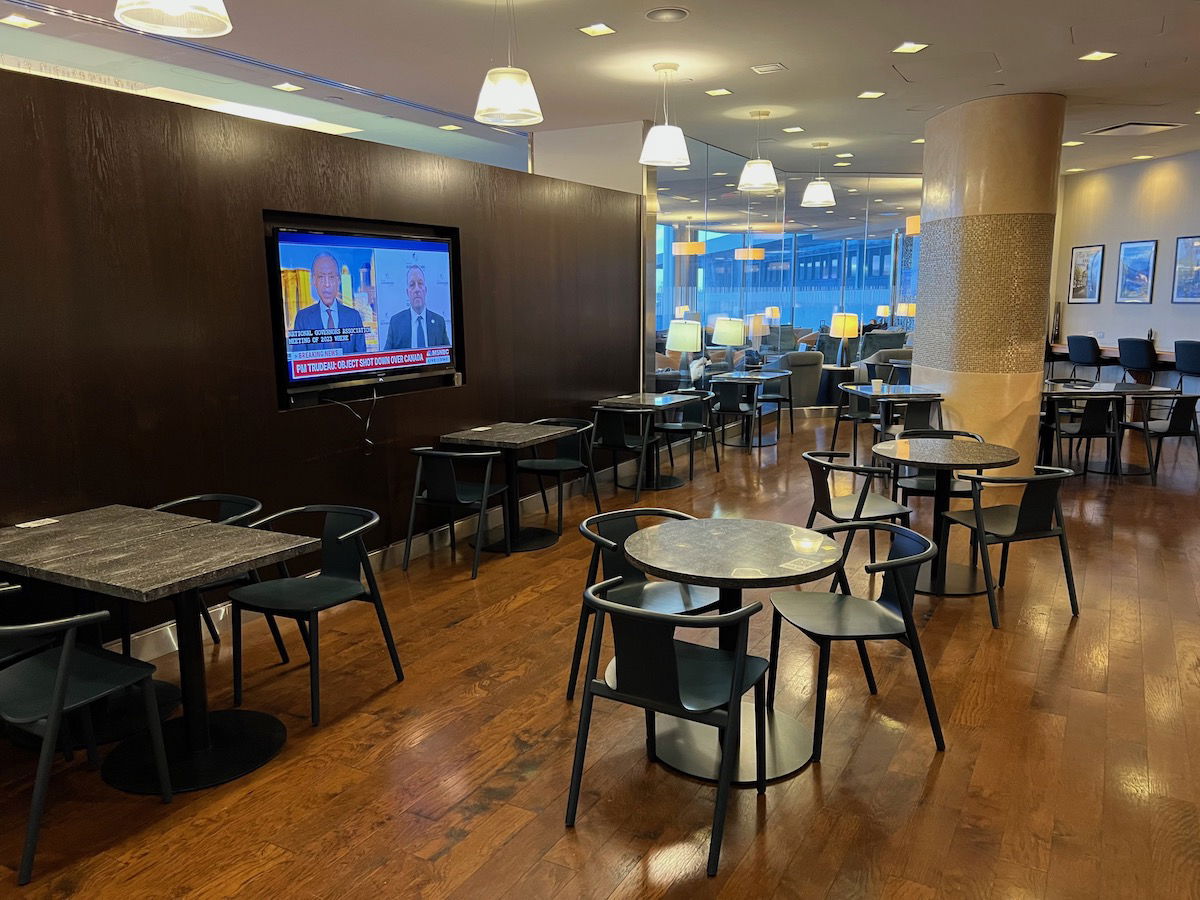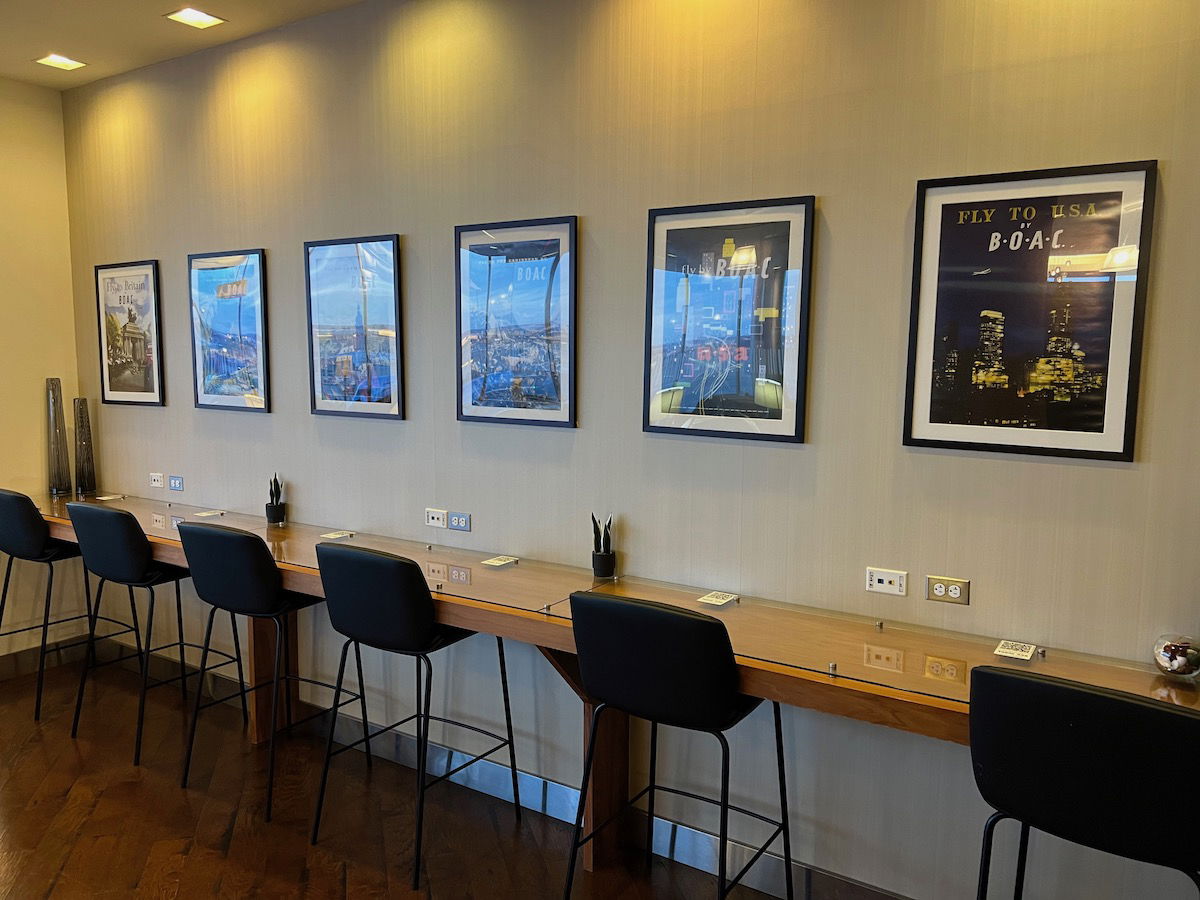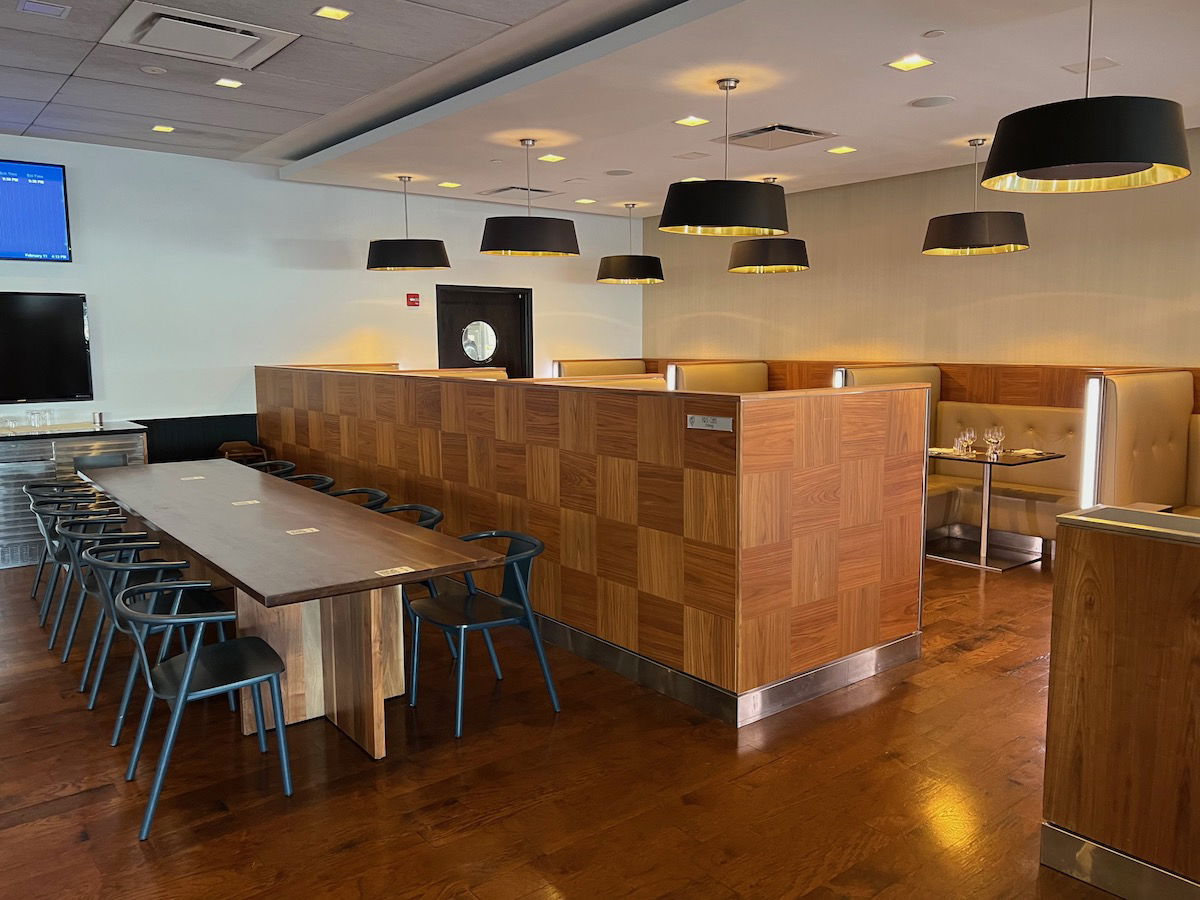 I wouldn't say the food selection was amazing, but it was more in line with what I'd expect for an international business class lounge. There was a salad bar, cheese and fruit, three hot dishes, and dessert.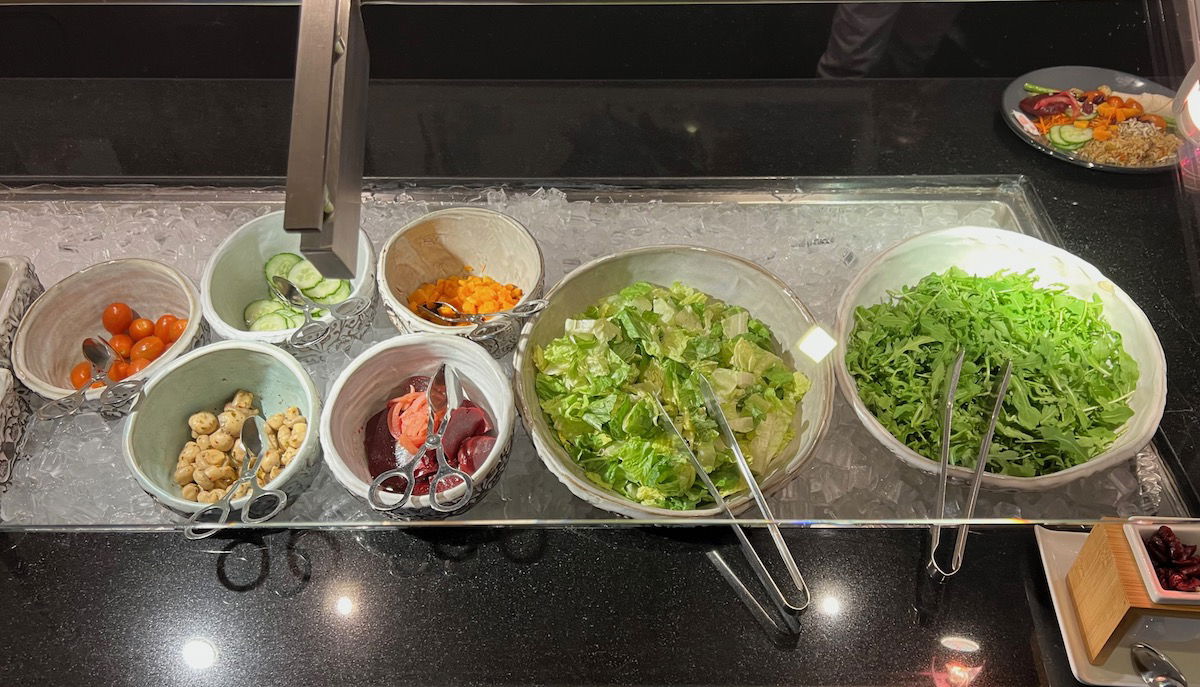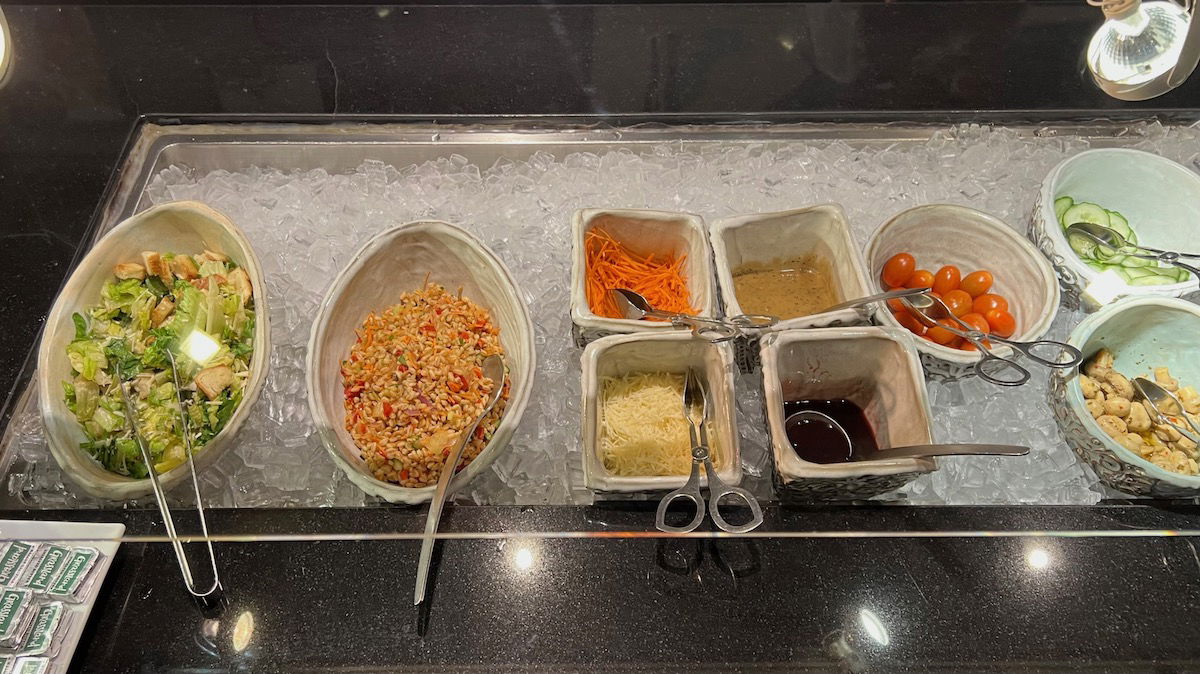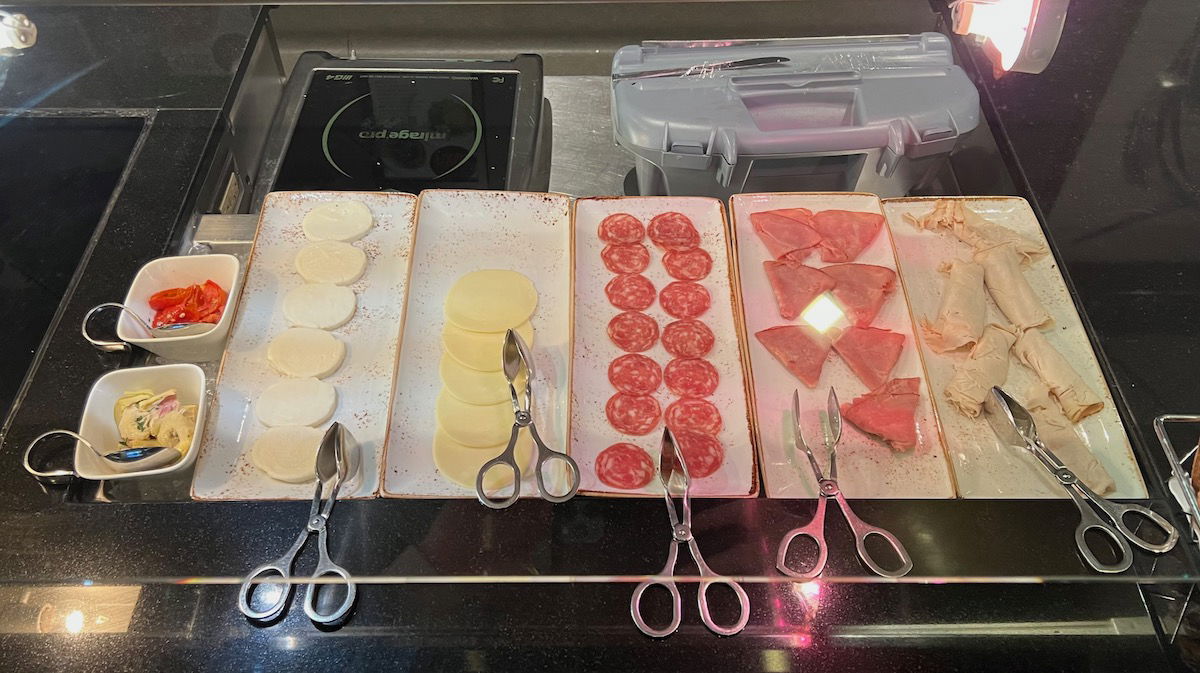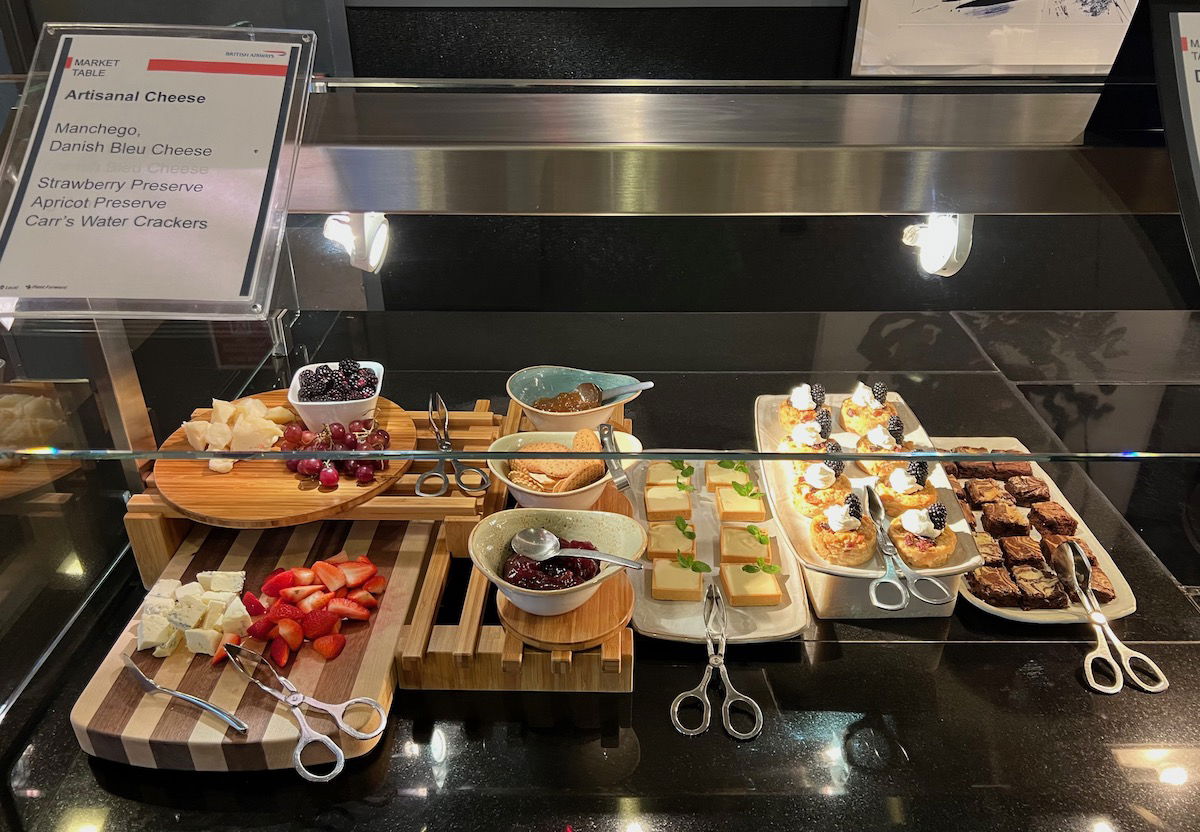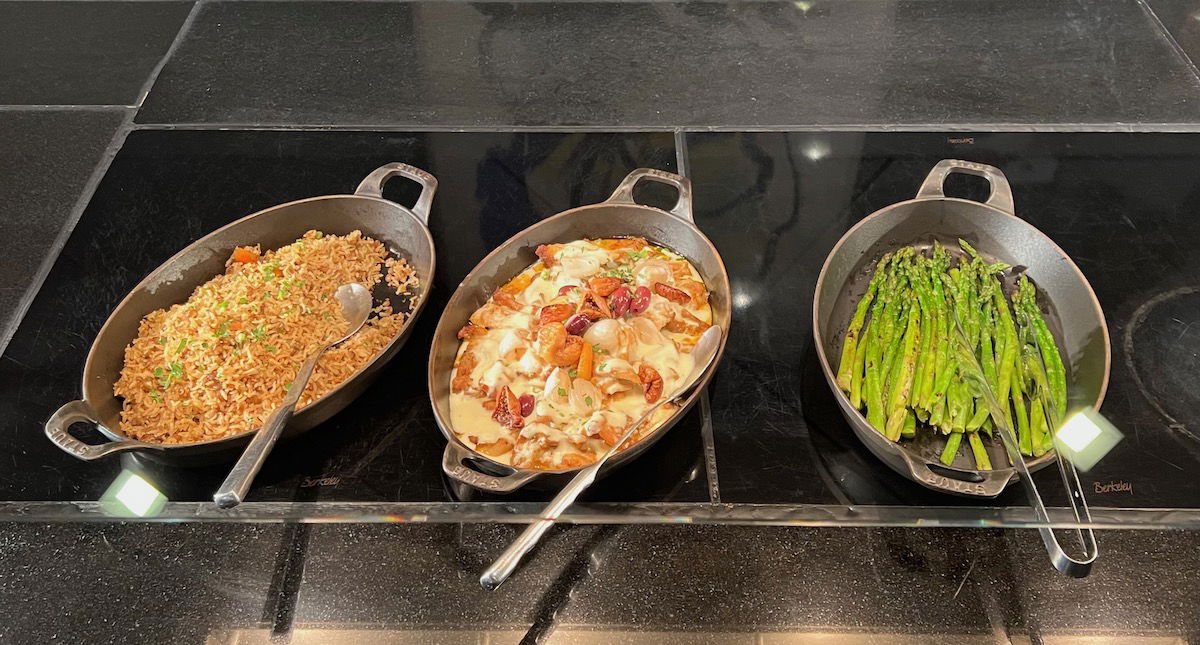 It's probably one of the less impressive pre-flight dining concepts I've seen, but like I said, it's better than nothing.
British Airways Lounge Newark first class section
Those traveling in British Airways first class are treated to a special pre-flight dining experience with table service. Upon entering the lounge I had been presented with an invitation, which I then had to show to the server when being seated.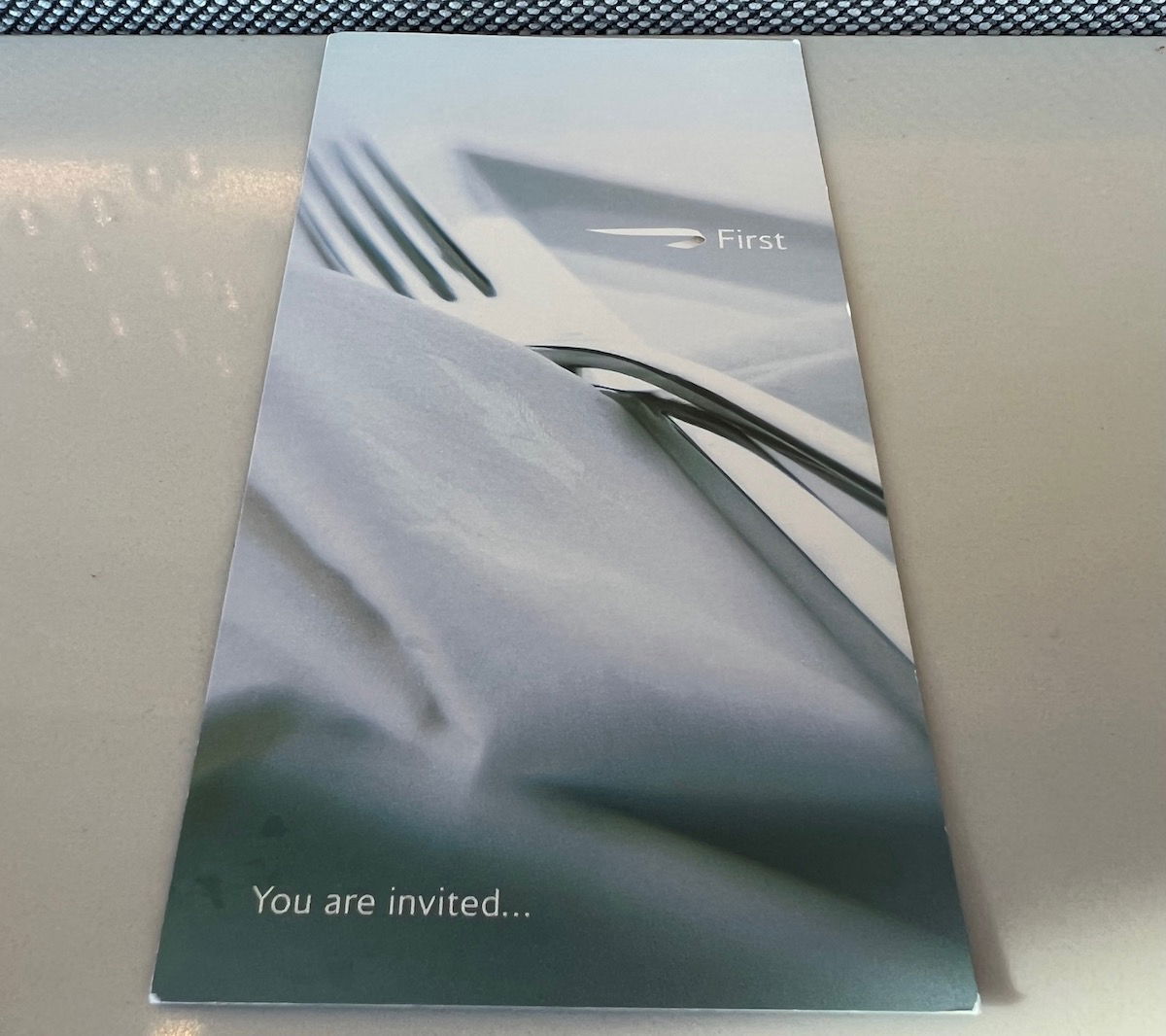 The first class dining area is right next to the standard pre-flight dining, and consists of seven tables. Each table has quite a bit of privacy, thanks to the high partitions between seats.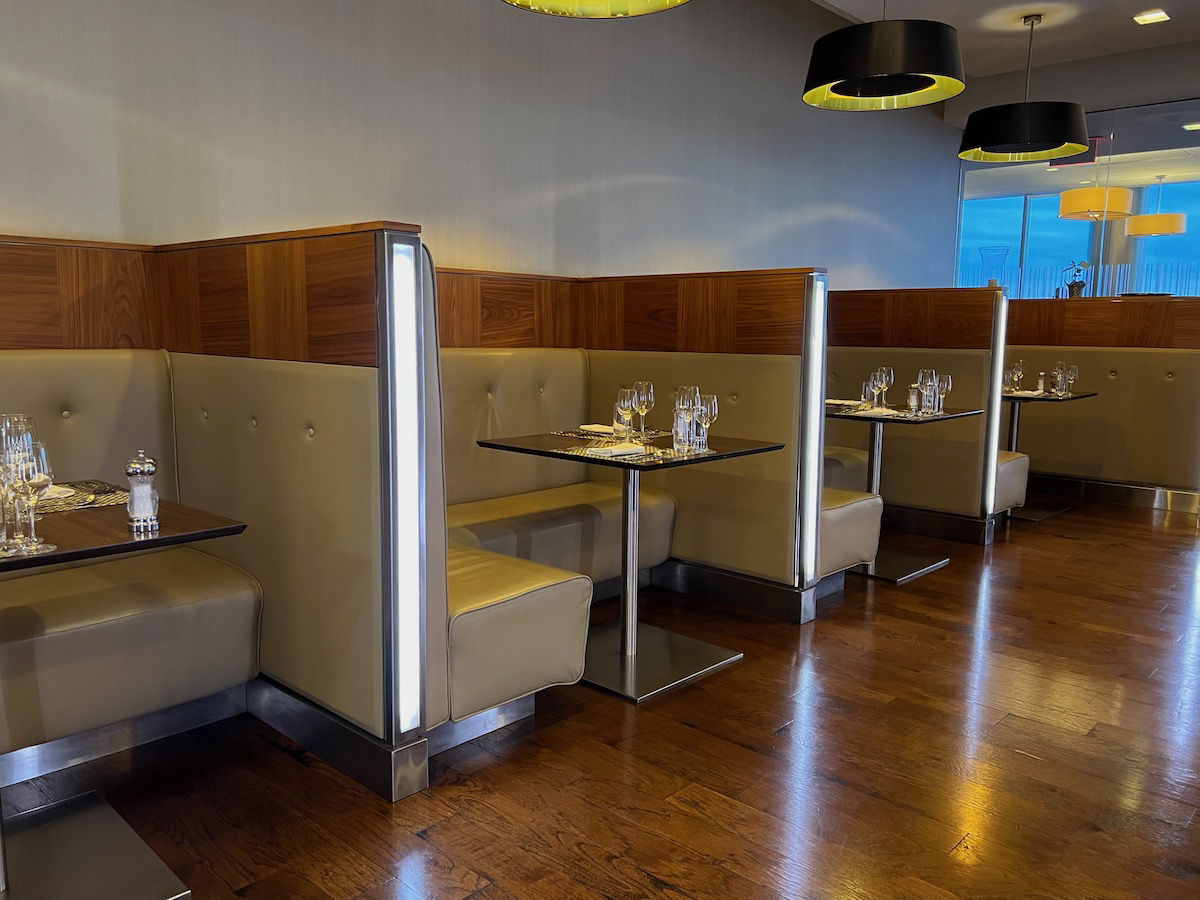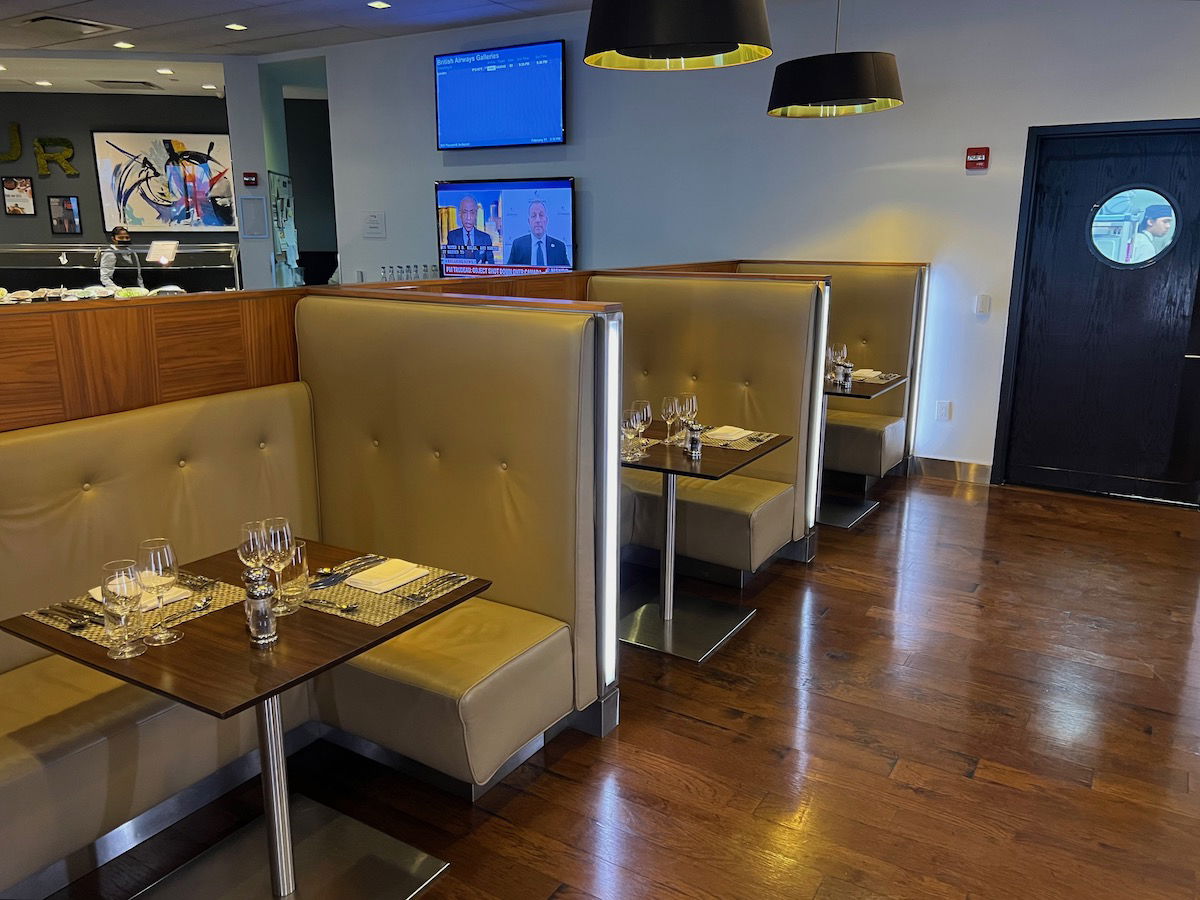 Below you can find the first class dining menu and wine list.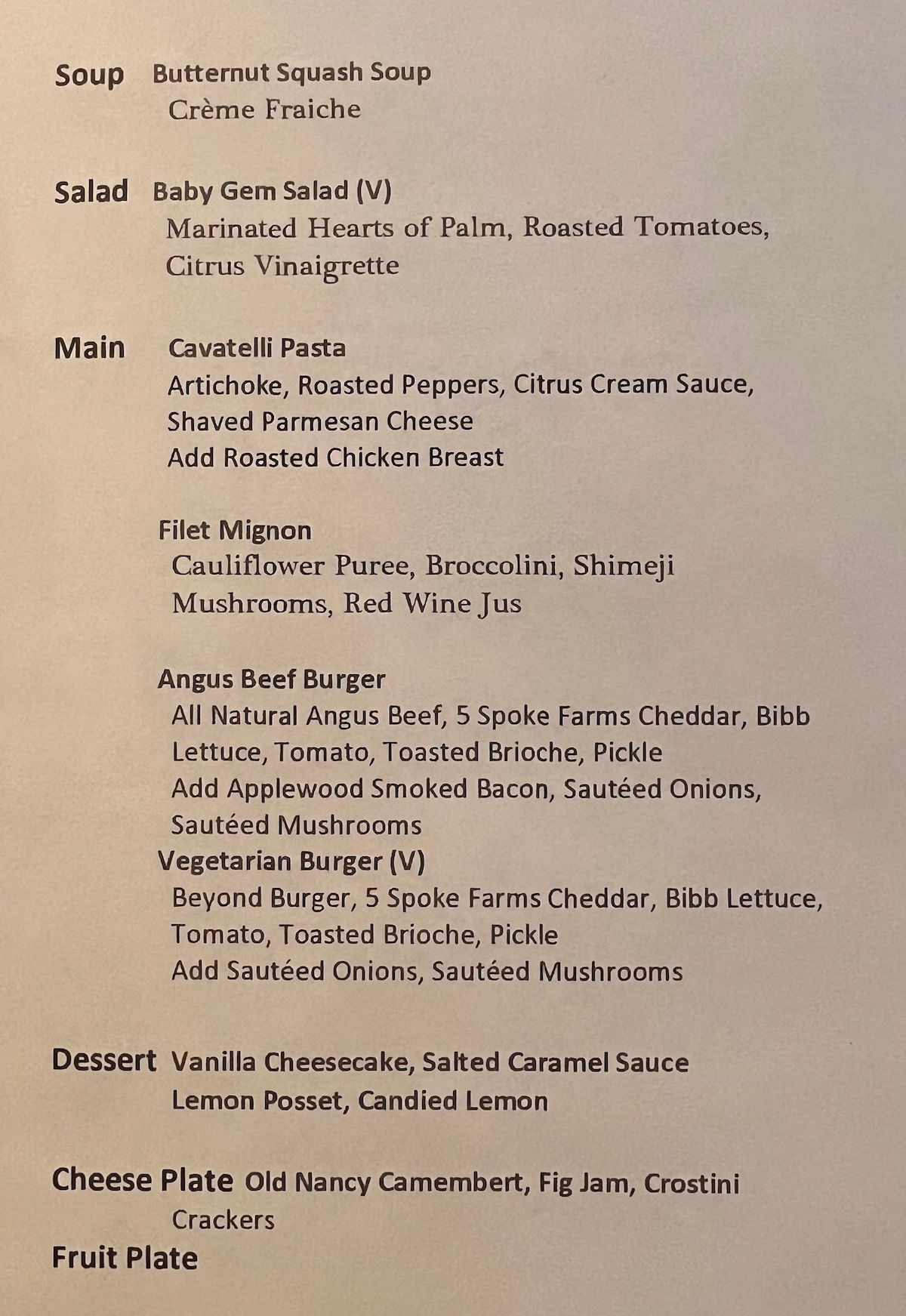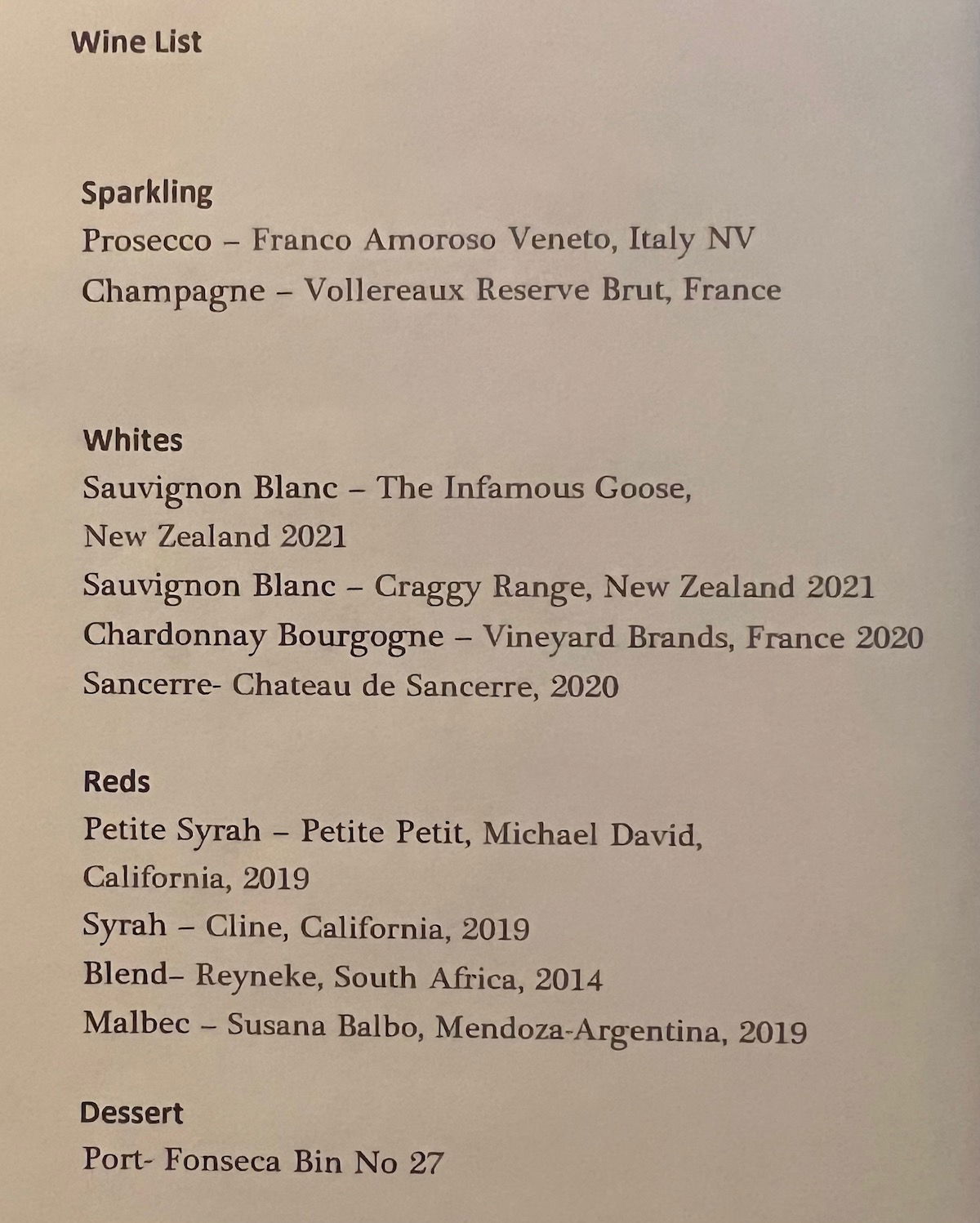 To drink I tried to order a dirty martini, which the staff in the lounge graciously tried to make. As much as I like my martinis very dirty, this was the dirtiest one I've ever had…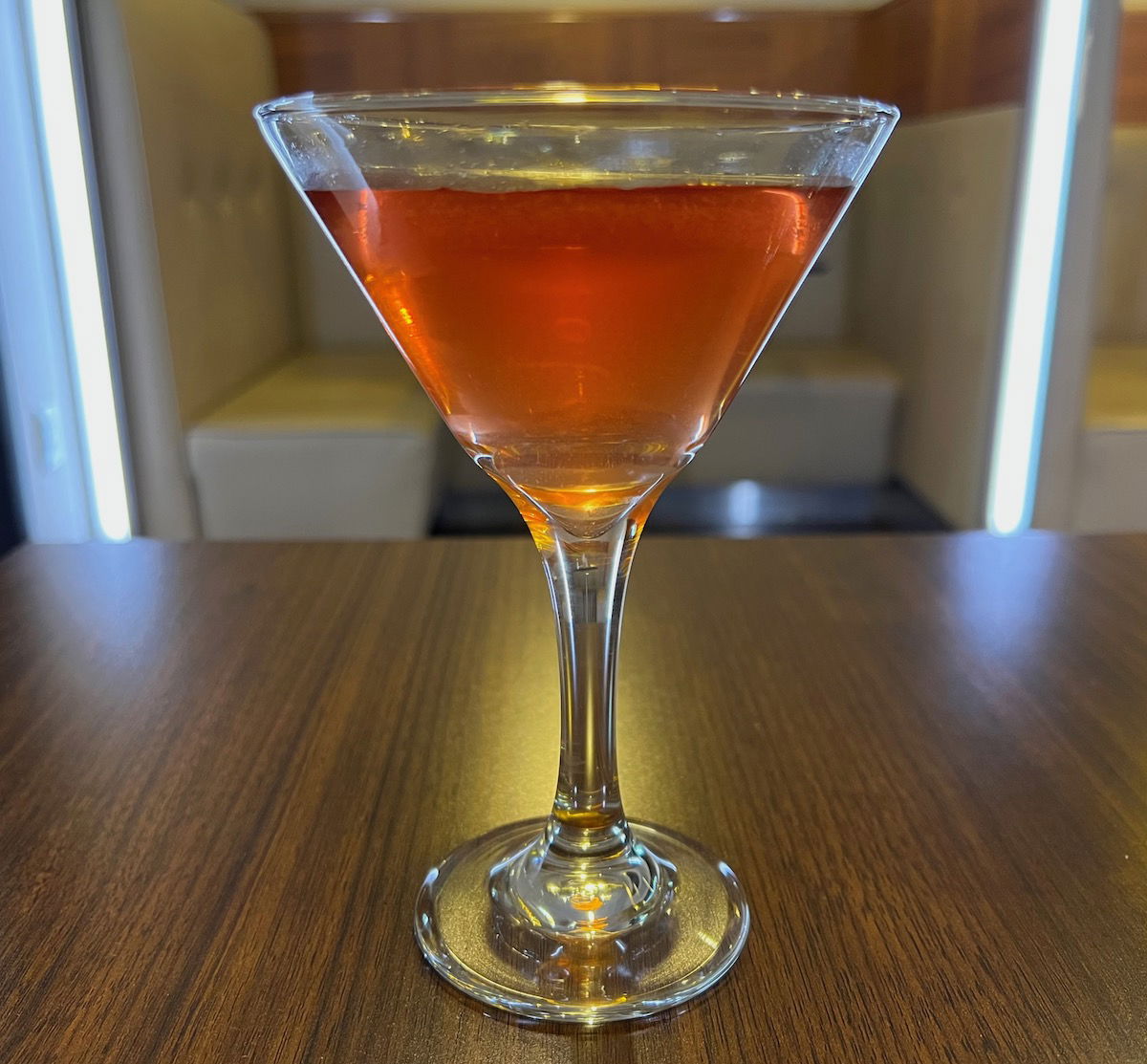 To eat, I ordered the butternut squash soup with crème fraîche to start, which I thought was artfully presented.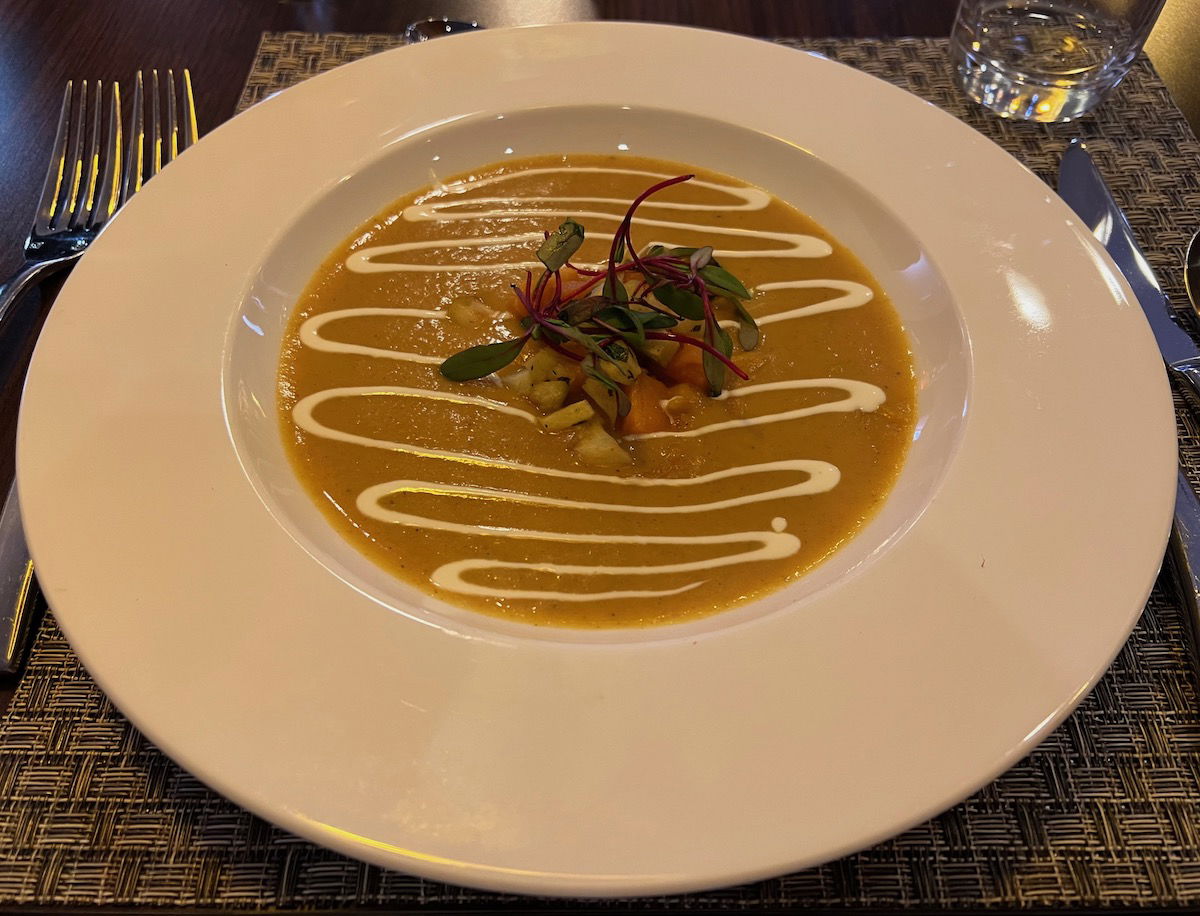 Then for the main course I ordered the vegetarian burger.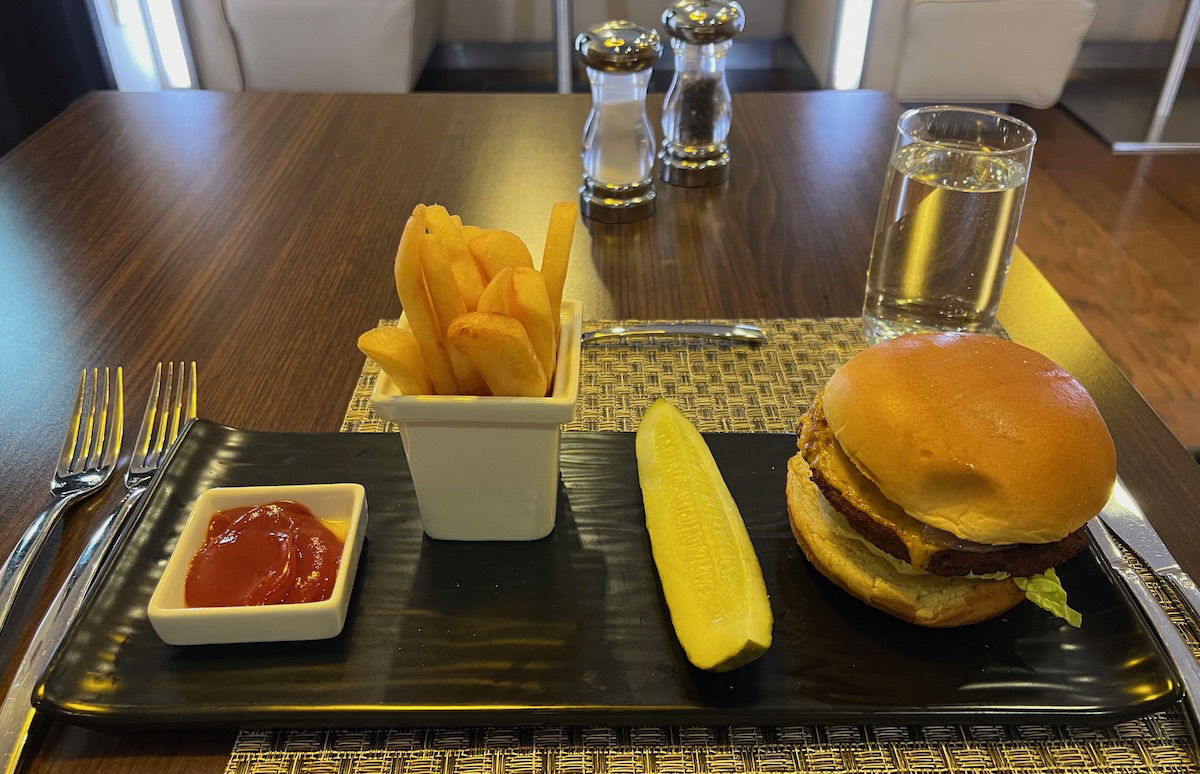 The food was probably better than what was available at the buffet, though it's not exactly top restaurant quality. I'm not sure what the cooking situation is in this lounge, but I was seated near the kitchen, and kept hearing that same "beeping" noise you hear at Starbucks every time that microwave or oven thing (or whatever it is), is finished.
I feel like the lounge probably doesn't have a proper kitchen, and that everything is probably reheated. That of course doesn't sound good, but then again, that's no different than on airplanes.
British Airways Lounge Newark service
I have to commend the staff in the lounge, as they were truly professional and friendly. In particular, before the pre-flight dining started, I overheard the manager briefing the staff about the dinner service for the night. She had such an upbeat attitude, and kept emphasizing how they should great guests with big smiles and make sure everyone has a great experience.
She had such a positive and energetic vibe, and that very much rubbed off on the rest of the staff. The service in the pre-flight dining facility was excellent, both in terms of friendliness and attentiveness.
In an era where there's so much lackluster service, kudos to the team here for being professional.
British Airways Lounge Newark bathrooms & showers
The British Airways Lounge's bathrooms are right near the entrance. Given how huge the lounge is, I thought the bathroom setup was pretty limited. The men's room had two sinks, two stalls, and two urinals.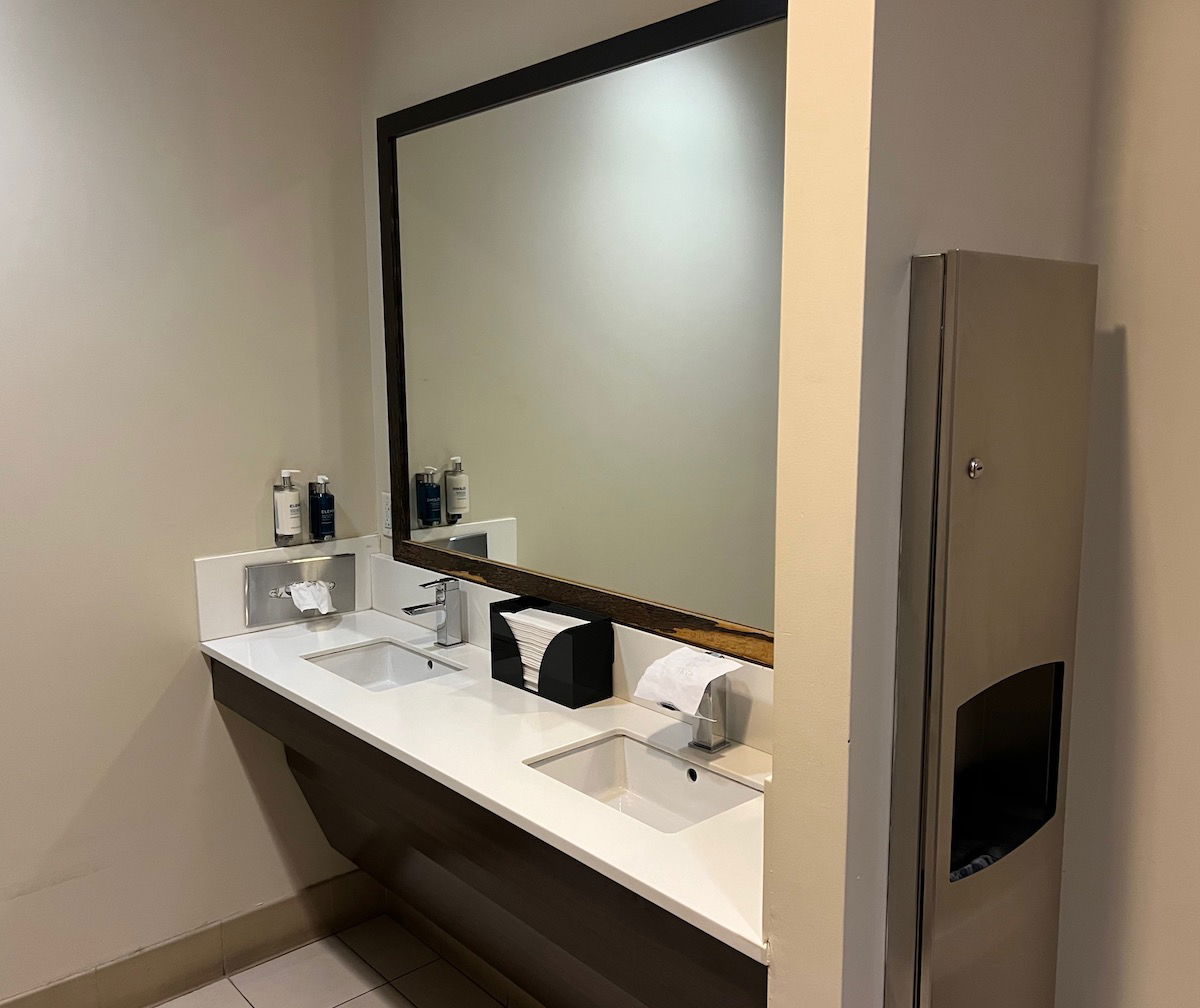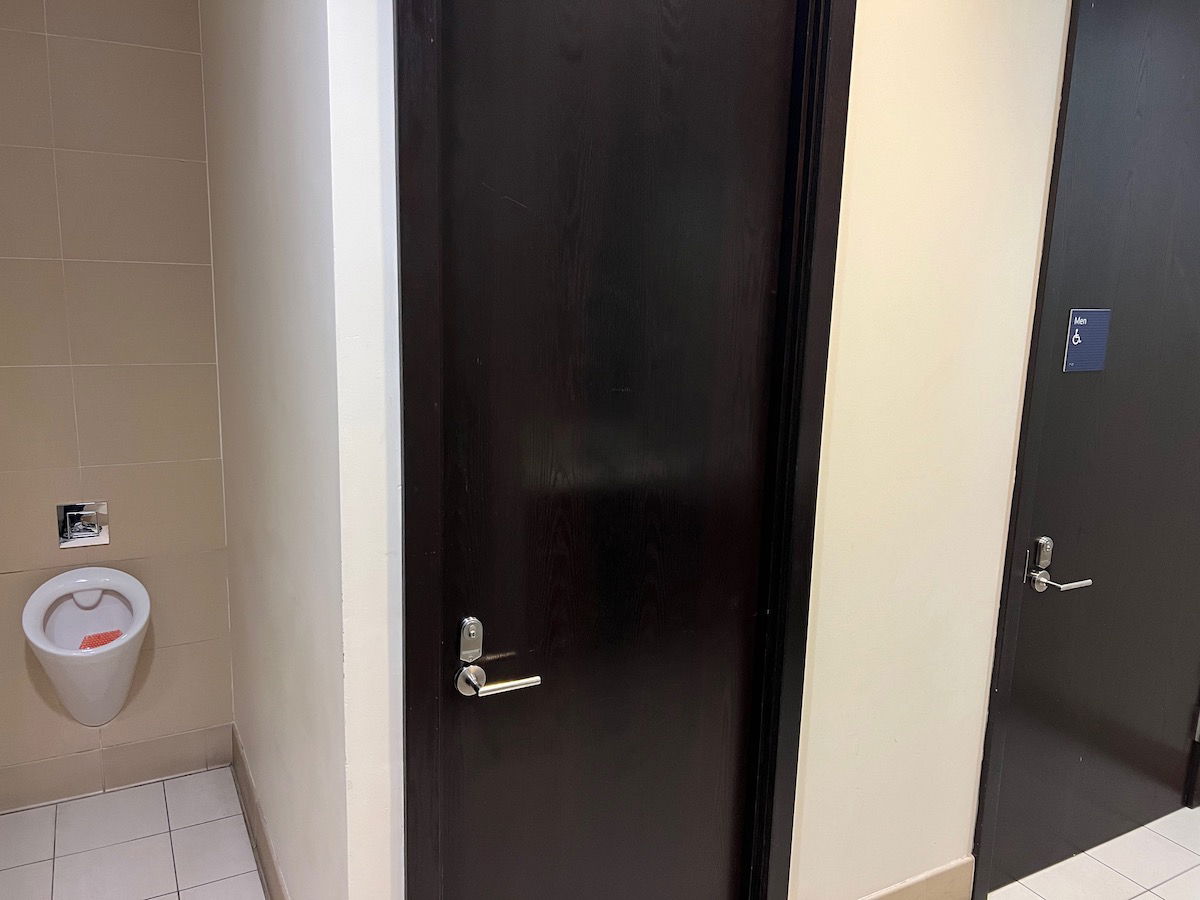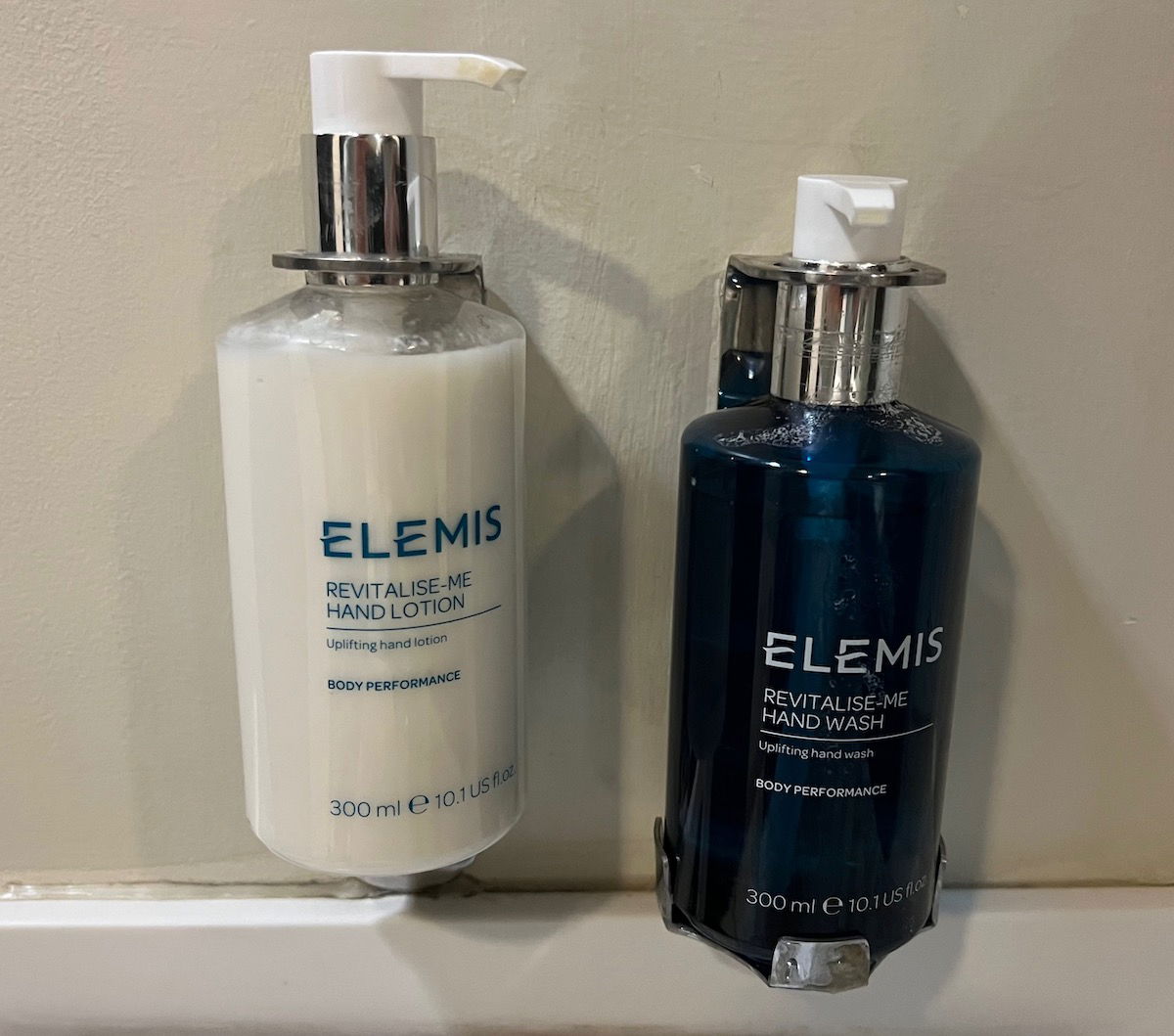 There was also a single shower suite, which was functional, but not particularly luxurious.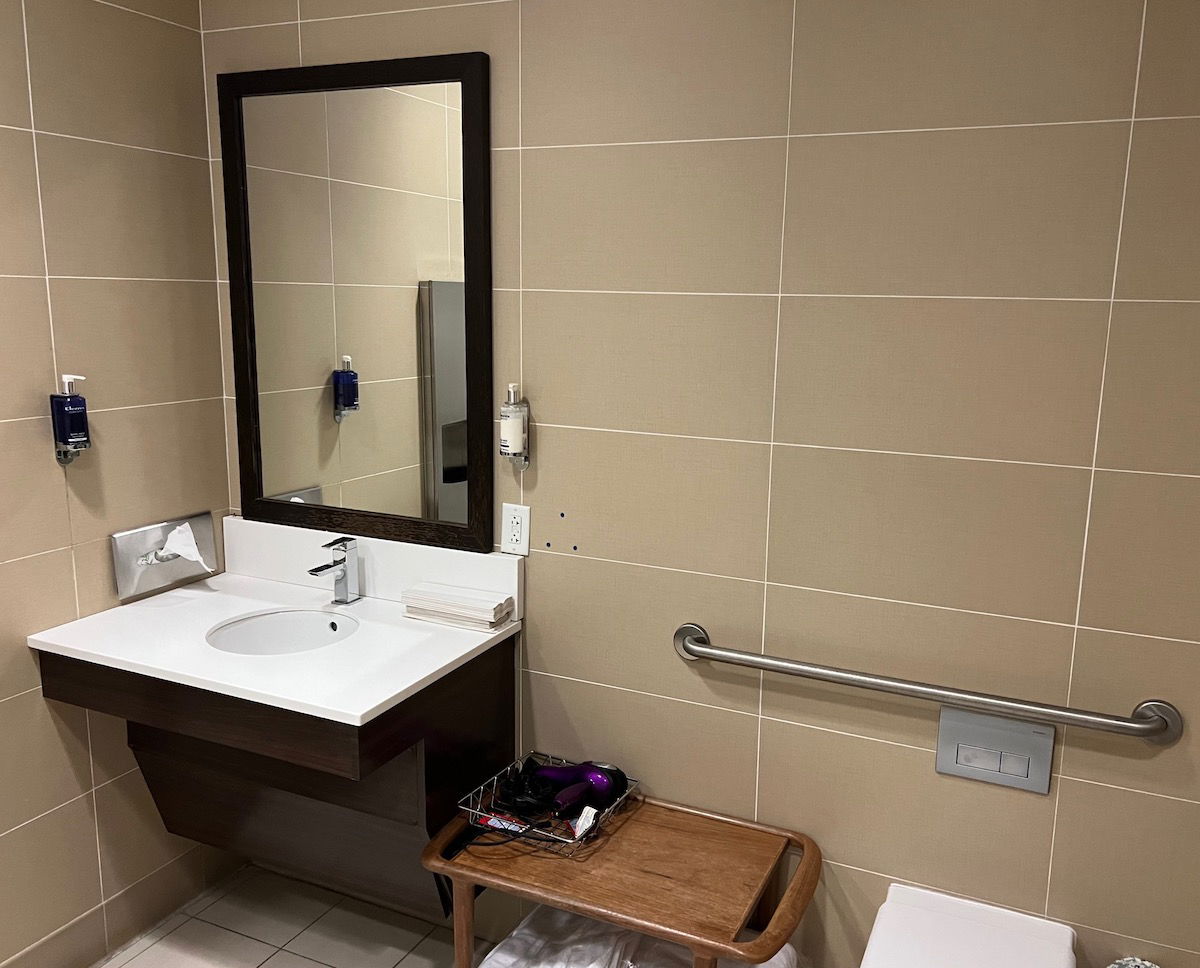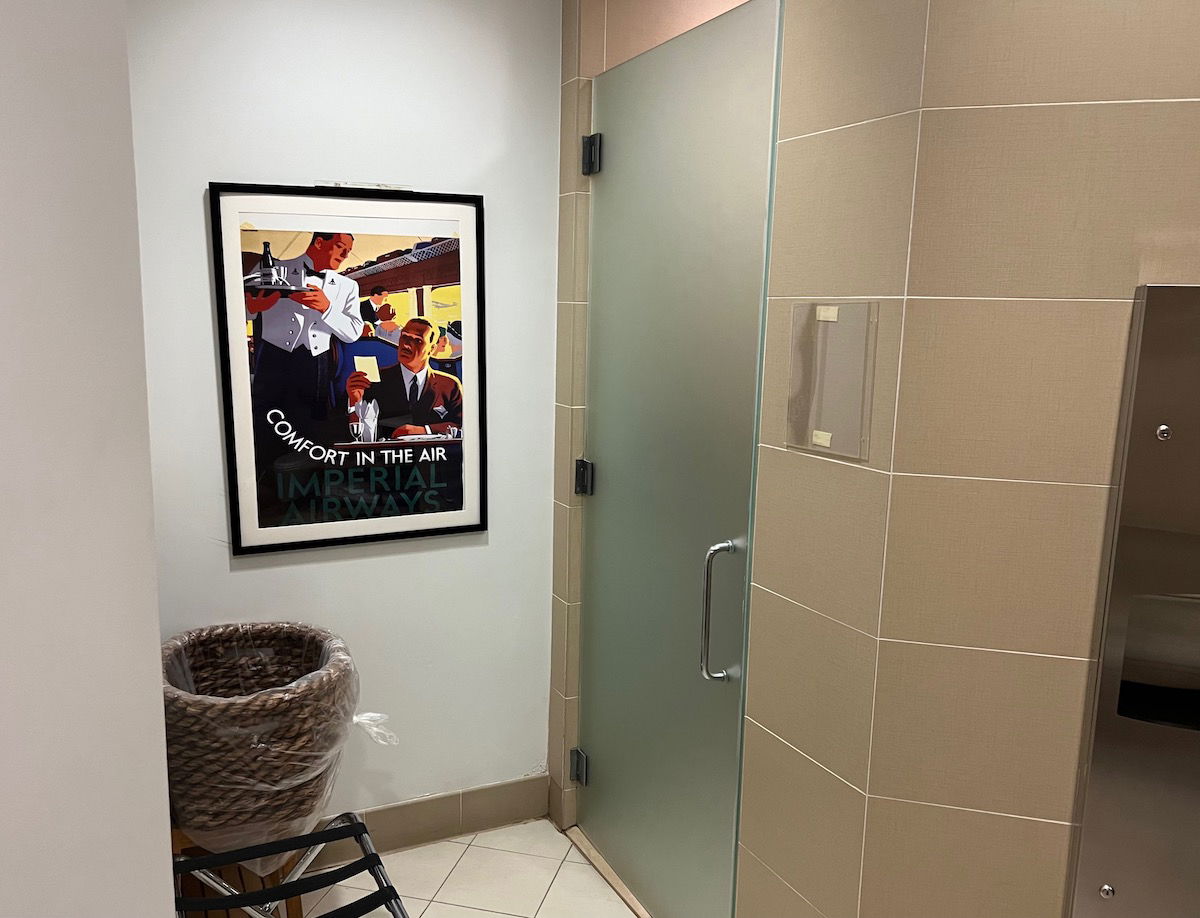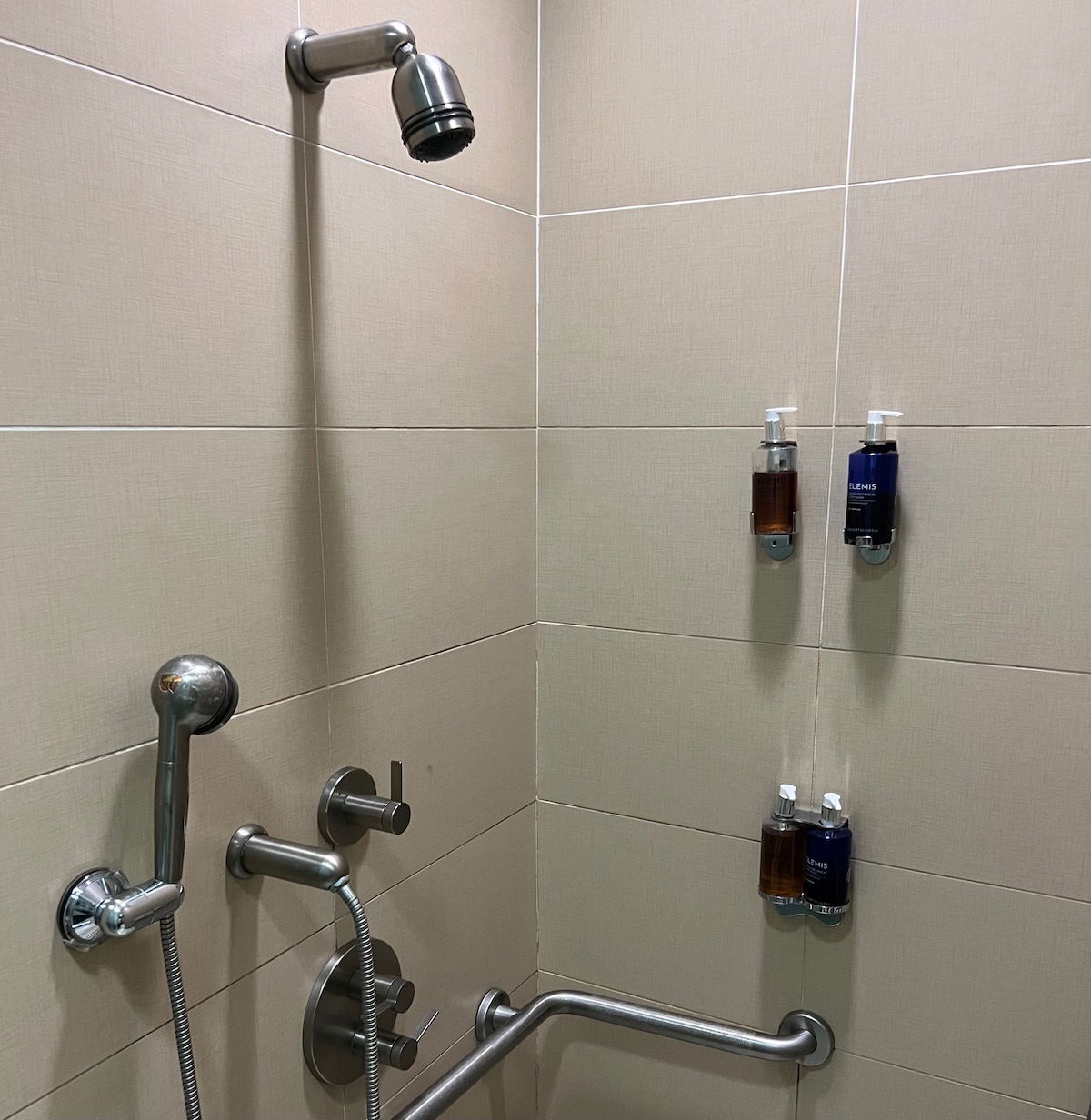 Elemis toiletries were available in both the bathrooms and shower suites, as is standard for British Airways.
Bottom line
The British Airways Lounge Newark is better than I was expecting, though don't get too excited. The lounge is spacious and bright, with great views of the airport and friendly service. Your experience will differ depending on how you're accessing the lounge, though.
If you're visiting through Priority Pass, expect a very limited food selection, which will even pale in comparison to your typical US airline lounge. However, if you're flying British Airways, you can expect a pre-flight dining facility, including a dedicated area for first class passengers.
While I wouldn't arrive early to use this lounge, it's also not a bad place to spend some time.
What do you make of the British Airways Lounge Newark?