Emirates has announced its newest brand ambassador, and we'll soon see her "Cruzing" on Emirates planes…
Emirates launching ad campaign with Penelope Cruz
Emirates has revealed that a new ad campaign and brand collaboration will launch in June 2023, featuring Penelope Cruz. Emirates claims that Cruz is already a fan of the Emirates brand and a frequent flyer who has visited Dubai multiple times, making her a natural fit.
Cruz will star in new TV spots that will air globally, in both English and Spanish. The theme of the ads will be "travel is not just about the end destination, ​it's also about how you get there." Here's how Emirates describes the format of these ads:
"The short ads show Cruz sampling all the exclusive luxuries that Emirates First and Business Class customers experience as they Fly Better, from a crafted beverage in the A380 Onboard Lounge, to an indulgent shower above the clouds, cheering for a football game shown on live TV, to relishing generous helpings of luxury caviar. In other spots, she enjoys the spacious seats in Emirates' new Premium Economy Class."

"She interacts with Emirates Cabin Crew in multiple languages and enjoys the wide variety of movies and content on Emirates' award-winning ice inflight entertainment system, viewed on a huge 32-inch full HD LCD screen – the largest in the aviation industry. Cruz is also filmed using the personal temperature controls in her private First Class Suite, using bespoke binoculars to enjoy the sky-high views, and wearing the Emirates hydra-active moisturising pyjamas to settle in for a siesta in her lie-flat bed, surrounded by an array of luxury amenities – ensuring her journey is spectacular from the beginning."
Below are a couple of stills from the campaign. These make it look like this will be a more "serious," aspirational, and fashion-focused campaign, than some of the ones that we've seen in the past.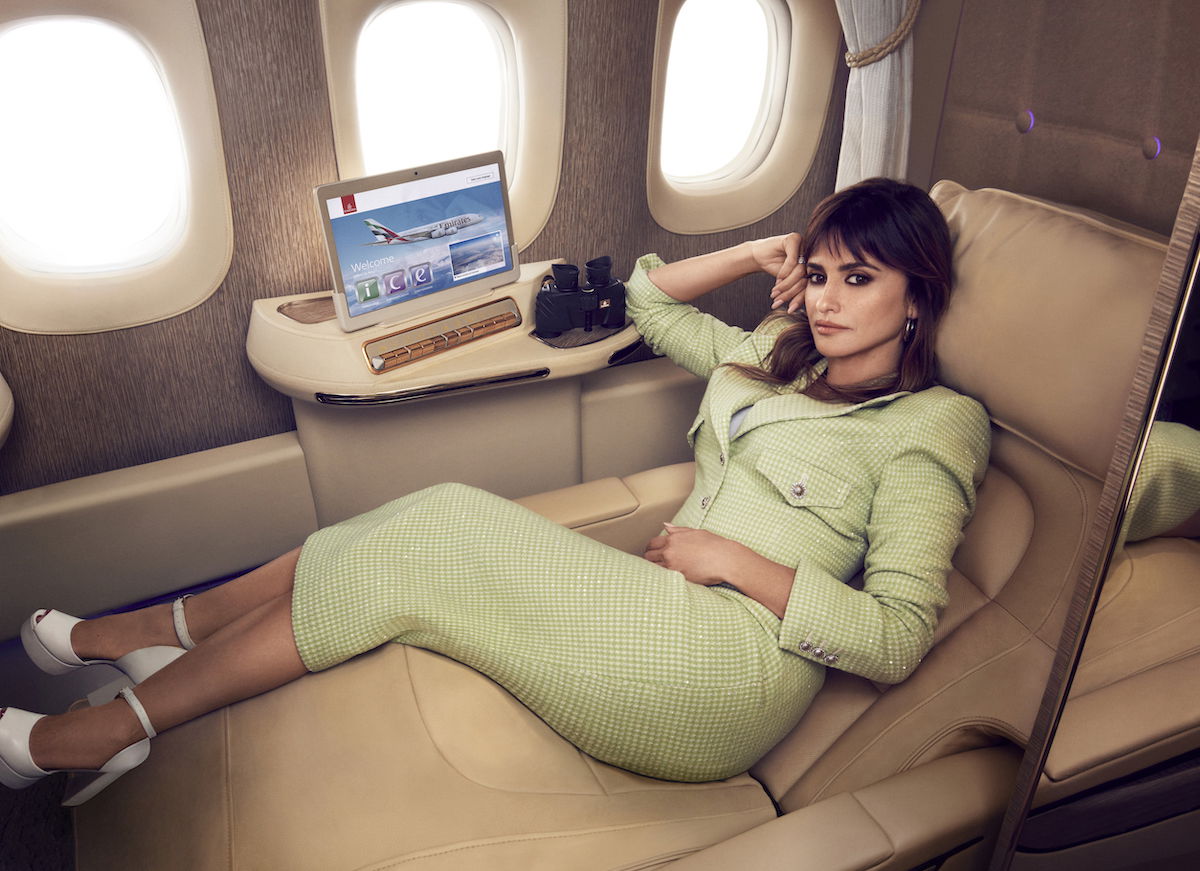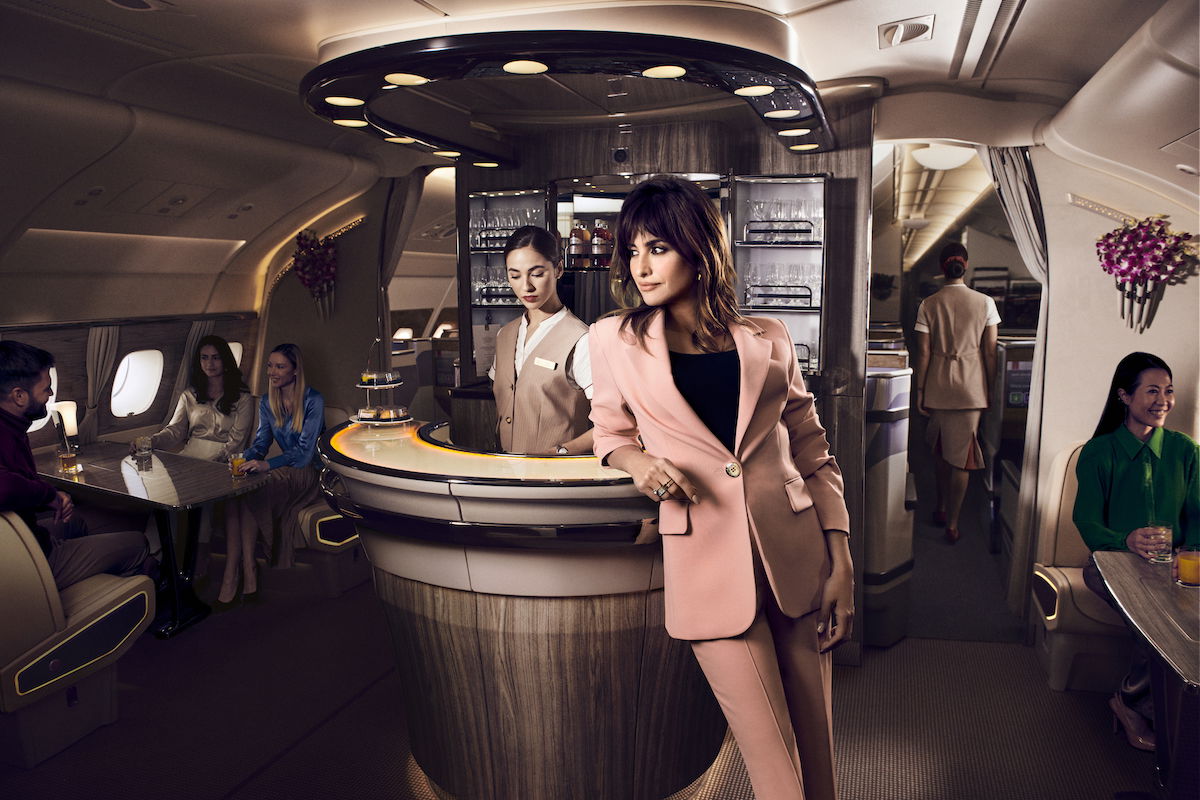 This follows Emirates' deal with Jennifer Aniston
This isn't the first time that Emirates is partnering with a celebrity. Perhaps most famously, back in 2015, Jennifer Aniston was Emirates' brand ambassador. She was reportedly paid $5 million for her participation in an A380 ad campaign. Funny enough, Aniston is reportedly not a fan of flying, so Emirates actually flew the A380 to LAX, so that the campaign could be filmed closer to her.
Aniston starred in a couple of hilarious ads. In one ad, she was seen having a "nightmare," where she imagined what it would be like to fly with an airline other than Emirates, where there's no onboard bar or shower.
In another ad, Aniston is seen returning to her A380 first class suite, only to find a child sitting there.
At the time, the ad campaign was rather controversial, given that US airlines were running a smear campaign against the Gulf carriers. So some US airlines tried to paint Aniston as a traitor for agreeing to participate in this campaign.
At this point, relations between US carriers and Gulf carriers are much better, with American having a close partnership with Qatar Airways, and United having a close partnership with Emirates. How times have changed…
Bottom line
In the coming weeks, we can expect some new ads from Emirates starring Penelope Cruz. These are expected to highlight Emirates' premium A380 products, including first class, business class, and premium economy, as well as some of the other onboard amenities.
I'm looking forward to seeing these, though personally I'm not necessarily a huge fan of ads that are heavily focused on celebrities. Based on the pictures we've seen so far, this ad seems like it might have a different tone than some of Emirates' past campaigns.
What do you make of Emirates partnering with Penelope Cruz?